Its the season to eat, eat and eat some more, but don't look down that region called the "midriff".Just pretend it doesn't exist or just block it off from your memory for sometime.At least that's what I do! I must admit that I'm a foodie and to be honest its not my fault, it runs in my family.My parents are the most amazing cooks I've known, my mom an amazing vegetarian cook, who also cooks the most delectable fish curries and my Dad, the ultimate authority on mutton dishes that are absolutely divine, so food has been a big part of my life 🙂

Marriage hasn't changed me one bit, since DH is a food lover just like me!He likes to whip-up his own creations every once in a while.We love food from around the world and are always looking to try out different cuisines wherever we go. Most of the traditional North Indian food I cook,I've learnt it from my parents with slight variations here and there to make it easier and quicker, more suitable for our fast-paced lifestyle without losing the essence of the dish itself. 
My Aloo Gobhi is one such dish and it comes together quite effortlessly and packed with lots of flavor.It pairs really well with some Roti or Rice.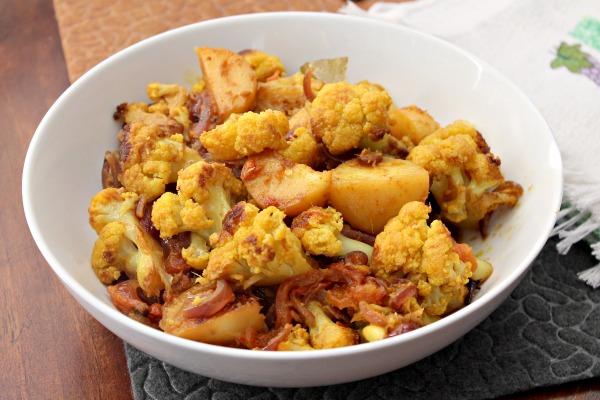 Aloo Gobhi (Potatoes and Cauliflower)
Ingredients
Potatoes- 1 cup (Peeled and Cubed)
Cauliflower- 2 cups (Cut into florets)
1 Medium Onion-Sliced thinly
Garlic paste-1 tsp
Ginger paste-1 tsp
2 Tomatoes-Chopped
Turmeric-1 tsp
Coriander Powder-2 tsp
Cumin Powder-2 tsp
Red Chilli Powder-1/2 tsp
Oil- 3 tbsp
Salt-to taste
Instructions
In a deep skillet heat about 1 1/2 tbsp of oil.
When heated add the cut vegetables and fry them with a pinch of turmeric until they are a little brown on the edges.
Take them out and in the same pan add the remaining oil.Drop in the onions and fry for abt 2 mins until soft.
Add the ginger-garlic paste and fry for another minute.
Add the chopped tomatoes and all the dry spices and cook until oil separates.
Now add the fried potatoes and the cauliflower and mix well with the rest of the spice paste(masala) in the pan.
Cook until potatoes are soft and cauliflower is cooked but firm and not mushy.
Serve hot with Naans,Parathas, Puris or Rotis (Chapatis).Enjoy