Keema Matar has been traditionally made using Mutton in our family.I use ground Chicken many times since the Hubs does not eat red meat!Its also a healthier option for those trying to cut back on red meat.This is a very easy recipe and goes well with Rice, Rotis or Naan.Since we're using ground meat, the cooking process is fairly quick.The peas in this dish gives it a vibrant color and fresh taste.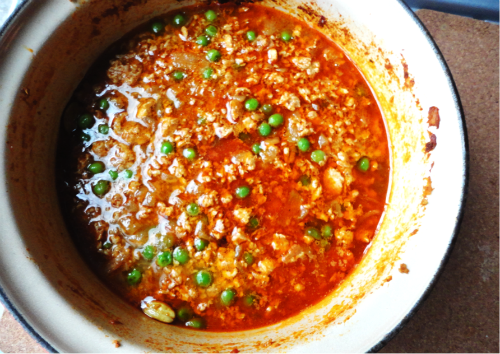 My kids absolutely love this dish and its a weekly staple in our family.The house smells of all the fragrant spices used here and the end result is a flavorful, rich and delicious meal that your family will enjoy!
Keema Matar(Indian Style Ground Chicken and Peas Curry)
Ingredients
Chicken, mutton or lamb mince-500 gms
2 Onions-Ground to a paste
Frozen Peas-2 cups
Ginger garlic paste-1 tbsp
2 Tomatoes-Chopped or Pureed
Turmeric-1 tsp
Red Chilli Powder-1 tsp
Ground Coriander- 1 tbsp
Ground Cumin-1 tbsp
Garam Masala-2 tsp
Oil- 3 tbsp
Bay Leaves-2
Water-1 1/2 cups
Salt-to taste
Instructions
Grind the onions to make a paste.
Keep aside.In a deep pan heat oil and add the bay leaves.
Add the onion paste and fry for a few minutes until the paste changes to yellowish color and the raw smell of onions has gone.
Add the ginger garlic paste.Fry for a few minutes and add the tomatoes, and all the dry spices except garam masala.
Add salt and fry until oil separates.
Add the chicken mince and continue to cook for few more mins until you see it changing color.
Add the peas followed by water, let it boil on high heat.Reduce the heat and let it simmer for a few minutes until all the meat has cooked.Check the seasonings,
Add the garam masala.Mix well and serve hot with steamed rice, rotis or naans.
http://www.sonisfood.com/2011/10/keema-matarmince-and-peas.html
www.sonisfood.com