The recipe I have for you today is easy and absolutely delicious!It is a baked Chicken Curry recipe without all the effort to make you enjoy a curry in a far easier and quicker way than the traditional method without compromising on any of that delectable taste.The flavors combine beautifully in the oven, while you can sit back and enjoy a glass of wine or any drink that you prefer.The only process that needs to be taken care of is the browning of the onions.That can take a few minutes, but makes all the difference in a good curry.So here it is, my Easy Indian Chicken Curry!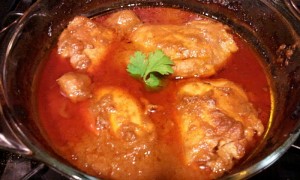 Easy Indian Chicken Curry
Print this Recipe
Ingredients:
Skinless Chicken Thighs with/without bones or Breasts-6 pieces
Onions-2 Medium chopped
Ginger Garlic paste-1 tbsp
Tomatoes-2 medium chopped
Ground Coriander-1 tbsp
Ground Cumin-1 tbsp
Turmeric- 1 tsp
Red Chilli Powder/Cayenne-1 tsp(depending on your heat preference)
Garam masala-2 tsp
Water-1/2 cup
Oil-3 tbsp
Salt- to taste
Process:
Preaheat the oven to 400 degrees F.
In a skillet heat oil and add the onions.Cook until golden brown.Then add the Ginger garlic paste.Cook for a couple of minutes and then add the tomatoes.Follow with salt and all the dry spices and cook until the spices release their aroma (about 5-10 minutes on medium heat).You have the basic curry masala ready.
Now puree the mixture in a blender/grinder.Transfer into an oven proof dish and add the chicken pieces.Mix them properly.Add water and bake them covered in the oven for about 35-40 mins until all the chicken is fully cooked.Boneless pieces will take shorter time.Adjust the seasonings.

Enjoy with Rice or Rotis/Naans!