My love affair with Paella began when I first had it about six years ago in this cute little restaurant that we frequented.They served the most delectable Seafood Paella steaming hot with lobsters,shrimp, mussels and clams all decoratively arranged on a huge platter that was so visually appealing that we couldn't wait to dig in.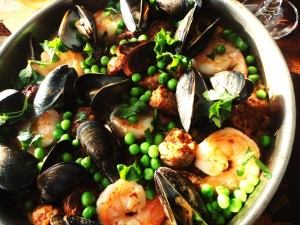 In my pursuit to find the one perfect recipe I tried hard probing the net.I even found a recipe and tried it, but the first time I made it I wasn't much impressed with the sticky consistency of the rice.I had used Long grain Basmati rice and didn't quite get the rice to liquid ratio resulting in a rather sticky Paella.
Determined to try again I set on my quest once more to find the perfect Paella recipe and that led me to a blog that I absolutely love called Adora's Box with tons of lovely recipes.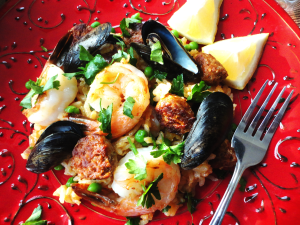 The few changes I made were:
I used Arborio Rice.
Added some Chorizo Sausages.
Cooked on the stove-top.
Didn't use red bell peppers or squid because I didn't have any!
This time the Paella came out beautiful!!Exactly as I'd imagined it to be.The Arborio rice was nice and fluffy, not at all sticky and the flavors blended beautifully.
Seafood and Chorizo Paella
Ingredients
Arborio Rice-2 cups
Onion (medium)-1 chopped
Garlic- 4-5 Cloves Crushed
Saffron-1 tsp
Tomato paste-1 tbsp
15 oz can of crushed tomato
Shrimp-12 pieces peeled and deveined
Chorizo Sausages-2 cut into rounds
Mussels-about 12
Fish Stock-3 cups
Frozen Peas-1 cup
Olive Oil-2 tbsps
Salt- to taste
Instructions
Heat some of the stock in a pot and add the mussels.
Parboil them just until they open up.Strain them and mix the liquid back into the fish stock.
In a paella pan or deep skillet heat olive oil and add the Shrimp.Cook until pink on both sides.
Keep aside. In the same oil add the Chorizo sausage and brown them on both sides.
Keep aside.Add the onions and garlic into the skillet along with tomato paste and can of tomatoes.
Fry for about 2 minutes and add the rice and saffron.Add the fish stock and bring it to a boil.
Once it starts boiling reduce the heat, cover the skillet with a tight fitting lid and cook for 15 minutes or until all the stock is absorbed.
Open the lid and arrange the Shrimp, sausage, mussels and peas and put the lid back on.
Let it cook for 5 more minutes.
You can serve the Paella as it is or transfer in a tray.Garnish with fresh parsley!
http://www.sonisfood.com/2012/01/seafood-and-chorizo-paella.html
www.sonisfood.com