Isn't it amazing that so many memories in your life revolve around food?My friend Cucina from Cucina49 has been talking about a book she read titled "Let us Eat Cake-Adventures in Food and Friendship" that in her words "is a remembrance of friends told through the foods that they ate together" and that got me thinking about my food related memories.Growing-up I have fond memories of my Dad making his signature mutton every Sunday (which he does even today!).I was his assistant and taste tester, handing him over all the spices and learned a lot from him just by watching him cook.That's how my interest in cooking began.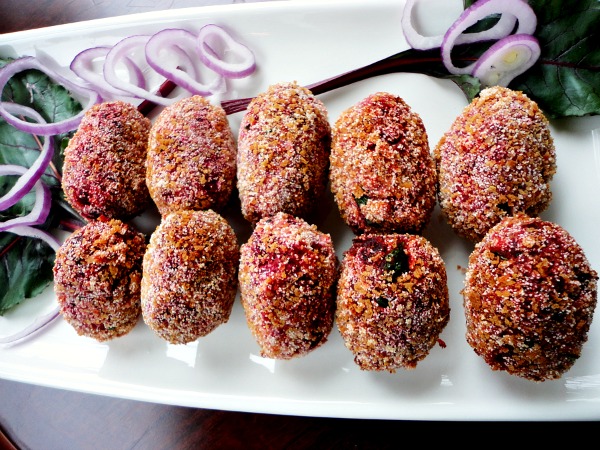 In the same way, I remember my Mom's Vegetable Cutlets that we had for our snack often and even demanded it for our breakfast on the weekends!They were heavenly.She made them by stuffing different veggies like beets, carrots and peas inside a ball of mashed potatoes with a crispy coating of breadcrumbs and it tasted wonderful.The recipe here is inspired by Mom's vegetable cutlets.I've used beets as the base and added some potatoes to the mix.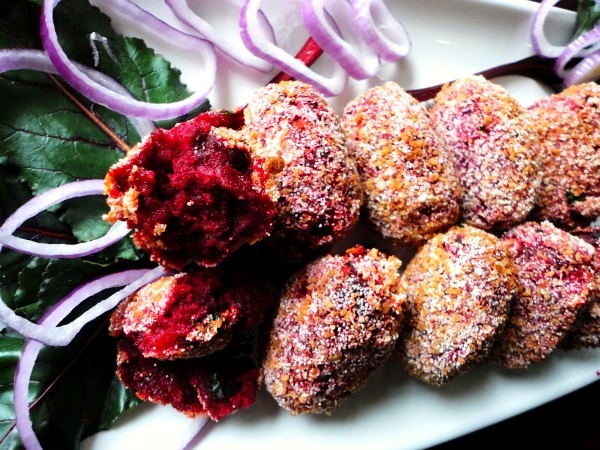 These make for a great party appetizer your guests will absolutely fall in love with.The sweetness of the beet is balanced by the spices and the moment you taste it,it just explodes with flavor and all the beet goodness!Enjoy.
Beet Cutlets-Indian Inspired
Ingredients
Beetroot-3 medium
Potatoes-2 small
Ginger-1 tbsp crushed
Ground Cumin-1 tsp
Ground Coriander tsp
Green Chillies or jalapeños-2 chopped
Coriander leaves-1 cup chopped
Salt- to taste
Oil-to deep fry

For the Batter

All purpose flour-1/2 cup
Water-1 1/4cups

For the Coating:

Breadcrumbs-2 cups
Instructions
Preheat the oven to 350 degrees F.
Mix the flour and water to form the batter in a bowl.Keep aside.
Keep the breadcrumbs/panko ready in a tray.
Place the beets in an aluminium foil, drizzle some olive oil and salt.Cover it and cook for about an hour, or until tender.Alternatively you can also boil them with salt until cooked
Peel and mash both the potatoes and beets in deep bottomed dish.
Mix all the ingredients except oil into the beet/potato mixture.

For the cutlets

Take a small amount and roll them between your palms to make oval shaped patties.
Dip these into the flour batter and then roll them in the breadcrumbs
Deep fry them in hot oil until all golden and crispy.
Serve them hot with Green Chutney,Ketchup or hot sauce.
http://www.sonisfood.com/2012/02/beet-cutlets-or-mashed-beets-indian.html
www.sonisfood.com