Today is the festival of Holi the festival of colors,celebrated all over India.Apart from the mythological story behind Holi of the triumph of good over evil, it is also celebrated to bid farewell to the winter and to welcome the beginning of the new season, spring.Its one of the most exhilarating holidays, that is full of fun, mischief and can get really really wild.If you're in India during this time it will be hard to recognize anybody because all you'll see is the colored faces of people everywhere 🙂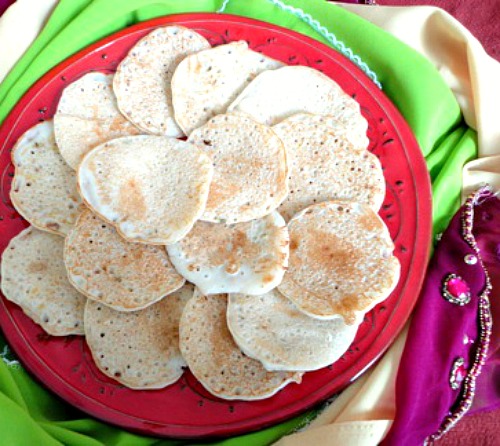 And with all the fun, excitement of a holiday comes good food :)I remember gorging on multifarious varieties of food during Holi and they included many sweet and savory items like Pua,Mutton Curry,Puris,Dahi Wada, Kachoris etc etc..and its a long long list!
Of course, I cannot create the entire menu by myself here, but there is one thing I definitely look forward to making on Holi and that's this Pua, a kind of Indian Pancake made with Bananas and Fennel.Pua can be of two types
Pua with All Purpose Flour,milk, sugar, bananas,fennel and cashews mixed into a batter and deep fried

Malpua that is made with the similar ingredients except the Banana and Fennel, but is then immersed in a sugar syrup after its deep fried~Best served with Rabri!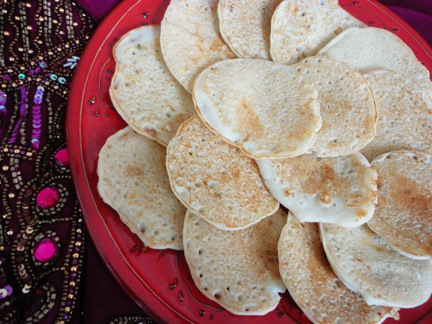 My mom always makes the first kind,the kind I try to make every Holi. But this time, I totally forgot to add All Purpose flour (originally required for this recipe) to my grocery list and had to look for options instead.I looked in my pantry and the only flour I could see was Rice Flour.What a Bummer!I could not go out to get it because I was expecting somebody to come fix something in my house, lets not even get into that (sigh!).I was determined to make my Pua, and due to the lack of options, I used Rice Flour instead.For some reason I could not deep fry since it was sticking to the bottom, so I tried pan-frying in a non-stick pan instead. They came out delicious!These are so good, that you could eat them for breakfast, snack or dessert.The flavors of banana with the fennel seed is pure magic and the cashews add that extra deliciousness.
Rice Flour Pua-Indian style pancakes with Banana and Fennel #Gluten free#Veg
Ingredients
Rice Flour or All Purpose Flour-1 cup (makes about 8-9 Pua's)
Milk-2 cups for rice flour or 1 cup for AP Flour enough to make a semi-thick droppable consistency
Banana-1 mashed
Fennel seeds-1 tbsp
Sugar-1/2 cup
Cashew chopped-1/2 cup
Oil- to panfry
Instructions
If using Rice Flour

Mix all the ingredients to form a smooth batter.
You can add a little more milk if the batter is too thick.
Heat oil in a non-stick pan.Take a small ladle and spoon the batter onto the pan, in batches.
Flip the Pua's once you notice air bubbles on one side.Cook the other side until done.

If using AP Flour

Heat some oil in a deep pan.
Drop a ladle of the AP batter into it.
Once its fluffs up, flip it over until the other side is light golden in color.
Drain out excess oil and continue in batches.Enjoy!!
http://www.sonisfood.com/2012/03/rice-flour-pua-indian-style-pancakes.html
www.sonisfood.com