Cabbages are one of the most popular vegetables and are used in so many different preparations around the world.They are quite flavorful and spicy and enhance the flavor quotient of any meal that they're a part of.Nutritious and quick cooking, they make for the perfect weeknight vegetable for the whole family.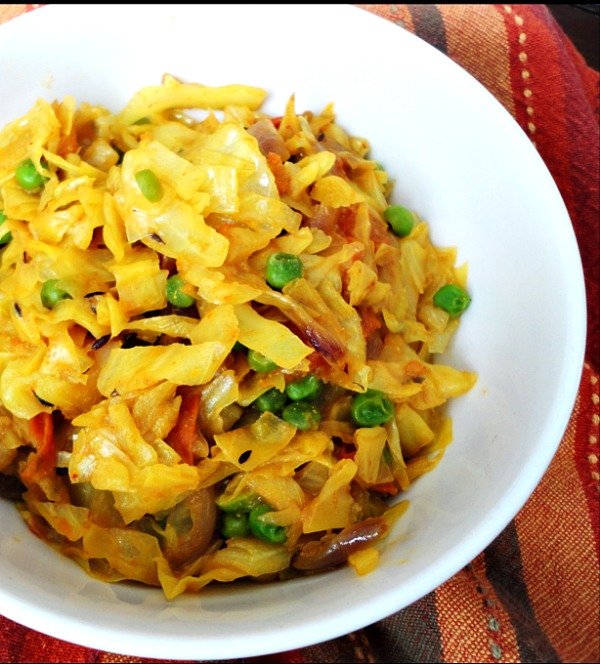 Cabbages are also rich in anti-oxidants and help in lowering cholesterol.(Source WHFoods).I usually cook Cabbage in a North Indian way that my Mom makes it.Its a simple stir fry that's packed with flavor and perfectly spiced.
You could also enjoy this as
a dry vegetable side dish along with a Naan or Rotis.

a filling inside a puff pastry for an Indian inspired appetizer!

a filling for an Indian style veggie tortilla wrap with yoghurt and cucumber raita.
Indian Style Cabbage and Peas Stir-fry
Ingredients
Green Cabbage-1 large head sliced
Frozen green Peas-1 cup
Onion-1 medium chopped
Green Chilli (Jalapeños)-2 (whole or chopped)
Ginger-1 inch crushed
Cumin Seeds- 1 tsp
Tomatoes-2 large chopped
Ground Coriander-2 tsp
Ground Cumin-2 tsp
Turmeric-1 tsp
Salt-to taste
Oil-2 tbsp
Instructions
In a deep skillet heat oil.
Add the cumin seeds and once they crackle add the onions.
Add the green chilli and saute for about 2 minutes and add the ginger.Saute for about a minute and add the tomatoes and the spices with salt.
Cook for about 2-3 minutes and add the cabbage and peas.
Mix well together and cook covered on medium until all the water has been absorbed and the cabbage is cooked but crunchy.Serve hot!
http://www.sonisfood.com/2012/04/indian-style-cabbage-and-peas-stir-fry.html
www.sonisfood.com