One of the most versatile products available in the stores is the Puff Pastry!Great with sweet or savory, you can create gorgeous recipes using these store-bought packets of convenience.The reason I always have them in my freezer! This recipe is one of the easiest and easily feeds a crowd.
I recently made these for a party.The recipe is fairly simple, yet delicious without too much effort.It was a hit with my guests and the kids alike.I also made a chocolate sauce to drizzle over the top that my guests loved!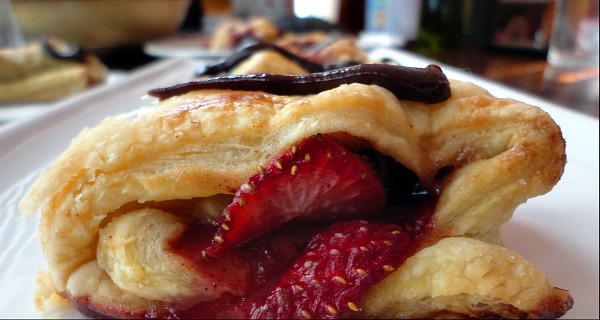 The berries ooze out their juices and mix in with the Cinnamon Sugar and every bite is filled with the deliciousness!
Berry Strudel with Chocolate Drizzle
Ingredients
For the Strudel

Store bought Puff Pastry-1 sheet thawed
Strawberries (sliced)and Blackberries-1 1/2 cup mixed together
Brown Sugar-2 tbsp plus 2 tbsp for dusting
All Purpose Flour-1 tbsp
Cinnamon-1 tsp
Egg -1
Water-1 tbsp

For the Chocolate Drizzle

14 oz can of Sweetened Condensed Milk-1
Semisweet chocolate chips-1 cup
Butter-2 tbsp
Vanilla extract-1/2 tsp
Salt-1/8 tsp
Instructions
Chocolate Drizzle:

In a saucepan combine all the ingredients for the sauce and cook on low heat until the chocolate melts.Add a tsp of vanilla.You can freeze any leftover sauce for later use.

Streudel

Preheat the oven to 375 degrees.Mix the berries along with the 2 tbsp of brown sugar, flour and the cinnamon.
Unfold the puff pastry.Flour your surface and roll out the puff pastry into a 16 by12 inch rectangle.
Dust the remaining brown sugar all over.
With the side facing you spread the strawberry mixture at the bottom half about 2 inches from the edge.Roll up the dough till you reach the end making sure to secure the filling inside and place seam side down on a greased baking tray.
Mix the egg with water and brush the top with the egg mixture.Make slits all along the pastry.
Bake for 35 minutes or until the pastry is golden.Let it cool on a wire rack.Once cool drizzle the chocolate sauce all over.Your Strudel is ready!
http://www.sonisfood.com/2012/04/puff-pastry-berry-strudel.html
www.sonisfood.com
Sending this to our #Berrylove bloghop co-hosted by these fabulous bloggers!Please visit their pages while you're here!
A Little bit of everything ~ Roxana GreenGirl ~ @RoxanaGreenGirl,Baker Street ~ Anuradha ~ @bakerstreet29,Baking and Cooking, A Tale of Two Loves ~ Becky Higgins,BigFatBaker ~ Erin ~ @BigFatBaker,Bon à croquer ~ Valerie ~ @Valouth,Cake Duchess ~ Lora ~ @Cakeduchess,Easily Good Eats ~ Three Cookies,Elephant Eats ~ Amy,GeorgieCakes ~ Georgie ~ @georgiecakes,Hobby and More ~ Richa ~ @betit19,Java Cupcake ~ Betsy Eves ~ @JavaCupcake,Mis Pensamientos ~ Junia ~ @juniakk,No One Likes Crumbley Cookies ~ TR ~ @TRCrumbley,Oh Cake ~ Jessica ~ @jesshose,Queen's Notebook ~ Elizabeth ~ @Mango_Queen,Rico sin Azúcar ~ Helena ~ @ricosinazucar,Simply Reem ~ Reem ~ @simplyreem,Soni's Food for Thought ~ Soni ~ @sonisfood,Teaspoon of Spice ~ Deanna ~ @tspbasil,That Skinny Chick Can Bake!!! ~ Liz ~ @Thatskinnychick,The Art of Cooking Real Food ~ Laura ~@TAofCRF,The Wimpy Vegetarian ~ Susan ~ @wimpyvegetarian,Vegan Yack Attack! ~ Jackie ~ @veganyackattack,Vegetarian Mamma ~ Cindy ~ @VegetarianMamma