Celebrate this Mother's Day with an appetizer/snack that's easy, quick and delicious!
When we were living in England, our favorite appetizer at any party we hosted were these amazing Spring Rolls sold in this tiny Indian sweet shop.Their Indian style spring rolls were made of just Paneer and tasted divine!It was very different from any other Spring rolls I'd ever had and I instantly fell in love with it!When I picked up some Spring Roll Wrappers from a Korean Store recently, I thought of recreating the same recipe, but with different vegetables for more flavor and some crunch.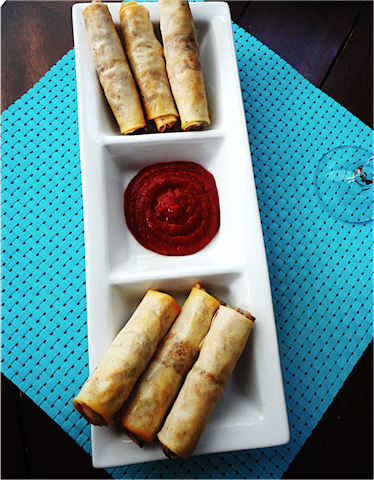 These are very mild with just 5 ingredients in the filling and go well with a hot sauce like Sriracha on the side.You could use your imagination and add anything else you want to it like green chillies or some paprika, but I've kept it really simple.The process is fairly easy and does not take too long.These are also good for you since I've baked them instead of deep frying!The result is a crisp, crunchy and delicious appetizer that you can serve your guest at your next party!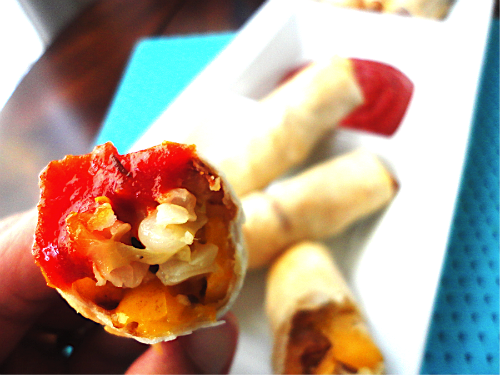 Baked Vegetable Spring Rolls-Indian Inspired~
Ingredients
Spring Roll Wrappers-10-12 sheets
Cabbage-11/2 cups sliced thinly
Frozen Corn-1 cup
Yellow Peppers-1 cup sliced
Ginger-1/2 inch crushed
Cumin Seeds-2 tsp
Salt-to taste
Oil-1 tbsp
Cooking Spray
Instructions
Preheat the oven to 425 degrees.
In a skillet, heat oil and the cumin seeds.Once they crackle add the ginger and saute for about a minute.Add all the ready vegetables.Stir fry on high for about 2 minutes.Turn the heat off and keep aside to cool.
Place the spring roll sheets in a plate and cover it with a moist towel to prevent it from becoming dry.
Work with one sheet at a time, take about 2tbsp of the filling mixture and place in about 2 inches from the edge facing you.
Fold the bottom of the wrapper over the filling.Fold-in both of the sides of the wrapper and continue rolling till you reach the top end.
Brush some oil over the rolls and place them seam side down on a greased baking tray.
Bake for about 12-15 minutes and turn them over.
Bake for another 8-10 minutes until slightly brown.
Serve hot with your favorite sauce!
http://www.sonisfood.com/2012/05/baked-vegetable-spring-rolls-indian.html
www.sonisfood.com
I'm also taking this opportunity to announce the #CookForMom contest this #Sunday Supper started by our friend Isabel @Family Foodie for a chance to win a Kitchen Aid Hand Blender!The contest opens on 12th May 2012 and will run until 19th May 2012!The winners will be announced on 20th May 2012!
This contest is open to both bloggers and non-bloggers with a Pinterest Account.All you have to do is to create a recipe using the Hand Blender for Mom on Mother's Day and create a Board on Pinterest with 5 pins (the other recipes can be your older recipes or could come from any source validly credited).The pins with most likes wins!
Please click on Pinterest Contest for the exact details and rules to enter!!


****This Contest is now Closed****