I've been under the weather for the past few days and although the aches and chills have subsided,the two most important senses for a Food Blogger i.e taste and smell seems to have eluded me, completely!To test how bad it is I tried eating a green chili and I could eat it almost like a salad without even a hint of heat!!Can you imagine?I'm going nuts!!
I'm generally quite strong to withstand the seasonal colds even if my whole family is sick.But this time, I was sucked in,due to this weird cycle of unpredictable weather pattern affecting the East Coast.Hot one day, cool the next, sunny one day, rainy the next!Well, my dish today will definitely make you feel great even if the weather doesn't!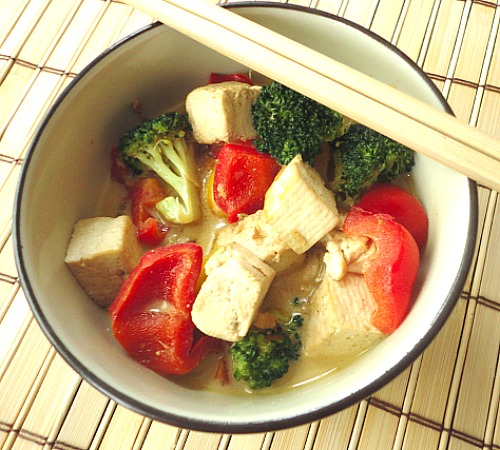 I've made this using the things I had on hand.Its an easy and quick recipe, perfect for busy weeknights!I had some Tofu and coconut milk that I had to use.Threw in some veggies for color and flavor, some curry powder for spice, some Sriracha (you could use any other hot chili sauce) for heat and you have one delicious Tofu dish that's healthy and flavorful!!Even my 4 yr old loved it and wanted seconds!
Curried Tofu with Vegetables
Ingredients
Extra Firm Tofu-1 pck (14oz )
Garlic Cloves-4 crushed
Ginger-1/2 inch crushed
Red Chilli flakes-1 tsp
Red/Yellow peppers- 1/2 each chopped
Broccoli florets- 1/2 cup
Coconut Milk- 2 cups
Soy Sauce-4 tbsp
Curry powder-1 tbsp
Sriracha-1 tsp
Salt-to taste
Oil-3 tbsp
Instructions
Drain the water off the Tofu by pressing by hand and cube the pieces.
In a bowl pour 2 tbsp of Soy Sauce and mix with the Tofu pieces.
In a skillet heat about 2 tbsp of oil and fry the tofu cubes until slightly golden.Take it out and keep aside.
In the same skillet add a tbsp of oil and add the garlic and ginger along with the chili flakes.
Add 2 tbsp Soy Sauce and gently mix for about a minute.
Make sure to not burn the garlic.Add the curry powder and Sriracha.
Add the vegetables and saute for about a minute.
Add the coconut milk and the browned tofu pieces.Bring to a boil and cook on medium for about 2-3 minutes.Serve hot with rice!
http://www.sonisfood.com/2012/05/curried-tofu-with-vegetables.html
www.sonisfood.com