Today I'm very very excited!!Reason? I'm doing my first ever
guest post for my friend Kimberly's lovely blog Badger Girl Learns to Cook !! I cannot explain how excited I was when she
asked me if I wanted to be featured!! Thanks so much Kimberly!
For those of you who don't know her I have to tell you that her blog is
full of healthy recipes that are good and good for you! Some of her unique 
creations are her 
Nettle and Nooch Pesto Pasta
 and 
Pineapple infused Vodka
 that made to the Foodbuzz Top 9!!Go on and check out her blog if you haven't done by now!! I
promise you won't be disappointed.
I thought of creating something really healthy for this post and 
was instantly reminded of the Yams that I had recently bought! A nice 
summer salad came to mind and I decided to go with it.Its absolutely delicious and extremely easy to put together. I couldn't wait to have a bite as soon as I finished taking the pics!! It made for a perfect and light lunch! It's got the spice, the sweet, the tart and the crunch! What else do you need?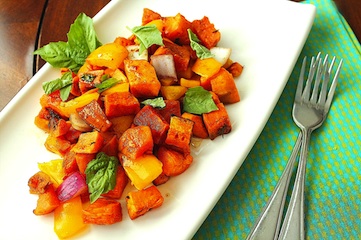 Yam Salad with Balsamic Dressing
Ingredients
apanese Yams (medium)-2 Peeled and cubed
Cooking spray
Salt
Thyme-2 tsp.
Yellow Pepper-1 diced
Green Chilli-1 chopped
Onion-1 diced
Basil-for garnish
Balsamic dressing:
Balsamic vinegar-2 tbsp
Prepared mustard-1 tbsp
Brown sugar-1 tsp
Extra Virgin Olive Oil-1/4 cup
Salt-1/2 tsp
Pepper-1/2 tsp
Instructions
Preheat the oven to 400 degrees.
Mix together the dressing ingredients.
Place the yams on a baking sheet. Drizzle with cooking spray and mix salt and thyme all over.
Cook for about 30 minutes until fork tender.
Mix all the veggies with the cooked yams. Drizzle the dressing all over. Garnish with basil and enjoy!!
http://www.sonisfood.com/2012/06/yam-salad-with-balsamic-dressing-guest.html
www.sonisfood.com