The summer vacation almost over, its time to start shopping for back to school items for the kids.The long lazy days are now going to be replaced by busy weeknights, homework, projects, activities etc.Time for some meal planning for the busy weeknights with fast and easy dinners that's healthy and wholesome.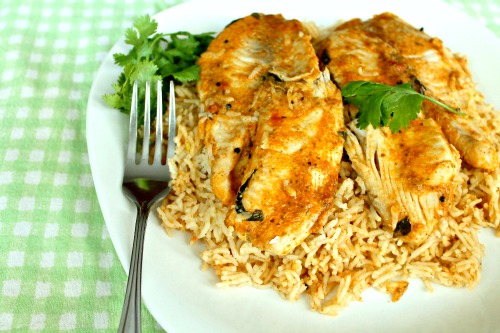 For me an easy dinner ideally would be a one pot meal.I usually prepare one pot meals at least once a week to save time and not worry about cooking anything else on the side.I take inspiration from the various rice dishes from across the globe for example the Paella, Risotto or the Indian Pulao and use the ingredients on hand.In this case I've prepared a Tilapia Pulao that cooks in about 20 minutes and comes out delicious every time!I've flavored the rice with Indian spices and add the fish about 10 minutes before the rice is done.The flavors in the rice flavor the fish and the whole dish smells wonderful.An easy dinner, perfect for busy weeknights~
Ingredients
Tilapia-4 fillets
Basmati Rice-2 cups
Bay leaf-1
Cardamom-2
Cinnamon-1/2 inch
Cloves-3
Peppercorns-4
Onions-2 medium chopped
Crushed garlic-2 tsp
Crushed Ginger-2 tsp
Tomato-1 large chopped
Ground Cumin-1 tbsp
Ground Coriander-1 tbsp
Saffron-1 tsp
Water-4 cups
Salt- to taste
Oil-3 tbsp
Instructions
In a deep bottomed pot heat oil and add the bay leaf along with the cardamom,cinnamon,cloves,peppercorns and saute for about a minute.
Add the onions and saute for about 3-4 minutes until slightly golden.
Add the garlic and ginger and saute for about 2 minutes.
Add the tomato and the ground spices.Cook on medium for about 4-5 minutes until you see oil separating at the sides.
Add the rice, water and saffron.Adjust the seasonings.Bring to a boil on high.Cover and cook on low heat.After 10 minutes add the Tilapia fillets.
Cover and cook until the rice is done (about 10 minutes).
Serve hot with a salad and raita!
http://www.sonisfood.com/2012/08/fish-pulao.html
www.sonisfood.com