Of late I've been trying to make really easy recipes to make my life a bit easier!
My 
previous recipe was a quick no cook/bake 
dessert
 and this time I've followed that up with an easy Tofu dish that makes for a great weeknight meal with noodles or rice.Tofu is very delicate and tends to break-up many-a-times, but if you brown it in a little bit of oil, it holds it shape much better in my opinion.I also buy extra firm tofu for my stir fries and squeeze out all the water before working with it.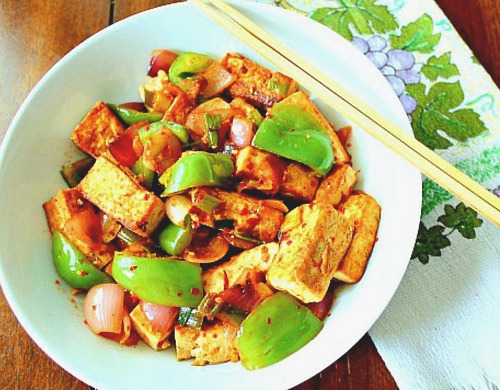 The sauce that I've made here is extremely easy with the main ingredient being this Chili Garlic sauce that I picked up at a Korean Store. I've made the same recipe with chicken strips for a different variation and it came out delicious.You could use it for any stir fry for that spicy garlicky heat!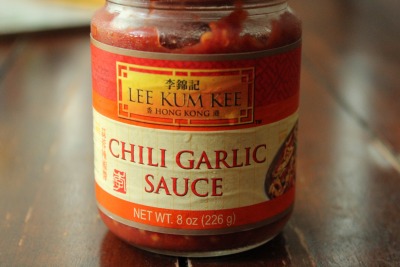 It has just the perfect amount of heat and spice and its very similar to the Indo Chinese preparations served in Indian restaurants without any effort literally.It could easily pass off as one of my best Tofu dishes!




Tofu and Vegetables Stir Fry

Ingredients
Extra Firm Tofu- 15 oz
Green Peppers-2 small chopped
Scallions (Spring onions)-2 stalks chopped
Chilli Garlic Sauce-2 tbsp
Soy Sauce-1 tbsp + 2 tbsp for marination
Salt-to taste
Oil-2 tbsp
Instructions
Cut the Tofu in chunks and marinade in 2 tbsp of Soy Sauce for about 10 minutes.
Mix 2 tbsp of chili garlic sauce and 1 tbsp of soy sauce in a separate bowl.Keep aside.
Heat a tbsp oil in a non stick pan and fry the tofu pieces until golden on both sides.Take it out and keep aside.
In the same pan add 1 tbsp of oil and add the Scallions and Green Peppers.
Add the chili sauce mixture and stir fry for about 2-3 minutes.
Add the Tofu pieces and continue to cook on medium until nicely combined.
Check seasoning and add salt if desired.Serve hot with Noodles or Rice!
http://www.sonisfood.com/2012/08/tofu-and-vegetables-stir-fry.html

www.sonisfood.com