Today is all about monsters.Monsters that are not scary but kind of funny :)My four year old is not a big fan of scary things, unlike my nine year old who LOVES anything and everything SCARY!!This Monster is super easy to make and you can ask your kids to come up their own versions.My son made this one by using decorative candy strings for the mouth and hair.Its an easy Halloween recipe idea for little kids without being too scary :)My kids were super excited to eat these for breakfast this morning 🙂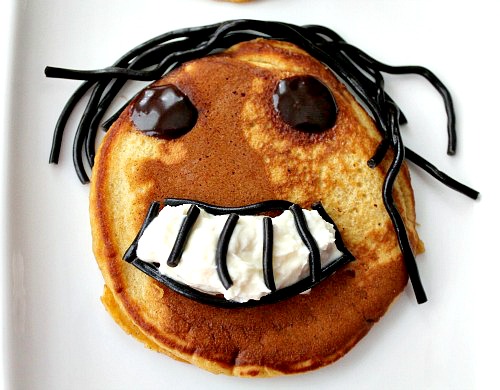 Perfect Halloween breakfast pancakes for kids using Pumpkin!
Ingredients
For the Pancakes

All Purpose Flour-1 1/4 Cups
Sugar-2 Tablespoon
Baking Powder- 2 tsp
Salt-1/4 tsp
Pumpkin Spice-1 tsp
Canned Pumpkin Purée- 1/2 Cup
Egg- 1
Milk- 1 Cup
Vegetable Oil-2 Tablespoon

For the Cream

Mascarpone Cheese- 1/4 cup
Honey-2-3 Tablespoon
Decoration
Candy Strings
Chocolate Sauce
Instructions
Whisk together flour,spice,sugar,salt and baking powder.
In a separate bowl whisk the milk, egg,pumpkin purée and vegetable oil.
Put the wet ingredients into the dry ingredients and whisk until combined being careful to not over mix.
In a skillet on medium heat heat a tablespoon of butter or oil pour Quarter cup of batter per pancake and cook until bubbles form.Flip it over and cook the other side until done.
In the meantime take 1/4 cup of mascarpone in a bowl.Add 2-3tbsp pf honey and mix.Keep aside.
http://www.sonisfood.com/2012/10/monster-pumpkin-pancakes.html
www.sonisfood.com