No party is complete without some appetizing appetizers!I so look forward to appetizers in any party and for the hubby, they're the most important part of a meal!I made these some time ago for our friends and they turned out really good. Easy to use and inexpensive,Puff Pastry Sheets are a freezer staple in my house.Not being much of a baker, it comes in really handy for me for creating dishes like these that look professional! The buttery layers of the puff pastry gives a richness to anything you add into it and transforms it into something special!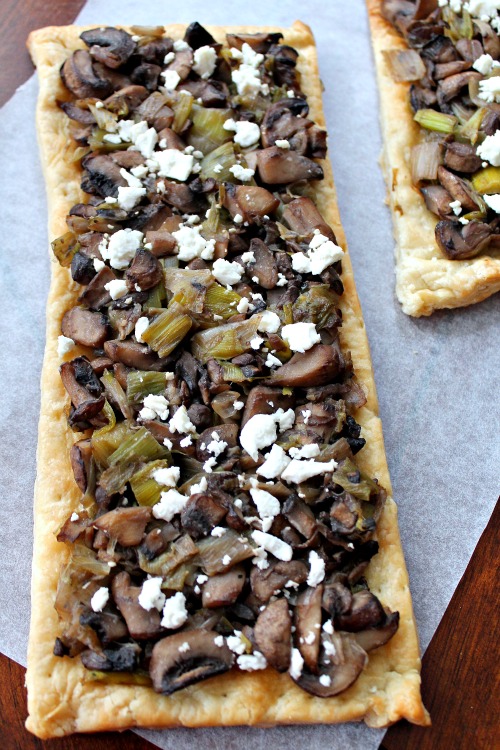 My Leek and Mushroom tarts make for an easy and quick appetizer for any party or potluck.The mushrooms are golden and meaty.The leeks give a sweet subtle flavor and for me they're a classic combination.These also look great on any table and I top these with some Crumbled Feta for a delicious finish!
Leek and Mushroom Puff Pastry Tarts
Delicious puff pastry tarts with leeks and mushrooms for an easy party appetizer!
Ingredients
Frozen Puff Pastry Sheet-1
Leeks-2 stalks chopped
Baby Bella Mushrooms-4 cups chopped
Butter- 1 tbsp
Salt-to taste
Pepper-1 tsp
Crumbled Feta-3 tbsp
Instructions
Preheat the oven to 425 degrees.
Thaw the frozen Puff Pastry for about 30 minutes.Flour your surface and unfold the sheet.Prick all over with a fork.
Cut through the middle of the puff pastry lengthwise (you can also roll it to make a bigger square and then cut through the middle) and bake in the oven for 15 minutes until puff pastry is golden.
In a pan heat the butter and saute the leeks for about a minute.Add the mushrooms and cook until golden.
Add salt and pepper.Keep aside.
Spoon the vegetable mixture evenly all over the baked sheets and put it back into the oven for about 5-6 minutes.
Sprinkle feta all over.Cut into small rectangles/squares and serve warm or at room temperature!
http://www.sonisfood.com/2012/12/leek-and-mushroom-puff-pastry-tarts.html
www.sonisfood.com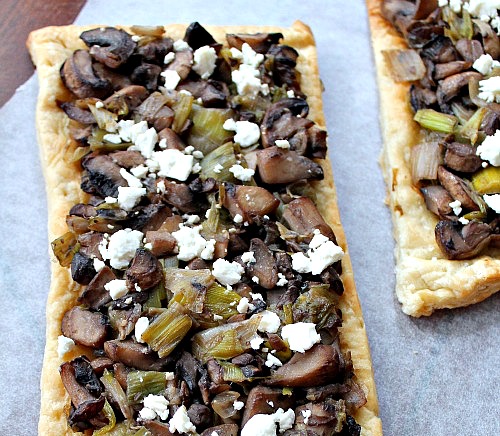 For an easy Holiday Cookie idea try my No Bake Date Coconut Snowballs and don't forget to enter my Tropical Traditions Giveaway to win a Quart of Organic Gold Label Virgin Coconut Oil which runs until 12/16!!!Enjoy 🙂