With kids' activities, homework, projects, weeknights tend to get really busy and that's when you have to think of quick and easy recipes that are nutritious and tasty!One such easy option is to have a Noodles night,where Vegetables take center stage!My Vegetable Chowmein is packed with flavor, colorful veggies and comes together easily in a matter of minutes.You could use any Noodles you prefer for this recipe.I've used the brand 'Ching's' available at my Indian Grocer.Ramen Noodles works really well too!
Indo-Chinese foods are very popular all over India and used to be our favorite take out choice almost every week!A typical Indo-Chinese menu consists of Chowmein, Chilli Chicken/Chilli Paneer,Manchurian Dishes amongst others and there's ample choice for both Vegetarians and Non Vegetarians.The recipes are developed for the spicy Indian palette!They're absolutely delicious albeit a bit greasy, but that's the advantage of making them yourself, since you control the quality of ingredients.If you get a chance you should try them, since they're very different from the authentic Chinese foods, but tasty nevertheless 🙂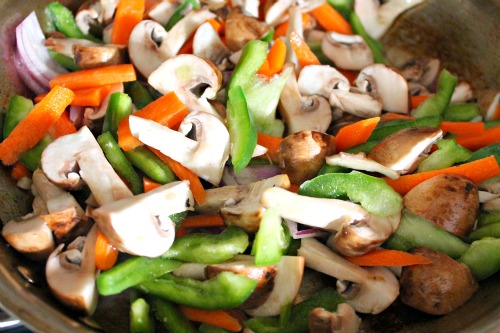 My kids love to eat their veggies in Noodle dishes better than any other and I wonder if its the crunch or color or a combination of the two!And that's why I make this dish so often!I start by boiling the noodles for two minutes, not any longer, since the noodles loose their texture!Once boiled I immediately run them in cold water.If you notice them sticking you can add a tablespoon of vegetable oil and mix them.The sauce is a mix of sweet and spicy,and its just my personal preference.I also use some Sriracha for the heat element along with Vinegar for some tang,Soy Sauce and some Ketchup!Its bursting with flavor and is absolutely delicious!
Delicious and flavorful, Vegetable Chowmein for an easy weeknight meal!
Ingredients
Ching's Noodle (or any other)-1 pack (150 gms)
Onion-1 sliced
Crushed Ginger-1 tsp
Crushed Garlic-1 tsp
Baby Bella Mushrooms sliced-2 cups
Green Peppers (capsicum)-1 large or 2 small- sliced
Carrots-2 large peeled and sliced lengthwise
Vegetable Oil-2 tbsp
Salt-to taste
Pepper-1 tsp
For the sauce
Soy Sauce -2 tbsp
Tomato Ketchup-2 tsp
Sriracha or hot sauce -1/2 tsp
Vinegar-2 tsp
Instructions
Boil the Noodles according to the instructions.Place under running water sread on a platter.Leave to dry while you prepare the veggies.
In a wok,heat oil and add the onions and saute for about a minute.Add the ginger and garlic and sauté for another minute.
Add the rest of the veggies and saute for another two minutes.
Add the sauce and noodles.Stir to mix evenly.Check the seasonings.Serve hot!
http://www.sonisfood.com/2013/01/easy-vegetable-chowmein.html
www.sonisfood.com