Hope you all had a lovely break last week!After all that partying and late nights its back to routine, back to eating healthy!My recipe today involves my favorite Sweet Potatoes but in a Paratha or Indian Flat Bread.For those of you who don't know what a Paratha is, its a staple bread in most North Indian households enjoyed mainly at breakfast or dinner.It can be triangular,circular or square shaped and its pan fried with some ghee or oil until slightly golden on both sides.You can see my post here on how to make a basic Paratha.I've grown up having Parathas for breakfast every morning with a side of a dry vegetable dish usually Potatoes or Cauliflower and some Chutney.Quite the opposite of my lifestyle  now, where breakfast consists of Oats most of the time!I do love my Oats too though 🙂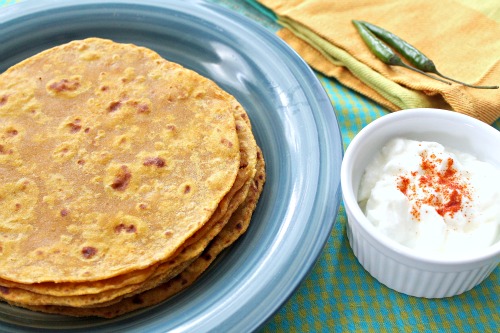 I had some cooked Sweet Potato sitting in my fridge and this seemed like the perfect way to use them!As a parent you're constantly looking to sneak in some veggies into your kids' diet and this is a healthy, wholesome meal that fills them and provides much needed  energy and nutrition to their growing bodies.The addition of the ground cumin is magical in these and adds so much flavor.All you need to serve with is a simple raita (Yoghurt with some salt and chili powder) for a complete meal.I could just eat them on their own all day 🙂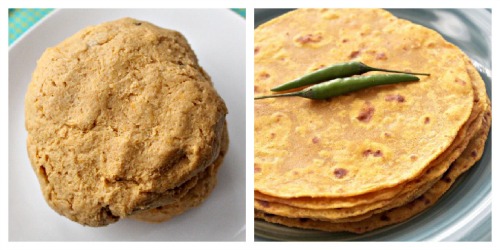 Sweet Potato Parathas (Pan Fried Indian Flat Bread)
A healthy Indian Pan Fried Bread using Whole Wheat Flour and Sweet Potatoes!
Ingredients
Whole Wheat Flour-2 cups
Sweet Potato cooked-1 cup (mashed)
Salt-1 tsp
Vegetable Oil-1 tbsp
Ground Cumin-1 1/2 tsp
Water-1/4 cup (or more if required)
Oil-1/4 cup (to pan fry)
Instructions
Sweet Potato

You can either cook the sweet potatoes in the oven at 350 for 50 mins,or boil them until tender.Once cooked and cooled, peel and mash it up until all soft and creamy.Keep aside.

For the Dough

Take the flour in a deep vessel or bowl.
Make a hole in the center and fill it with 1/4 cup of water.
Add the mashed sweet potato,cumin,salt and oil and start kneading with your hands.
Add more water if its too dry, until it starts coming together and forms a dough.The dough should not be too wet or too dry.It should be soft to touch.Once done cover it with a cling film and refrigerate for about 30 mins.

For the Parathas

Flour your surface.
Take a small amount of the dough in your palms and shape into a ball.Flour it on both sides, flatten it a bit and start rolling it on the surface to get a circular shape.Keep flouring your surface every now and then to avoid the dough sticking.
The paratha is ready to go into the tava or pan.Heat the pan to medium high and place the paratha.
Using a teaspoon take about 1 tsp of oil and spread all over the side that's up first and flip it over.It should now puff up.Oil the other side in similar manner and just cook until you get nice golden spots telling you that its cooked.Press it all over with a spatula so that its cooked evenly.
Your paratha is ready!Serve hot with Raita or a vegetable/meat dish.
http://www.sonisfood.com/2013/01/sweet-potato-parathas-pan-fried-indian-flat-bread.html
www.sonisfood.com