Nothing screams comfort to me more than warm puddings!I love the aroma of a pudding baking in the oven and the luscious taste you get to enjoy in every bite!This Valentine's day indulge in some pure comfort dessert like my Bread Pudding but hold on!Did I mention that these are figure friendly and Vegan too?I know,I know and you're welcome 🙂 Of late I've been experimenting with Vegan foods. Not that I'm a Vegan , but generally from a health perspective Vegan foods are quite nutritious overall.Not a bad idea if you're watching your waistline 🙂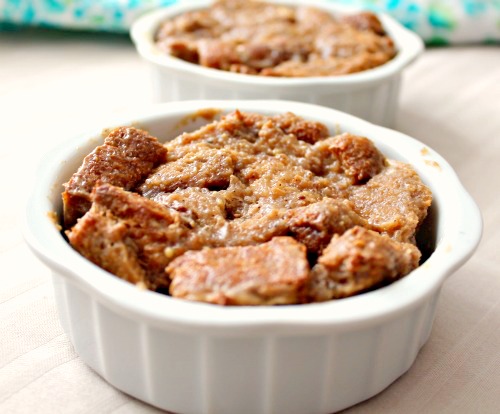 My bread pudding is made using Coconut Milk ,Cinnamon and Cardamom and tastes absolutely delicious!The Coconut milk not only makes it rich and helps it set, but also adds a lovely flavor!The warm Cinnamon and Cardamom give a hint of spice in the background.Its a tad different from the usual Bread Pudding but very flavorful and couldn't be easier 🙂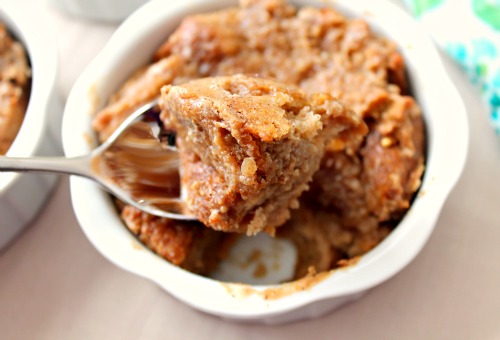 The use of Whole Wheat bread and Brown Sugar makes it a healthy dessert that you can indulge in without any guilt!You certainly don't have to wait for Valentine's Day to make it!Enjoy it any day or any time of the year!
Coconut Milk Bread Pudding #Vegan
Ingredients
Cooking Spray
Brown Sugar
1 day old stale Whole Wheat Bread-2 cups cubed
Coconut Milk-1 (13 oz Can)
Brown Sugar-1/2 cup
Vanilla Extract-1 tsp
Cinnamon-1/2 tsp
Crushed Green Cardamom-1/2 tsp
Instructions
Preheat the oven to 350.
Grease 4 ramekins with Cooking Spray and sprinkle brown sugar.Keep aside.
In a mixing bowl mix all ingredients except the bread.
Add the cubed bread,mix well and leave it for 15 minutes.
Pour the bread mixture into the ramekins and press gently.
Bake for about 30 minutes.
Once ready take it out and allow to cool off just a little.Serve warm as is or with your favorite Ice-cream.
http://www.sonisfood.com/2013/02/coconut-milk-bread-pudding-vegan.html
www.sonisfood.com