I'm very excited about today's recipe!Of late I've been working a lot with Green Garbanzos ever since I discovered them in the frozen section at Whole Foods!The new 'Super Food' to hit the American markets, they are super delicious,high in fiber,protein,vitamins,iron and are heart healthy!They have a lovely nutty flavor and since they're already blanched and then frozen,they take no time to cook.They're a freezer staple in my house and have become my newest obsession 🙂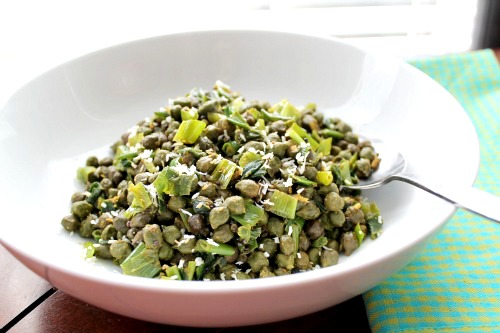 A curried version sounded fantastic and I started off by steaming these in the microwave for about 2 minutes.I've added scallions instead of onions since I love the flavor and the lovely color and the combination sounded wonderful!Once it was ready,another idea popped up!Why not serve them in lettuce cups instead of rice.It would taste really good on top of some crunchy Ice Berg lettuce that I luckily had in my fridge 🙂 I absolutely loved the flavors and got a thumbs up from the hubby too 🙂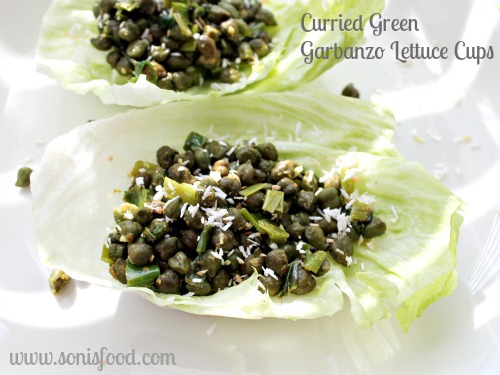 Its a great alternative to chickpeas or peas in any dish and makes for a tasty and filling lunch or dinner!I've used Coconut Oil and curry powder along with some mustard seeds and toasted coconut and the whole dish barely takes 10 minutes to come together!You can eat it in a wrap or as a side dish with an Indian Inspired meal or as a salad on its own!A healthy low carb dish that's full of delicious flavors!
Curried Green Garbanzo Lettuce Cups
Ingredients
Frozen Green Garbanzo Beans-2 cups
Iceberg Lettuce-4 leaves
Chopped Scallions (spring onions)-1/2 cup
Black Mustard- 1 tsp
Curry Powder-1 tsp
Jalapeños-1 chopped (seeds removed)
salt-to taste
Toasted shredded coconut-for garnish
Coconut Oil-1 tbsp
Instructions
Place the garbanzos in a microwave safe dish and microwave on high for 3 minutes.
Trim the ends of the lettuce and carefully peel off about 4-5 leaves.
Toast some shredded coconut in a separate pan.Keep aside.
Heat oil in a skillet.
Add the mustard seeds and let it crackle.
Add the scallions and jalapeños.
Add the curry powder and stir for a minute.
Add the steamed garbanzos and salt and cook for about 4-5 minutes until well mixed.
Serve the garbanzos in the letttuce cups.Garnish with toasted coconut.
Enjoy!
http://www.sonisfood.com/2013/03/curried-green-garbanzo-lettuce-cups.html
www.sonisfood.com