The weather was pretty damp and dull at the beginning of this week and I was craving for something comforting for my lunch.I had made my Quinoa Aloo Tikkis over the weekend and had some cooked leftover Quinoa.I decided to try a curried soup using the Quinoa with some veggies and coconut milk and boy was it delicious!!!One of the best soups I've had in a long time and the flavors were just amazing!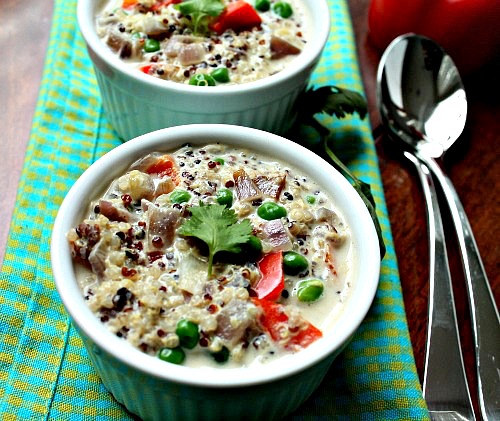 Having a batch of cooked Quinoa opens up endless possibilities and that's why I would recommend cooking a generous amount in one go.It freezes well and stays good in the  refrigerator for about a week.You can use it in your salads,soup,anything really!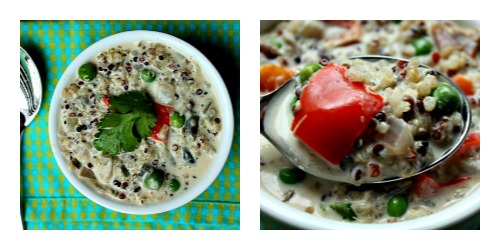 The addition of ginger is what makes it come alive and the coconut milk and curry spice further enhances the flavors.The Red Pepper and Green Peas add their vibrant colors and sweet taste.Its pretty filling too and you don't need more than a small bowlful at one time.Bursting with flavors and creamy this is one soup you have to try 🙂
Curried Quinoa Vegetable Soup
Ingredients
Cooked Quinoa-1 1/2 cup
Red Peppers-3/4 cup chopped
Peas-1/2 cup
Onion chopped-1 small
Ginger- 1 inch crushed or grated
Whole Mustard-1/2 tsp
Jalapeño-1 chopped
Curry Powder-1 tsp
Full Fat Coconut Milk-1 cup
Water-1/2 cup
Salt-to taste
Coconut Oil-2 tbsp
Instructions
Cook Quinoa according to instructions.
In a pot heat oil and add the mustard until it crackles.
Add onions followed by ginger and jalapeño.Saute for about 2 minutes.
Add the curry powder and salt.Saute for about a minute until fragrant.
Add the red peppers and the cooked quinoa.Stir and mix.
Add the coconut milk, water,peas and mix well.Let it simmer for about 2-3 minutes.
Check seasonings and serve hot!
http://www.sonisfood.com/2013/03/curried-quinoa-vegetable-soup.html
www.sonisfood.com