Aah the weather has finally warmed up a little bit and it almost feels like spring :)The moment the kids woke up this morning they wanted to play outside and once they were outside,that gave me the perfect opportunity cook up something quick for dinner!I always have a can of Chickpeas in my pantry and this time I thought of combining them with my favorite vegetable Cauliflower!
This dish is a dry vegetable dish that you can make using any vegetables.I cook Cabbage this way too.Its easy and takes no time at all.The flavor base consists of onion,ginger,garlic with some spices and it can be served with Rice or Roti!An easy,protein packed, delicious meal for the whole family!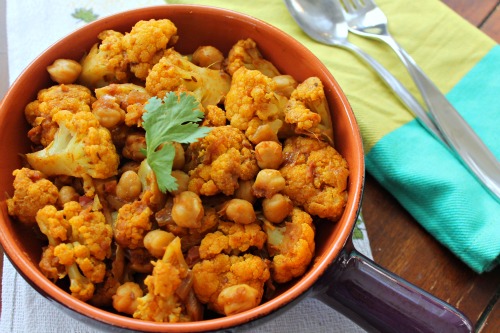 Indian Spiced Cauliflower with Chickpeas
Ingredients
Cauliflower florets-1 1/2 cups
Canned Chickpeas-1 cup
Onion-1 chopped
Crushed Ginger-1 tsp
Crushed Garlic-1 tsp
Ground Cumin-1 tsp
Ground Coriander-1 tsp
Garam Masala-1/2 tsp
Turmeric-1 tsp
Red Chilli/paprika-1 tsp
Tomatoes-2 chopped
Salt- to taste
Oil-3 tbsp
Instructions
Heat Oil in deep skillet.
Add onions and saute until golden.
Add ginger and garlic and saute for a minute.
Add all the spices and fry for 1 minute.
Add tomatoes and let the mixture cook for about 4-5 minutes until tomatoes are cooked.
Add the cauliflower, cover and cook until almost done.
Add the chickpeas and continue to cook for about 2-3 minutes.Check seasonings.
Serve hot with rice or roti!
http://www.sonisfood.com/2013/03/indian-spiced-cauliflower-and-chickpeas.html
www.sonisfood.com