If there's one dish I could live off for the rest of my life it would have to be Kebabs!! So many different possibilities and such a vast array of flavors, Kebabs are one of the most delicious foods of all time!I love experimenting with different flavors for kebabs and today I've got for you a tasty citrusy Lemon Chicken Kebab that's super easy and I'm also going to share my secret to a moist and juicy Kebab 🙂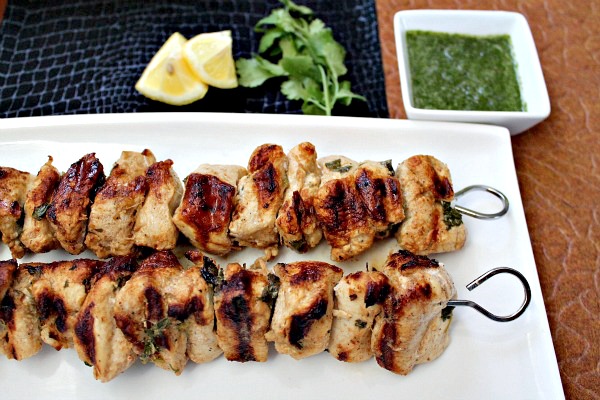 I find Kebabs as the perfect party appetizer!They're easy and always a crowd pleaser! You can use any meat or vegetable of your choice and you can make them spicy or non spicy according to your preference!!I've made these kebabs on my Griddle Pan but you could also broil it in the oven if you wish.I love the sizzle when the chicken touches the hot pan 🙂
The marinade for this dish is pretty easy and consists of lemon juice,some spices,ginger and garlic.The citrusy lemony flavor combined with a hint of spice in the background is mild enough for kids also.I marinated these for just a couple of hours and they still came out really juicy and flavorful.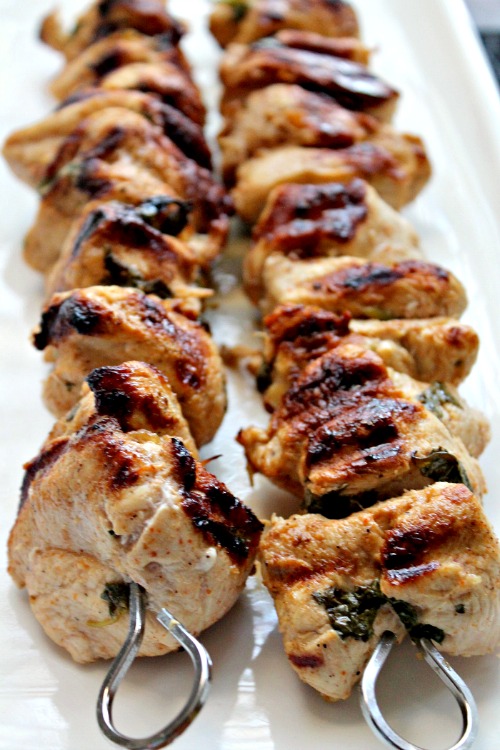 My secret? I do not throw the marinade after the kebabs go in the oven or pan.Instead,I brush the marinade all over the kebabs using a pastry brush on both sides every few minutes that gives them tons of flavor and prevents them from drying!Try this trick and you'll never ever have a dry flavorless kebab again 🙂 I served these for our dinner in a tortilla wrap with some green chutney (made with coriander leaves,garlic,green chili and tomatoes) and lettuce!It was a fun dinner and my kids loved making their own individual wraps 🙂
Ingredients
Chicken Breasts-2 pieces (6-8 oz each) cubed
Lemon-3
Crushed Ginger-1 tsp
Crushed garlic-1 tsp
Ground Cumin-1 tsp
Garam Masala-1 tsp
Chopped Fresh Coriander-1/2 cup
Salt- to taste
Oil-2-3 tbsp
Instructions
Slice the Chicken Breasts and cube them into bite sized pieces.Juice the 3 lemons and zest one.
In a ziplock bag place all the ingredients excluding oil and mix.Leave it in the refrigerator for about 2 hours.
Insert the pieces into greased skewers.Save the marinade.
Heat a greased griddle pan on high.Once ready place the skewers onto the pan.
Pour a little oil all over and brush the marinade generously on the side up.
After about 2-3 minutes flip the skewers and brush the other side too.Repeat the process until cooked about 6-8 minutes on each side and it has a lovely golden color.
Your kebabs are ready!Serve hot with Chutney and lemon wedges.
http://www.sonisfood.com/2013/04/lemon-chicken-kebabs.html
www.sonisfood.com