Couscous is on the menu today!The tiny jewels of semolina granules coated in wheat flour is packed with fiber, vitamins and minerals.The key to a good couscous lies in the flavor you add to it, since its quite flavorless on its own.It cooks quickly and is the perfect lunch when you're in a hurry!I'd picked up a packet of Whole Wheat Couscous from Trader Joe's with the purpose of using it in some way and looked up the web for some inspiration.I came across Giada's Recipe for Couscous Cakes that sounded unique with an Indian twist and I instantly knew I had to try it!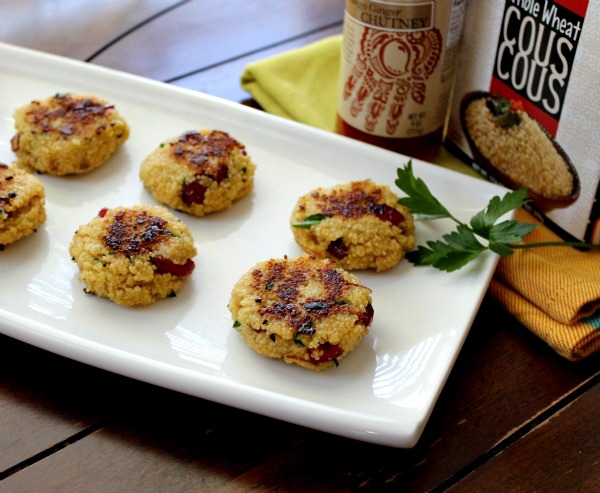 I made some changes to the original recipe by using parsley instead of coriander and added some dried cranberries and almonds for some tart and crunch that works perfectly.The lemon zest gives a nice fresh flavor to the dish and the star of the dish clearly is the Mango Chutney that has all the delicious spices and ginger and juicy bits of mango that you get every now and then.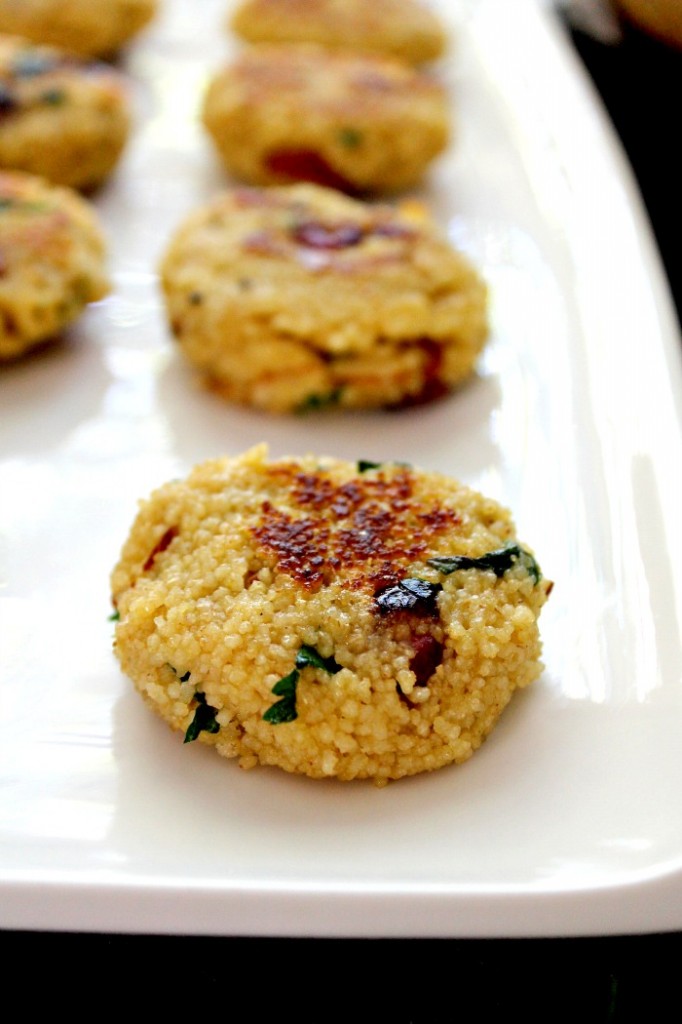 The cakes turned out great and I really enjoyed all the flavors together!You can make these cakes ahead and store them in the refrigerator until required.Just shallow fry them at the last minute and serve your guests.A lovely recipe with an Indian touch that's surely a keeper 🙂
Ingredients
Whole Wheat Couscous-1 cup
Egg-1
Egg Yolk-1
Mango Chutney-1/3 cup
Ground Coriander-1 1/2 tsp
Lemon Juice-2 tbsp
Lemon Zest-1 tbsp
Dried Cranberries-1/4 cup
Sliced Almonds-1/4 cup
Chopped Parsley-1/2 cup
Plain Flour-2 tbsp
Salt-to taste
Pepper- 1/2 tsp
Olive Oil- to shallow fry
Instructions
Cook couscous according to the instructions.
Add all the ingredients except Olive Oil and mix together.
Heat a skillet with some Olive oil.
Wet your hands with a little water and take a small amount of the mixture.
Form round shaped patties and shallow fry them until golden.
For easier frying you can also refrigerate the cakes for about 30 mins before frying them.
Serve hot!
http://www.sonisfood.com/2013/05/couscous-cakes.html
www.sonisfood.com