Potatoes are a great staple vegetable in every cuisine!Have them roasted,mashed up or sautéed, they taste great in every way!As a result I always have them in my pantry.They're versatile enough to go into curries and dry dishes.In India potatoes are used extensively with other vegetables and meats.They enhance the flavors of any vegetable or meat they're added into.The recipe I've got for you today makes a great side dish and is really easy.Its a simple sautéed version with lots of Cilantro that gives it a vibrant color and a delicious flavor.I love to serve this dish along with Lentils (Dal) and Roti for a healthy vegan/vegetarian dinner.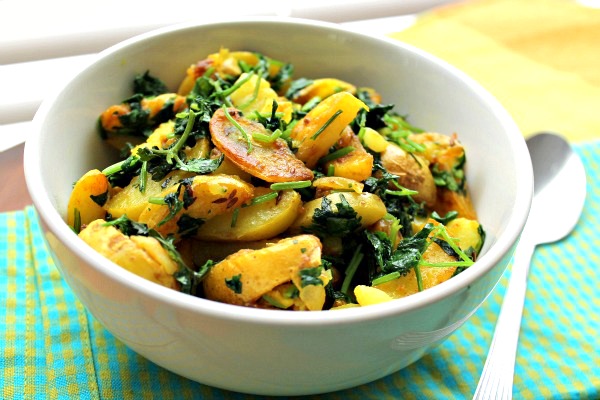 The Cilantro is the star of this dish since it gives a unique flavor that marries really well with the cumin and turmeric.I had this dish a long time ago in India as a kid but the taste has lingered with me till today.You can use any potato for this recipe and cut it any way you like.If you're really hungry ,cut into smaller pieces for a faster cooking time!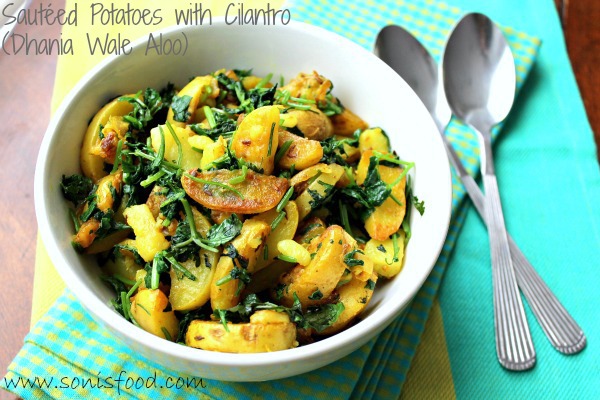 The trick to a getting a lovely color on your potatoes is to use a pan with a wide base.Add the oil and let it heat up before you add the potatoes.After you've added the potatoes add some salt and turmeric, give it a good mix with a spatula and spread it in a single layer.Let it develop a good color on one side before flipping it over and repeat the same.Cover and cook on medium to low heat until cooked though.You'll have perfectly golden potatoes every-time!
Sauteed Potatoes with Cilantro (Dhania Wale Aloo)
Ingredients
Medium Potatoes-4-5
Cumin Seeds-2 tsp
Turmeric-2 tsp
Cilantro leaves-4 cups
Oil-3 tbsp
Salt-to taste
Instructions
Slice the potatoes through the middle lengthwise and slice into small pieces.
Wash and chop the cilantro leaves.
Heat oil in a wide base pan or skillet and add the cumin seeds.
Once it crackles add the potatoes.
Add salt and turmeric and mix.
Spread it a little bit so that it develops some color on the side down.
Flip the potatoes over for the same effect.
Cover and cook on medium heat until the potatoes are cooked stirring in between.( about 10-12 mins)
Add the chopped cilantro and mix.Turn off the heat.
Serve hot!
http://www.sonisfood.com/2013/05/sauteed-potatoes-with-cilantro-dhania-wale-aloo.html
www.sonisfood.com