Today I have for you another Sunday Supper friend Diana from Eat,Move,Shine!!I love Diana's fresh approach to making tasty foods and my favorite is her Swedish Blonde Burger that's absolutely delicious!!Diana has some amazing recipes on her blog and apart from food she also offers Fitness Programs and Private Chef services!You can follow Diana on Facebook or You Tube!!
————————————————————————————————————————————————-
I often have people ask me my secret for making food taste so good…
especially my vegan dishes.
Well, vegan or not, I take the same approach with all dishes.
1) Keep it fresh, with local, in-season ingredients.
2) Fresh herbs make everything more flavorful.
3) Don't forget to layer your seasonings, before, during and after cooking.
Like many, I first fell in love with the thought of ratatouille thanks to the movie, but never got around to trying it… until now.
And what I now love the most about it, is that you can vary your vegetables and fresh herbs depending on what's in season. And in my case, what was at my favorite farmers market over the weekend. But, instead of cooking it the traditional way, I opted to roast it. I think roasting brings out the flavor in all veggies, and fruits. Plus for those of you dabbling in vegan or vegetarian eating, roasting offers a meatier texture… which was a nice surprise, especially with the pattypan squash.
And the hummus? I bought some beautiful Swiss chard, but truth be told, I'm not a huge greens lover. But it's so pretty, and I can never resist it. So, I decided to sauté it up with some shallots and fold it into the hummus, and it was fantastic! The perfect way to "hide" your veggies, with a nice textural addition to the creamy, smooth texture of the hummus. Blend them both with a corn tortilla, and you've got a healthy meal that's both fun to eat, filling… and fast.
And don't think that you have to just stick to tacos.
This recipe could easily work in a wrap. And if you want more crunch, how about taquitos? Simply roll up the corn tortillas with the ratatouille filling and bake at 350 for about 12 minutes, or until nicely browned. Then use the hummus as a fabulous dip.
Got leftovers?
This ratatouille would be perfect over rice or pasta. And the hummus, a great addition to nachos, a topping for bruschetta, or a dip for veggies or pita chips.
Enjoy! And a special thanks to Soni for asking me to be a guest on her blog. I've been so inspired by her recipes, and cooking philosophy. It's an honor to share in the quest to create and enjoy healthy foods.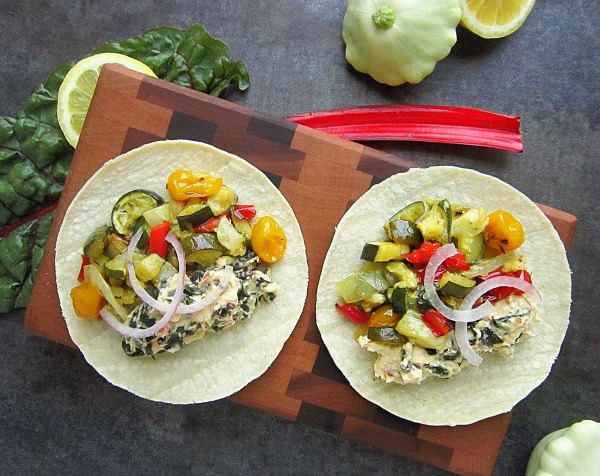 Vegan Ratatouille Tacos with Shallot & Swiss Chard Hummus
Ingredients
2 zucchini, chopped
1/2 sweet onion, cut in thin half moons
1/2 red pepper, chopped
1 carton golden cherry tomatoes
2 pattypan squash, chopped
1 tablespoon fresh rosemary, chopped
2 teaspoons fresh thyme, removed from stems and rough chopped
Olive oil
Salt and pepper
1 bunch Swiss chard, remove center vein and rough chop
1 large shallot, sliced thin
1/2 lemon, juiced
Olive oil
Salt and pepper
Prepackaged hummus
Corn tortillas
Red onion, sliced (optional for garnish)
For the Ratatouille:
Place chopped vegetables and fresh herbs on a rimmed cookie sheet. Drizzle with olive oil and salt and pepper. Roast at 350 degrees for about 30 minutes.
For the Hummus:
While the ratatouille is cooking, in a medium sauce pan add in chopped shallot to olive oil. Cook until softened. Add in chopped Swiss chard and cook until soft. Check for seasonings and squeeze on the lemon juice. Set aside to fully cool. Once cooled, fold into your favorite hummus. If preparing ahead, refrigerate until needed.
To Assemble:
Warm, the corn tortillas and top with the ratatouille and hummus. Garnish with thin sliced red onions if desired for more crunch. Serve.