Have I told you how much I love Tofu? I love the fact that it can be used in so many different ways and is a great source of protein for our bodies.You don't have to be a Vegan to enjoy Tofu.I eat all kinds of meat but I still love Tofu and if you are also a fish lover, my recipe for today will surprise you since it could easily pass off as a Fish Cake!I'm not kidding.I should have named it Vegan Fish Cakes instead.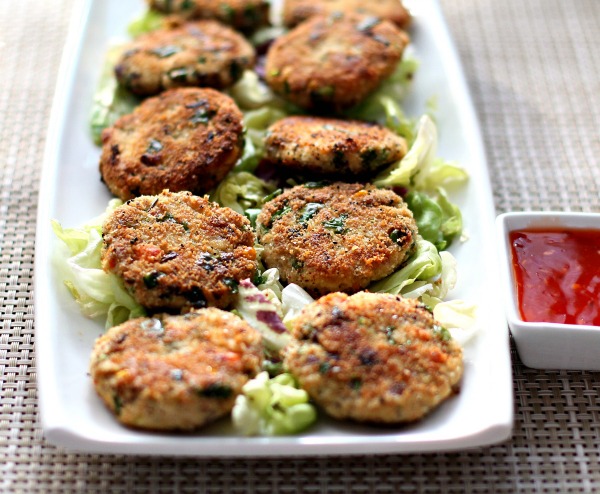 And I've realized that I got that texture by mixing Tofu with Potatoes.
Tofu works wonderfully with both sweet and savory dishes.I'm more of a savory person,hence my experiments with Tofu have resulted in dishes like this and this.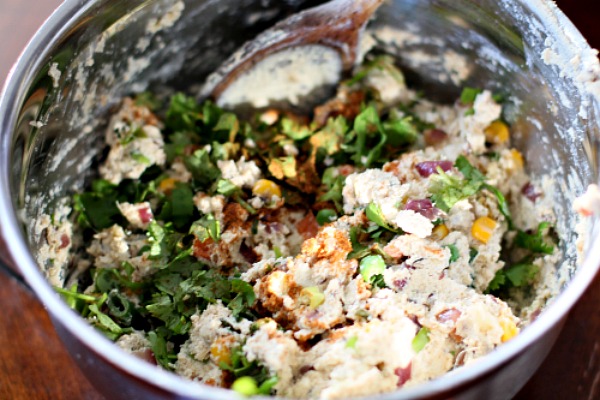 Let me tell you about these patties.They have some lovely Indian flavors going on with the cumin,coriander and garam masala.The onions,scallions,potatoes and veggies are all sautéed in these spices that make them so aromatic,so delicious. I've used frozen mixed vegetables consisting of corn,beans and carrots and steamed them before adding them into the pan.The Tofu is then mixed along with some fresh cilantro and you have a great appetizer for your next party. Make them a bit larger and you have one great tasting burger patty that's super healthy.
Crunchy on the outside and moist on the inside and I like to serve it with some Sweet Red Chili Sauce.So yum.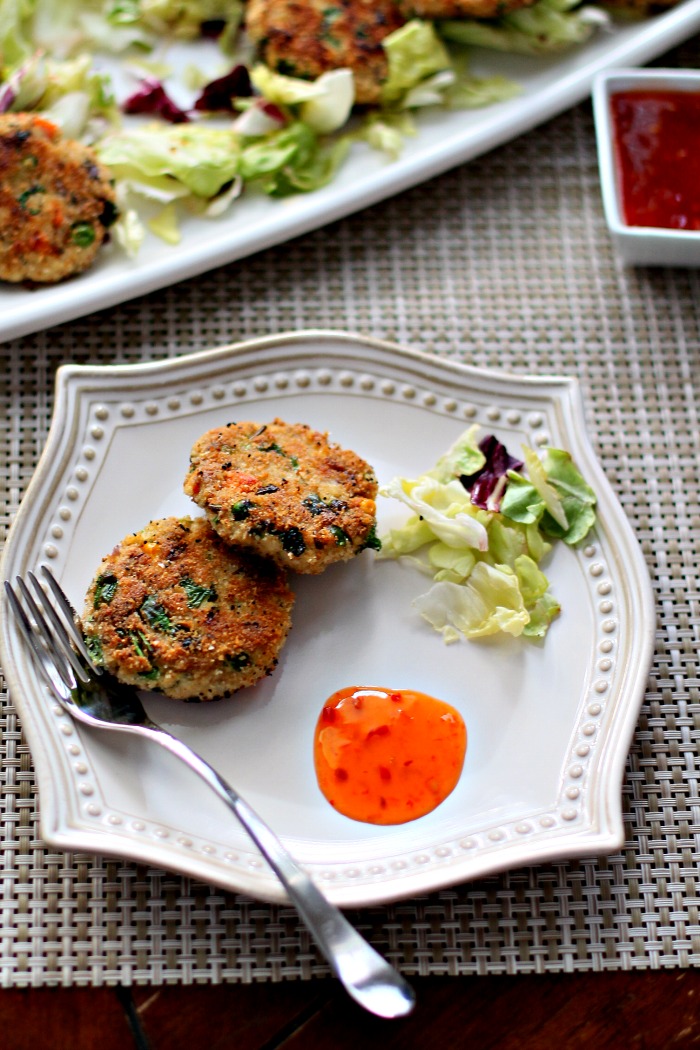 Indian Tofu Vegetable Patties
Ingredients
Extra Firm Tofu-13 oz cubed
Frozen Mixed Vegetables-1 cup
Medium Potatoes-3-4
Onion-1 small
Scallions chopped-1/2 cup
Crushed Ginger-1 1/2 inch
Cumin Seeds-2 tsp
Ground Cumin-2 tsp
Ground Coriander-2 tsp
Garam masala-1 tbsp
Chopped Fresh Cilantro-1 cup
Salt- to taste
Oil- to shallow fry
Bread Crumbs-to coat
Instructions
Place the cubed Tofu into a food processor and finely blend until all smooth.
Boil the potatoes in some water until cooked.Once cool enough peel and mash.Keep aside.
Steam the frozen mixed veggies in a microwave safe bowl for about 2 minutes.
In a skillet heat about 2 tbsp of oil and add cumin seeds.
Once they crackle, add the onions and scallions and saute for about a minute.
Add the scallions followed by ginger and saute.
Add the spices and continue to stir.
Add the steamed veggies and saute for about a minute.Add the potatoes and mix well.
Transfer the mixture into a deep mixing bowl.Add the Tofu,salt and cilantro.
Mix well.Take a small amount in your hands and make round disks.Dip the disks in breadcrumbs generously on both sides.
Heat some oil in a non stick pan and shallow fry until golden on both sides.Enjoy.
http://www.sonisfood.com/2013/11/indian-tofu-vegetable-patties.html
www.sonisfood.com