You know when you're out for your groceries and you tend to pick up a few items just randomly.Well I did just that .In fact I do just that all the time.
You do too?
That makes me feel so much better.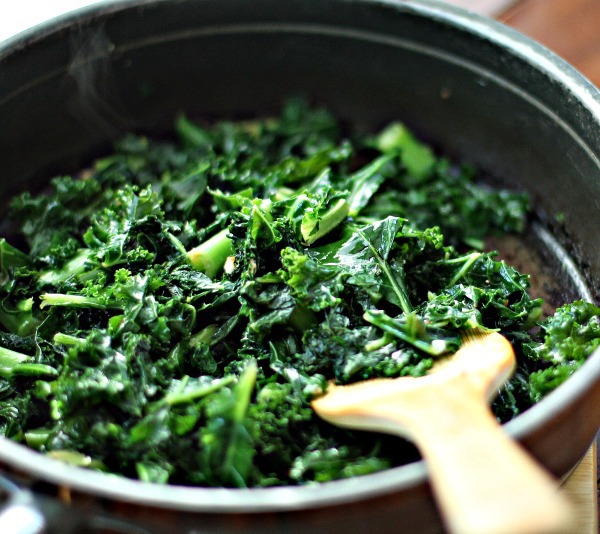 And imagine your excitement, when you incorporate all those items in your dish and it turns out to be a success!
Well, I had my AHA moment over the weekend in my kitchen trying to use three ingredients that I bought,namely some Sweet Potatoes,Kale and Goat's Cheese.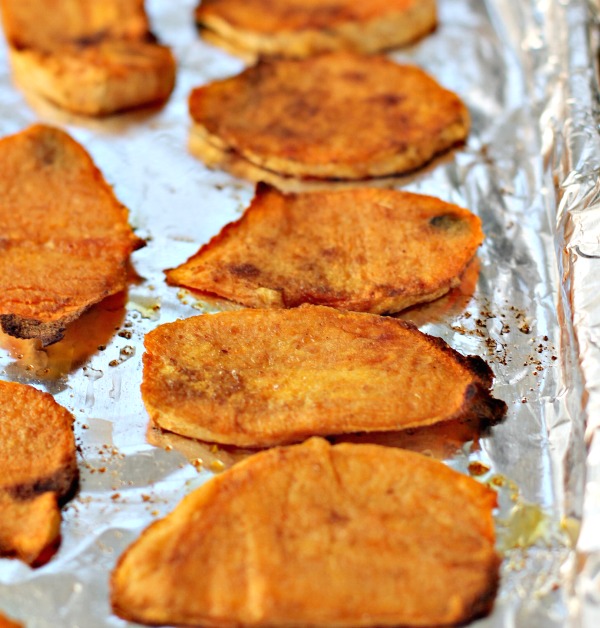 I'd initially planned on making some Sweet Potato fries,but then,I also had to use the other two ingredients in some way.I found the perfect solution in the way of these bites, where in I could incorporate all three and besides,who could resist such a healthy starter?
I peeled up my Sweet Potatoes and sliced them at an angle.That's probably the only tricky part in this recipe and if you're not very comfortable using your knife just slice it normally in rounds or long slices.Once they're sliced all you do is coat them with the spices and bake them in the oven.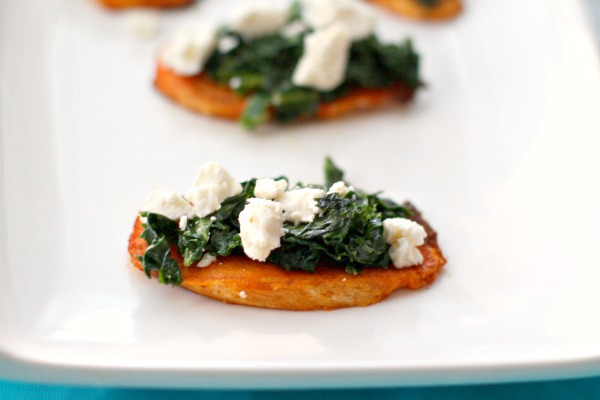 Its that easy.
The Kale is then sautéed along with some garlic and olive oil and makes the perfect topping for these bites.A layer of Goat's cheese goes next and I've used Chevre with Honey that gives a perfect sweet balance to the dish.The Cumin and Cayenne add that spicy heat element to my Sweet Potatoes that I love.The Kale is a nice contrast texture, color and flavor-wise and also makes this appetizer super healthy.Its bursting with flavor and I couldn't stop eating them once they were ready!So so good!You have to try it to believe.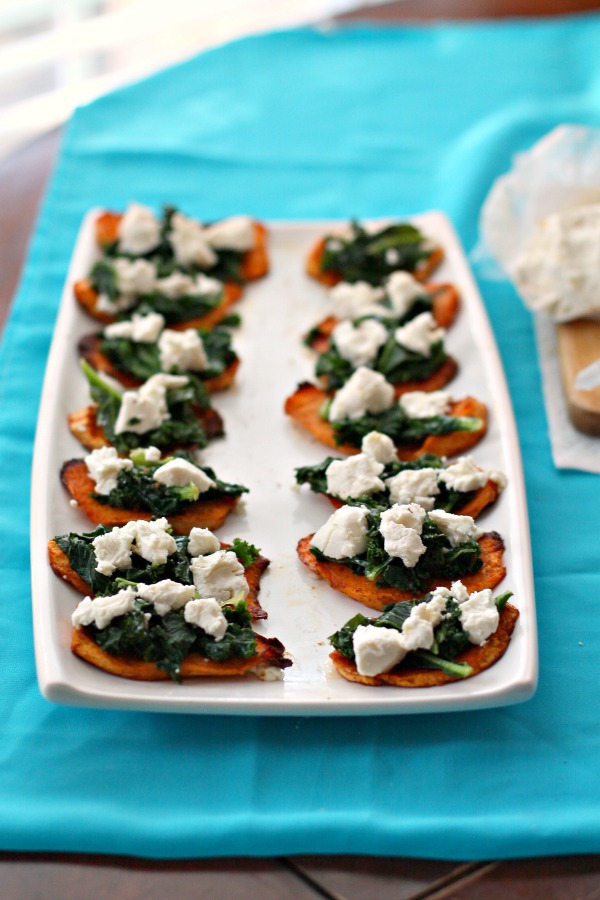 Spiced Sweet Potato Bites with Kale and Goat's Cheese
Ingredients
Chevre with Honey-1/4 log
Sweet Potatoes-3 sliced at an angle
Ground Cumin-2 tbsp
Cayenne or Red chili Powder-1/2 tsp
Salt- to taste
Olive Oil-2 tbsp

For the Kale

Fresh Kale leaves chopped-3 cups
Crushed Garlic- 1 clove
Extra Virgin Olive Oil-1 tbsp
Salt- to taste
Instructions
Preheat the oven to 375 degrees.
Mix all the spices and coat the sliced Sweet Potatoes on both sides.
On a foil lined oiled baking sheet, arrange the Sweet Potatoes in a single layer.Drizzle Olive Oil all over on both sides.
Bake for about 20-25 minutes until you see them turning slightly golden.
Turn off the oven.Arrange them in a tray using tongs.
Meanwhile in a pan heat the olive oil.Add the crushed garlic followed by Kale.Add a little salt and cook just until they've wilted just a little.
Empty in a bowl and keep aside.

To assemble

Top about a tbsp of Kale on top of each Sweet Potato bite followed by some roughly crumbled Goat's Cheese.Enjoy!
http://www.sonisfood.com/2013/11/spiced-sweet-potato-bites-with-kale-and-goats-cheese.html
www.sonisfood.com