This dish originally started off as a casserole until I spotted the lemongrass and some coconut milk in my fridge and pantry and decided to go Thai.I have a weakness for lemongrass.I'm tempted to buy it every time I spot it.I love the earthy lemony flavor and its fragrance every time I cook with it.I use it in my soups,stews and curries like this.
I haven't cooked a lot with Squash but I'd love to include it in our diet because its a healthy vegetable that's also rich in fiber and beta carotene.I love its sweet taste and the fact that it can be used in both sweet and savory dishes.I particularly love its vibrant color and its just so beautiful!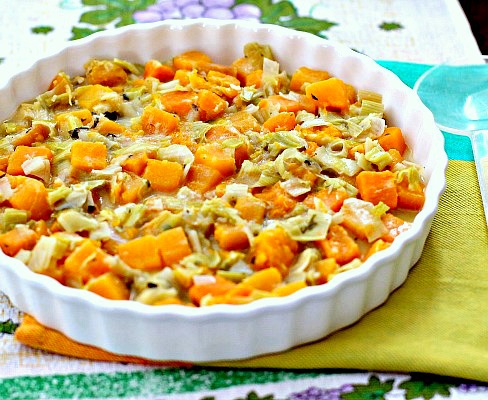 I've also come to the conclusion that this is my most favorite Butternut Squash dish ever.The combination of Leeks and the Butternut Squash sautéed together with the lemongrass, the ginger,garlic and spices is amazing.The addition of some creamy coconut milk brings about a harmonious balance of flavors. This dish served on a bed of rice is the most comforting dinner on a cold evening.Enjoy!
Thai Butternut Squash and Leek Curry
Ingredients
Butternut Squash-peeled and cubed-3 cups
Leeks-2 cups
Crushed Garlic-1 tbsp
Crushed Ginger or Galangal -1 tbsp
Lemongrass-2 stalks
Ground Cumin-1 tsp
Ground Coriander-1 tsp
Full fat Coconut Milk-2 cups
Oil -2-3 tbsp
Salt-to taste
Instructions
Cut the lemongrass and puree in a blender or food processor with a little water to make a paste.
In a skillet or a wok heat oil or butter.
Add the leeks and saute for about a minute.Add the ginger,garlic and lemongrass.
Saute for another minute or two.
Add the cumin and coriander.Saute until fragrant.
Add the cubed butternut squash.Mix well.
Add coconut milk and salt and bring to a boil.
Reduce the heat, cover and cook until the squash has cooked but still holds it shape (about 10 minutes).
Add a little water if too thick.
Serve hot on a bed of rice.
Enjoy.
http://www.sonisfood.com/2013/11/thai-butternut-squash-and-leek-curry.html
www.sonisfood.com