Do you like Brussels Sprouts?Does it only show up on your table during the holidays?
I've heard people mention that you either love it or hate it.I've neither been a big fan of them either.But this recipe might have changed my mind.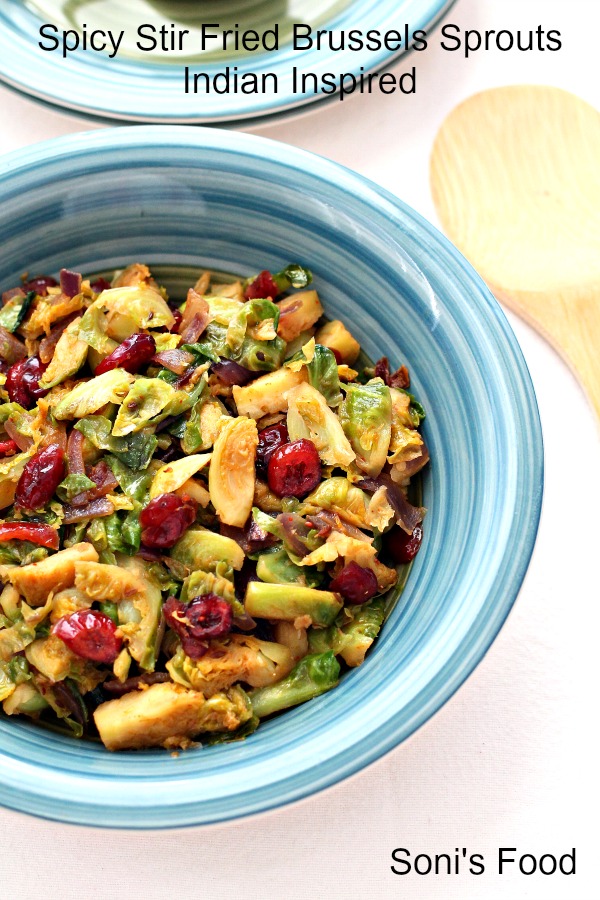 I LOVE it!I love it because it has a great flavor,it has the sweet and salty going on with the addition of cranberries.It has the jalapeños that I love in my stir fries and its super easy!It looks gorgeous on the table and has so much flavor from the cumin,ginger and the coriander.Planning a holiday menu is cumbersome as is it and easy rceipes like this would not only give your guests a different take on the usual,but it will also wow them!And it cooks in a breeze.Need I say more?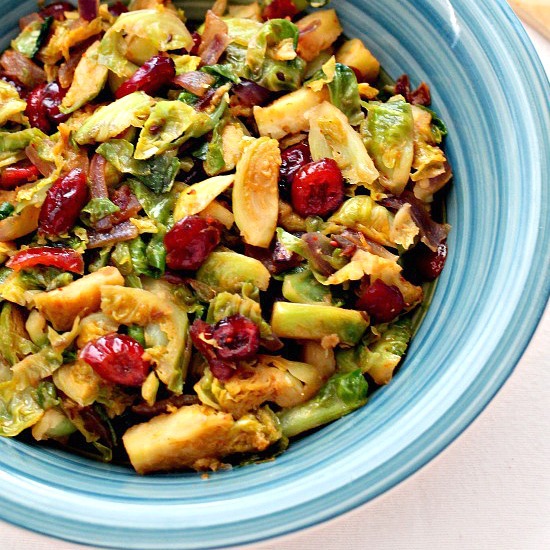 Spicy Stir Fried Brussels Sprouts with Cranberries-Indian Inspired
Ingredients
Brussels Sprouts-3 cups
Cumin Seeds-1 tsp
Medium Onion-1 sliced
Fresh Ginger-1/2 inch crushed
Jalapeños-2 sliced
Ground Coriander-1 tsp
Paprika-1/2 tsp
Dried Cranberries-1/2 cup
Oil-3 tbsp
Instructions
Slice the brussels sprouts in half and slice the halves.Wash them and set aside.
In a skillet heat oil and add the cumin seeds.
Once they splutter, add the sliced onions and saute until slightly golden.
Add the crushed ginger and jalapeños.
Saute for a minute.
Add ground coriander and saute for about a couple of minutes.
Add the Brussel sprouts,salt,paprika and cranberries.
Cook on medium for about 8-10 minutes or until the brussel sprouts are soft, yet retain their shape.Enjoy!
http://www.sonisfood.com/2013/12/spicy-stir-fried-brussels-sprouts-with-cranberries-indian-inspired.html
www.sonisfood.com