Do you like Brussels Sprouts?Does it only show up on your table during the holidays?
I've heard people mention that you either love it or hate it.I've neither loved it nor hated it.But this recipe might have changed my mind.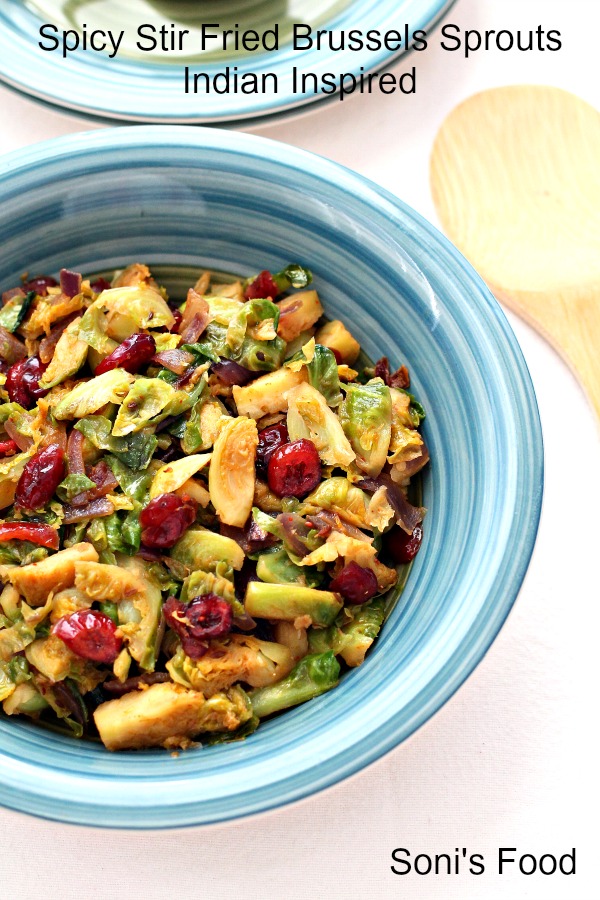 I LOVE it!I love it because it has a great flavor,it has the sweet and salty going on with the addition of cranberries.It has jalapeños that I love in my stir fries and its super easy!It looks gorgeous on the table and has so much flavor from the cumin,ginger and the coriander.Its an easy side dish for the holidays or any day for that matter.
It will change your mind too.Trust me.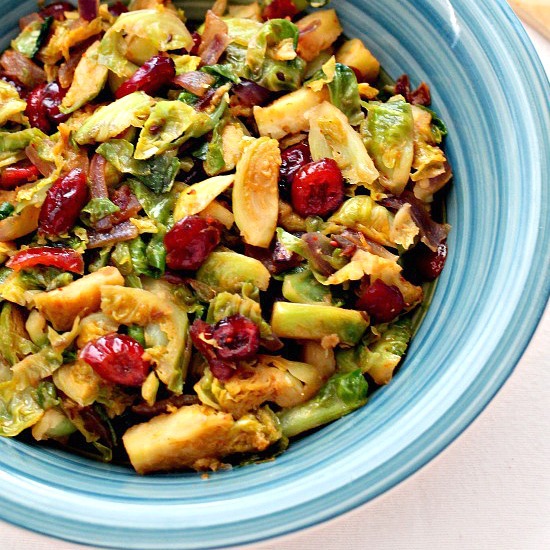 Spicy Stir Fried Brussels Sprouts with Cranberries-Indian Inspired
Ingredients
Brussels Sprouts-3 cups
Cumin Seeds-1 tsp
Medium Onion-1 sliced
Fresh Ginger-1/2 inch crushed
Jalapeños-2 sliced
Ground Coriander-1 tsp
Paprika-1/2 tsp
Dried Cranberries-1/2 cup
Oil-3 tbsp
Instructions
Slice the brussels sprouts in half and slice the halves.Wash them and set aside.
In a skillet heat oil and add the cumin seeds.
Once they splutter, add the sliced onions and saute until slightly golden.
Add the crushed ginger and jalapeños.
Saute for a minute.
Add ground coriander and saute for about a couple of minutes.
Add the Brussel sprouts,salt,paprika and cranberries.
Cook on medium for about 8-10 minutes or until the brussel sprouts are soft, yet retain their shape.Enjoy!
www.sonisfood.com
If you enjoyed this article,why not sign up to get email updates (It's Free)!