I was sent these gorgeous Almondina Brand Cookies for review and I've really been enjoying them every day with my favorite cup of tea.These cookies are super crunchy just the way I like them and they have the lovely taste of Almonds in every bite.If you're looking for a delicious cookie that's also healthy and guilt free then look no further since I've got also got a special offer for you!One lucky reader will win a free sample from them in the following delicious flavors!!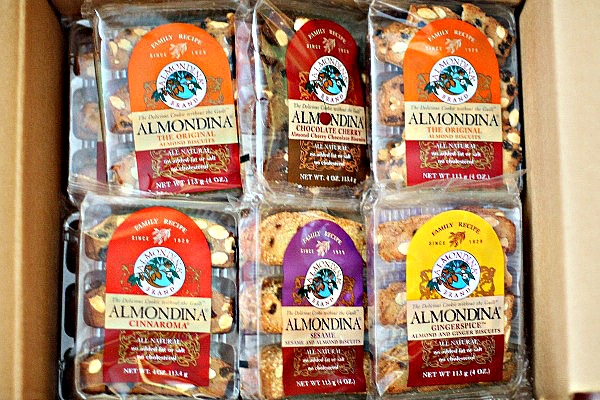 Original – America's all natural favorite with almonds and raisins
Chocolate Cherry – We combined the world's finest dark chocolate with plump cherries to produce an irresistible, decadent treat without guilt.
Choconut – Rich tasting crunchy chocolate, but low in calories
Cinnaroma® – The original biscuit for cinnamon lovers
Gingerspice – Trend setting, with chunks of Australian ginger
AlmonDuo® – Double-nut wonder with almonds and pistachios
Sesame – Irresistible, exotic, flavorful
Quite a treat isn't it??But that's not all.Almondina Cookies are not your average cookies.These cookies are:
all natural
have no cholesterol,no trans fat or preservatives
made with no added salt or fat
low in calories-only 30 cal per slice

Kosher and Pareve (non dairy)
They can be enjoyed :
with tea or coffee
as a cracker with cream cheese, Brie or other soft French cheeses
with a glass of sherry
crumbled as an ice cream topping
served to youngsters with milk
as a delicious breakfast on the way to work
I finally got to try a decent cookie and I'm already hooked!My favorite one was the Chocolate Cherry, although my kids loved the Choconut.They are thinly sliced with just the perfect crunch ready to be devoured and are absolutely scrumptious!Thankyou Almondina.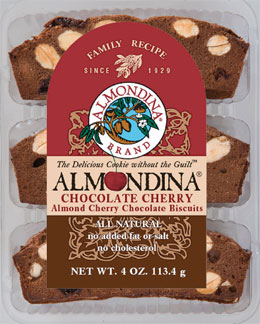 Almondina is a family owned business and it all started with Grandmother Dina's secret recipe that she revealed at the end of her life to her daughter.The family then took upon themselves to develop a nutritious cookie for the health conscious consumer.Almondina distribution has since expanded and is now readily available at stores such as Fairway, Hy Vee, Giant Eagle, Brookshire, Mollie Stone's, Hannaford, Jewel, Whole Foods, The FreshMarket, Walmart, Trader Joe's, Cost Plus World Market, TJ Maxx, Marshalls and many others.For more information on availability visit their website.
So now for the exciting part!One lucky reader will get a free sample pack consisting of 8 of their selected cookies and this giveaway is open to all US residents!Please note that previous winners of Almondina giveaways are ineligible.
Please enter below and get as many entries as you can to maximise your chances of winning!The winner will be announced on Monday the 24th of March and notified via email.If no claim is made within 24 hours then the prize will go to the next claimant.
Almondina sent me their product to review, but all opinions are my own.