Spring is finally in the air after a torturous winter.The flowers blooming,the birds chirping, the barren trees beginning to bloom and greenery all around.The beauty of spring.Spring is also the time when plenty of green vegetables like Green Beans,Peas,Asparagus etc are in season.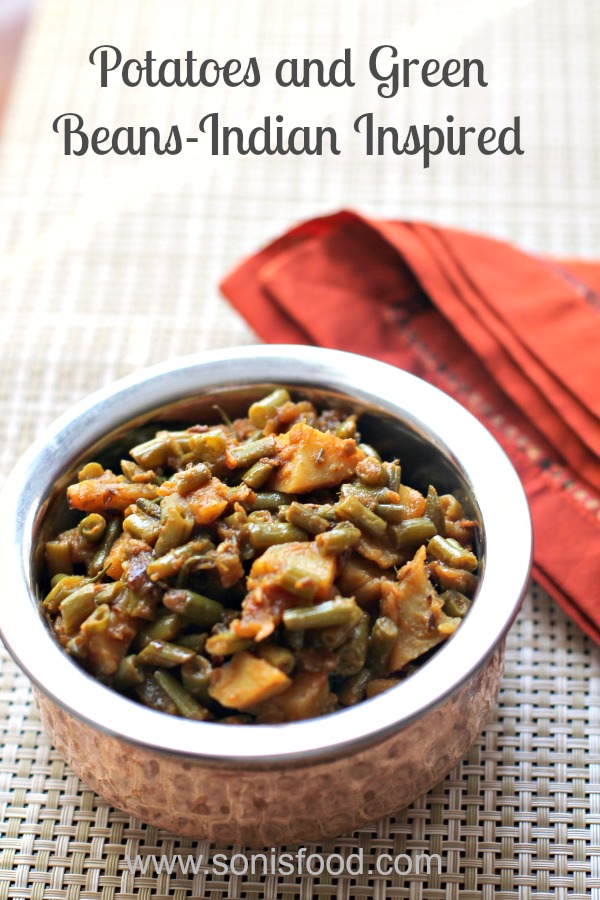 My recipe for you today involves Green Beans and Potatoes.This dish is a typical North Indian dish that I grew up eating.Its a family recipe and you can substitute your favorite vegetable or a combo of vegetables if you prefer.It goes well with some Roti, rice and Lentils (Dal).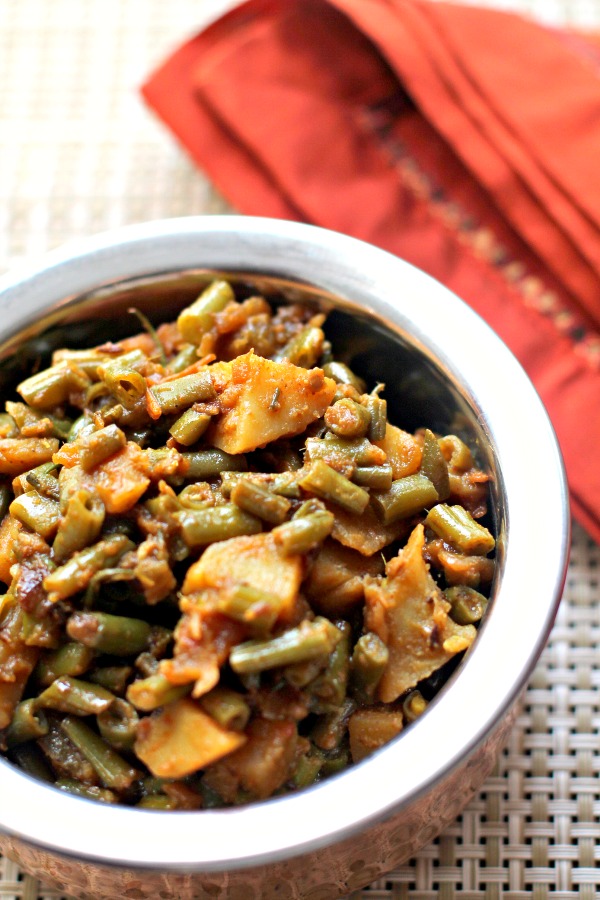 The spices along with the base of the sauce consisting of onion/ginger/garlic add their delicious layers of flavor and aroma to this dish.Its a semi dry dish, just the way I prefer my Indian veggies.The beans are cooked to perefction still maintaining their crunch along with the potatoes and it just screams spring to me.Most of the veggies are cooked in a similar manner in our family and they taste absolutely delicious.
Potatoes and Green Beans (Aloo Beans ki Subzi)-Indian Inspired
Ingredients
Medium sized Potatoes-2 peeled and diced
Chopped Green Beans-3 cups
Onion-2 finely chopped
Garlic-2 cloves crushed
Ginger-1/2 inch crushed
Ground Cumin-1 tsp
Ground Coriander-1 tsp
Turmeric-1/4 tsp
Red chili or paprika-1/2 tsp
Tomatoes-1 finely chopped
Salt-to taste
Oil-3 tbsp
Water-1/4 cup or more as required
Instructions
In a wok or skillet heat oil.
Add onions and saute until golden.
Add ginger and garlic and mix well.
Add the spices followed by the tomatoes.
Cook on medium until the mixture is aromatic and oil separates from the sides (6-8 minutes)
Add the potatoes along with some salt.
Cook for about 5 minutes before adding the green beans.
Mix well, cover and cook for about 10-12 minutes stirring every now and then until all cooked.
Adjust the seasonings.Serve hot with Roti or rice and Lentils.
www.sonisfood.com