As promised I'm sharing with you this amazing Bread Pudding using the leftover Challah bread that I'd baked in my previous post.For those of you who haven't entered my Tribes-A-Dozen Challah Bread mixes Giveaway there's still time to enter!!
Bread Pudding has to be the most amazing dessert ever.Period.Its absolutely effortless and in my opinion the best dessert for a crowd.I had guests over during the kids' spring break and I made this for them.Needless to say, they went for seconds and thirds.I also have to add here that using Challah made this dessert richer and delicious.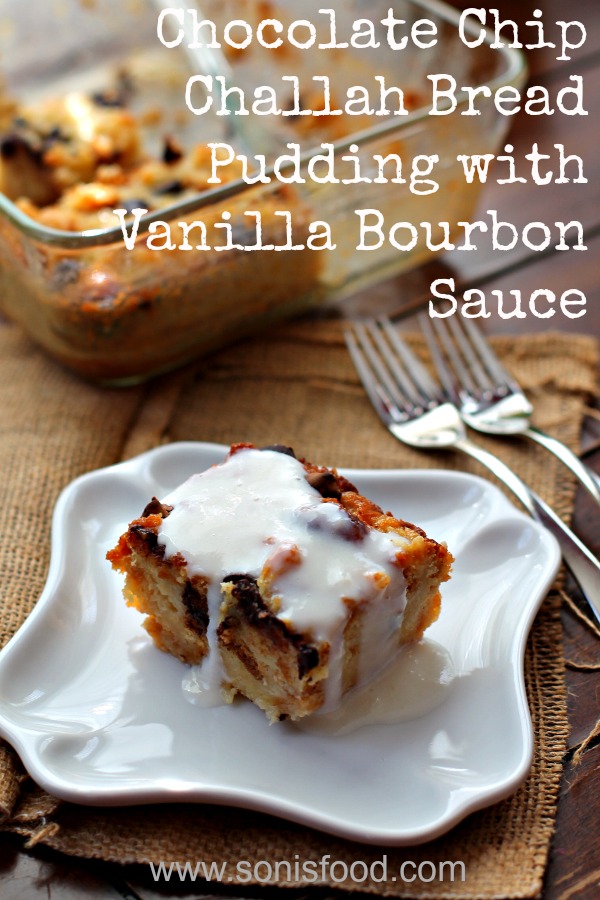 The layers of delicious custard all soaked up into the bread is the most comforting end to any meal and I just cannot get enough of it!The chocolate chips added some chocolate magic into the dish.To go along with it I made an instant Vanilla Bourbon Sauce that took this dessert to even greater heights.Enjoy.
Chocolate Chip Challah Bread Pudding
Ingredients:
Challah Bread-5 cups cut into 1 inch cubes
Melted Butter-2 tbsp
3 eggs
Vanilla-1 tbsp
Milk-2 Cups
Sugar-3/4 cup
Semi sweet Chocolate Chips-1/3 cup
Process:
Preheat the oven to 350 degrees.Beat together eggs,butter,vanilla and milk.
Add sugar and mix until dissolved.
Arrange bread cubes tightly into a 9 inch baking dish.
Pour liquid over the bread.Press the bread down gently all over.
Sprinkle chocolate chips all over.
Leave for 30 minutes.
Bake for about 30-45 minutes or until a toothpick inserted in the center comes out clean.Enjoy.
Instant Vanilla Bourbon Sauce
Ingredients:
Instant Vanilla pudding-3 tbsp
Milk-1/2 cup
Bourbon-2 tbsp
In a microwave safe bowl mix the pudding mix and milk.Stir and cook for about a minute or two until thickened.Add some more milk if too thick.Add the bourbon and mix well.Drizzle all over the bread pudding.
Recipe adapted from Pioneer Woman.