Is it just me or this summer is really going-by way too fast!We're already inching towards the end of July and there's just one more month of summer vacation left.I've been busy with lots of entertaining and cooking, but somehow not all recipes make it to my blog.I cooked a variety of dishes this past month, but couldn't take pictures of any.But I promise you that those recipes will be made again so I can share them with you!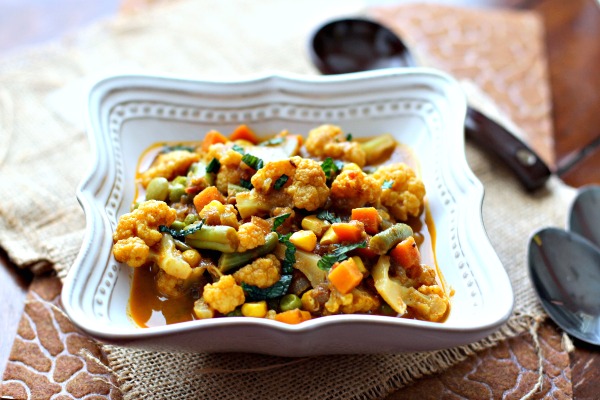 With so much going on during the summer, easy family recipes is what everyone is look for, and I've got for you exactly that.An easy Mixed Vegetable Curry that you can make using your favorite frozen mixed vegetable pack.I like to add in some fresh cauliflower for some body and also some extra flavor.This dish is a staple if I'm in a rush or if we've been out all day and need something fast on the table.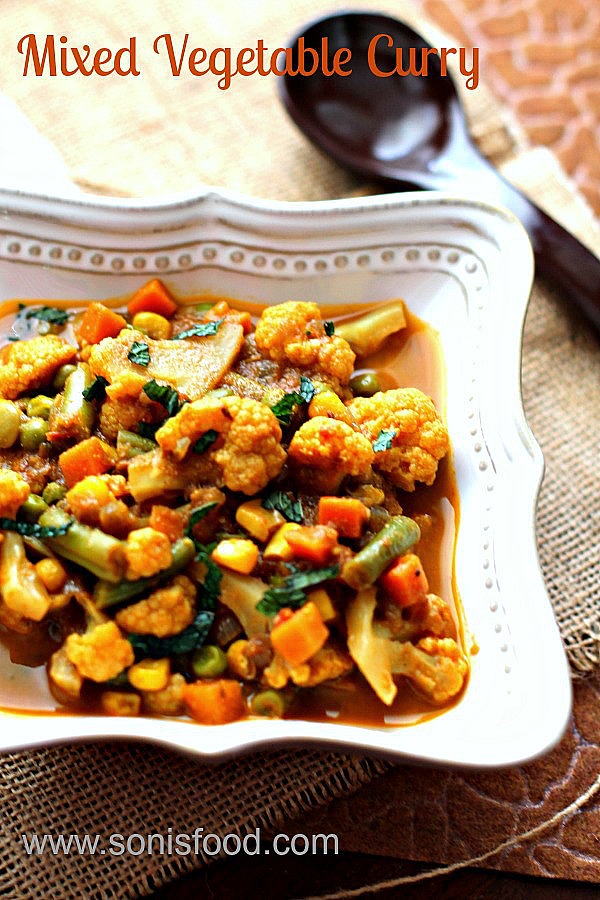 I make it just like any other Indian sauce beginning with browning the onions followed by ginger-garlic, spices and tomatoes.The spices I use are typically ground cumin,coriander,garam masala, turmeric and  chili.The redolence is unbelievable and the once the veggies are added into the sauce, its just waiting to be scooped up with some warm rotis or naan.If you desire the sauce more creamier, you could also add a tablespoon of some sour cream or heavy cream towards the end.Enjoy.
Ingredients
2 cups of frozen mixed veg pck
1 cup fresh small cauliflower florets
Onions-2 small finely chopped
Fresh crushed ginger-2 tsp
Fresh crushed garlic-2 tsp
Tomatoes-2 small pureed
Ground cumin-1 tsp
Ground coriander-2 tsp
Turmeric-1/2 tsp
Red chili powder-1/2 tsp
Garam masala-1/2 tsp
Water-1/2 cup or more if req
Oil-3 tbsp
Salt to tatse
Instructions
In a skillet heat oil and add onions.
Brown until golden on medium heat and add ginger and garlic.
Saute for a minute and add the spices.
Saute for another minute or two until aromatic and add the tomato puree.
Cook the mixture until you see oil separating from the sides.
Add the veggies and cauliflower along with salt.Mix well.
Add water and cook for about 8-10 minutes or until the veggies are cooked.Check the seasonings.
Add cream if desired.
Enjoy.
http://www.sonisfood.com/2014/07/mixed-vegetable-curry.html
www.sonisfood.com