Asparagus is not very commonly used in Indian cooking simply for the reason that its not grown in India.However, for people living here its abundantly available throughout spring and summer.I love using Asparagus in my Indian cooking and try and experiment with it in different ways.This recipe I have for you today uses Asparagus with Potatoes.Typically this dish is made using just potatoes,but teaming it with Asparagus was a brilliant idea and was a hit even with my kids!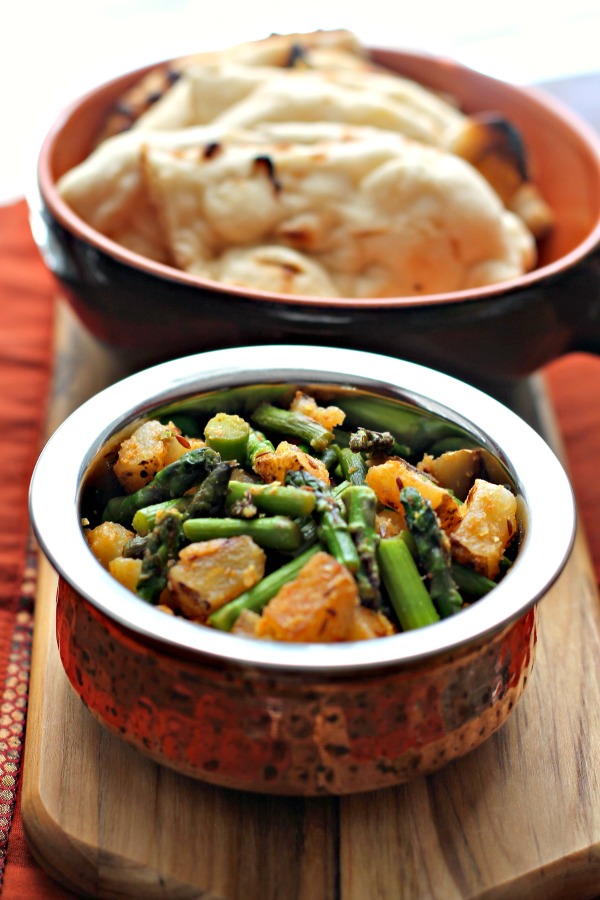 The potatoes go in first since they take a little longer to cook.Once you see them turning golden and cooked more than halfway you can add the Asparagus.This dish is called 'Bhujia' and is a staple in the states of UP and Bihar in India.Its a simple dish that requires minimal ingredients and tastes great with some roti/chapati/naan along with some dal (lentils) for a simple weekday supper.Enjoy!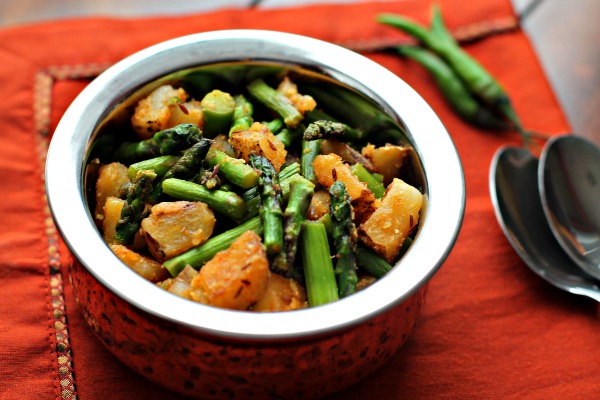 Aloo Asparagus (Potato and Asparagus)
Ingredients
Potato-3 medium peeled and diced
Asparagus-1 bunch
Cumin Seeds-1 tsp
Crushed Garlic-1 tsp
Red chili or paprika-1/2 tsp
Turmeric-1/2 tsp
Salt-to taste
Oil-3 tbsp
Instructions
Trim the tough ends of the Asparagus and chop them into 1/2 inch pieces and dice the potatoes.Wash and pat dry.
In a skillet heat the oil and add the cumin seeds.
Once they splutter, add the potatoes along with the turmeric and some salt.Lower the heat to medium and cover.
Keep stirring every few minutes until more than halfway cooked and add the asparagus.
Add the crushed garlic,red chili/paprika,salt and mix well.
Cook for another 6-8 minutes.
Enjoy!
http://www.sonisfood.com/2014/09/aloo-asparagus-potato-and-asparagus.html
www.sonisfood.com