The mix of the damp and cold weather inspired me to make this dish.I love dry stir fried veggies with parathas or puri during this kind of weather.Its a cozy weeknight meal that just screams comfort.I love the crusty layer that the potatoes develop during the cooking process and the peas add their wonderful vibrant color.Its a simple dish that comes together quickly and is a favorite of my kids too!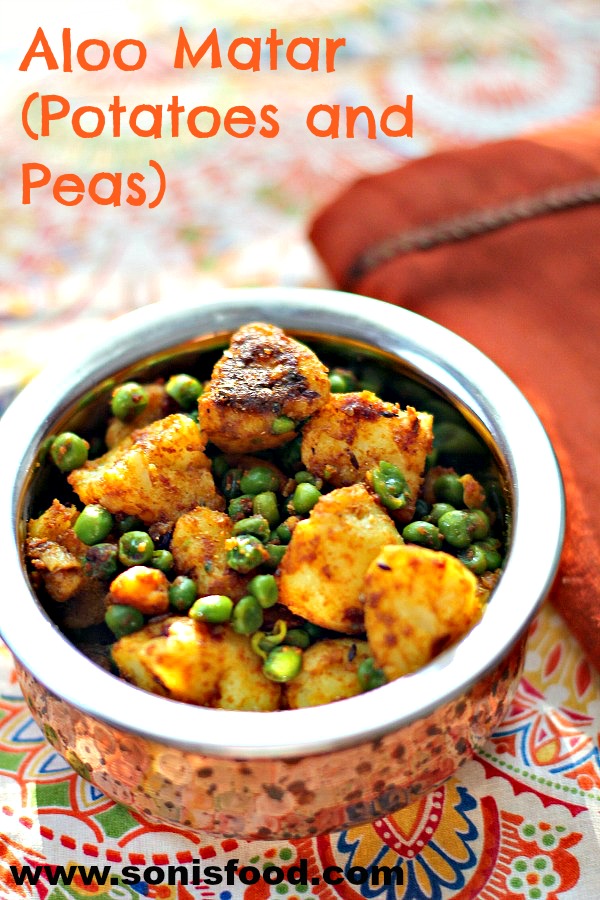 This is a dry version of Aloo Matar that is a tad different from the usual.I boil the potatoes first and then fry them in some aromatic spices like cumin,coriander, turmeric ,chili and amchur (dry mango powder).Amchur is is basically powdered green mango and adds this wonderful citrusy tangy flavor to the dish.Its easily available at your local Indian grocers.Enjoy!
Aloo Matar (Potatoes and Peas) #Vegan
Ingredients
3 medium Potatoes
Frozen green peas- 1 cup
Oil-3 tbsp
Cumin Seeds-1 tsp
Ground Coriander-2 tsp
Turmeric-1 tsp
Red Chili powder-1/2 tsp
Tomato paste-1 tsp
Amchur (dry mango powder)-1 tsp
Salt-to taste
Instructions
Boil the potatoes in some water until cooked.Peel off the skin once slightly cooled.Roughly chop them.
In a skillet heat the oil and add cumin seeds.
Once they crackle lower the heat and add the rest of the spices and tomato paste.
Stir for about a minute.If sticking to the pan add about a tbsp of water.
Add the chopped boiled potaoes and let it coat in the mixture.Add salt and peas.
Mix all together and cook until the peas are cooked.
Enjoy!
http://www.sonisfood.com/2014/12/aloo-matar-potatoes-and-peas-vegan.html
www.sonisfood.com