Harissa has long captivated me.I'd never heard of it until a few months ago when all of a sudden everywhere I looked people were making Harissa and cooking tons of recipes using Harissa.Just looking at those pics,I fell in love with the vibrant red color of the paste and the flavors seemed right up my alley since I love chilies in any form. As I walked past the aisles in our local Sur La Table the other day, I was overjoyed when I spotted a jar of Harissa sitting right there!I immediately picked it up and couldn't wait to get home and try it!I was amazed at the flavor explosion in my mouth,right from the smoky,tangy to the heat from the chilies and the garlic not to mention the beautiful vibrant red color!Its my new favorite condiment these days and I couldn't wait to create something amazing with it.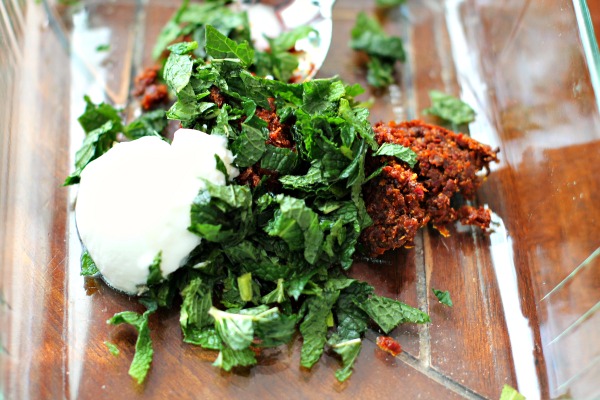 For those of you who haven't heard of Harissa before, its a Tunisian condiment made from serrano peppers,hot chili peppers,roasted red peppers,garlic,coriander or caraway seeds along with olive or vegetable oil for preservation and it is available in some speciality stores.It can be used to flavor a ton of recipes including couscous, a stew, as a rub over your favorite meat or fish, in a dip and so on..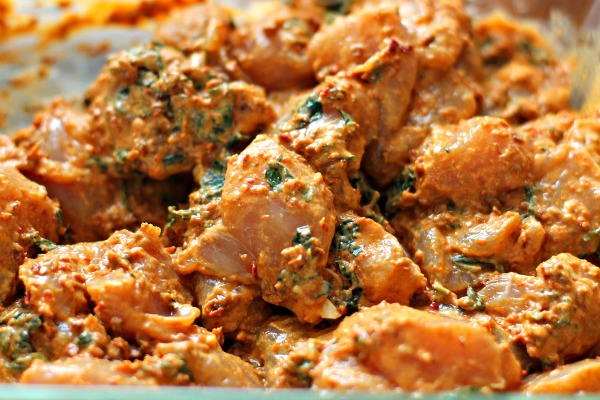 With eyes on the Superbowl, I thought that a great way to use this would be in some moist juicy Chicken kebabs that would also make an easy appetizer to feed a crowd.I started off by mixing the harissa with some yoghurt as I would in a Tandoori and added some fresh mint, some ginger-garlic paste and some cumin.The chicken tenders were then left to marinade for a good few hours and then placed onto skewers to be grilled on the stove top.The flavors from the Harissa just comes through and the mint complements it beautifully.They came out absolutely delicious and a good squeeze of fresh lemon juice just completed the dish.Enjoy it for your game day or any other day!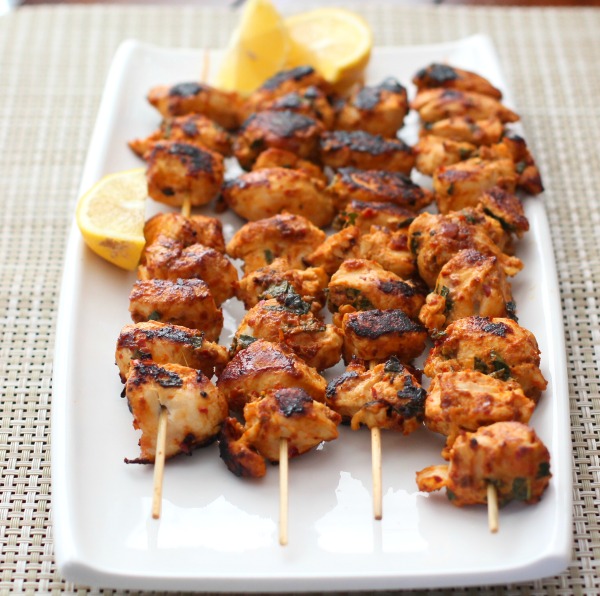 Harissa Mint Chicken Kebabs
Ingredients
Chicken Tenders-1 pck (about 1 1/4 lb)cubed

Marinade

Greek yoghurt-2 tbsp
Harissa paste-2-3 tbsp
Crushed Ginger-1 tsp
Crushed Garlic- 1 tsp
Ground Cumin-1 tsp
Salt- to taste
Oil-1 tbsp
Fresh mint-1 few sprigs chopped

Garnish

Freshly squeezed juice of a lemon all over
Instructions
In a deep bowl assemble all the ingredients to marinade and mix the chicken tenders.
Let it sit in the fridge for about 5-6 hours.Place the chicken pieces onto skewers.
In a gridldle pan heat some oil.
Once the griddle is really hot, place the skewers and let it cook and develop a lovely golden color on one side (apprx 5-6 mnutes) and then gently flip over using a spatula to loosen the pieces if stuck.
Cook on the other side for apprx same time until fully cooked.
Arrange on a tray and squeeze some lemon juice all over.
Enjoy!
http://www.sonisfood.com/2015/01/harissa-mint-chicken-kebabs.html
www.sonisfood.com