This cold weather is getting to me now.And its only January..The good thing about the winters according to my daughter is the fire place and I agree with her.The beauty of the fire light up your room is just breathtaking.The pleasure of wrapping yourself in warm blankets with your favorite book is pure bliss.The only other thing that I enjoy apart from that is of course to cook warm dishes with a thick sauce that's simmered until everything's coated in the mix and all ready to be devoured.Sounds pretty good don't you think?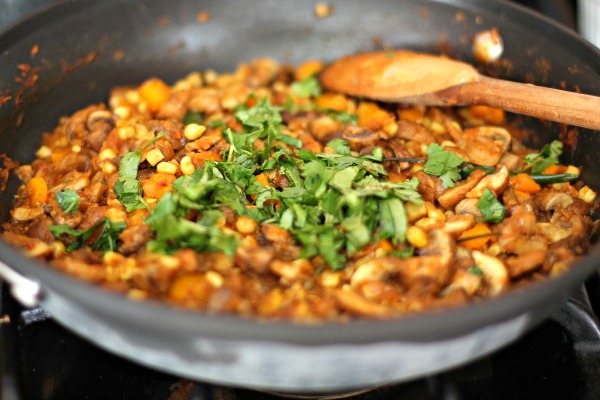 My recipe today is a mix of Mushrooms, some frozen corn and peppers.Its an Indian mix vegetable dish that has a thick sauce base consisting of onions,tomatoes,ginger,garlic and some spices.Its an easy side dish that you can make any night of the week and comes together pretty quickly.I like my dishes a tad spicy hence the red chili but you can opt for a milder chili or paprika if you wish.The earthy spices give this dish tons of flavor and the corn and peppers bring in a slightly sweet element.The result is a spicy yet slightly sweet dish with a hint of the garam masala in the background.Just the perfect side dish with any protein of your choice!Enjoy.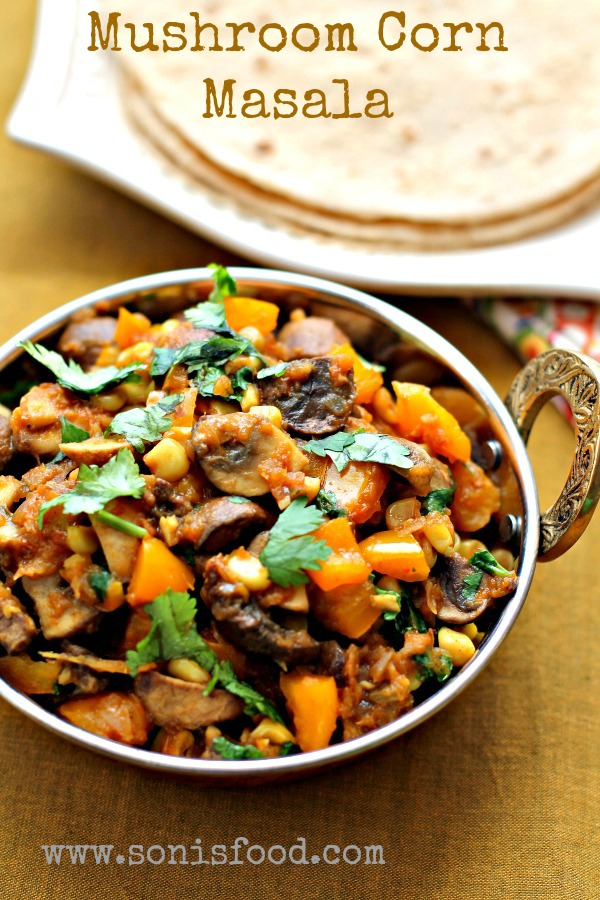 Ingredients
Baby Bella Mushrooms-2 packs washed and sliced
Frozen corn-1 cup
Yellow pepper-1 chopped
Large Onion-1 finely chopped
Crushed Ginger-1 tsp
Crushed Garlic-1 tsp
Tomatoes-3 pureed
Red chili-1 tsp
Green chilies-2 chopped (optional)
Turmeric-1/2 tsp
Garam masala- 1 tsp
juice of one lemon
Cilantro
Oil-4 tbsp
Salt-to taste
Instructions
Place the corn in a microwave safe bowl and cook for 4 minutes until soft.Keep aside.
Heat oil in a skillet and add the onions until slightly golden.
Add ginger-garlic paste, green chilies and red chili powder.
Add salt,turmeric,garam masala and continue to mix.
Add tomatoes and cook until the mix comes together about 5-6 minutes.
Add the mushroom,corn and peppers.
Cook for about 6-8 minutes until all tender and cooked.
Add lemon juice and some chopped cilantro.
Enjoy.
http://www.sonisfood.com/2015/01/mushroom-corn-masala.html
www.sonisfood.com