Warm weather has finally graced us and it's pure joy to step out these days to soak in the glory.Its also the time of the year when cooling foods and drinks are in order and the recipe I have for you today will do just that.A light refreshing Chilled Asparagus Soup might just be the perfect lunch with your Mom and cheer her up on Mother's Day!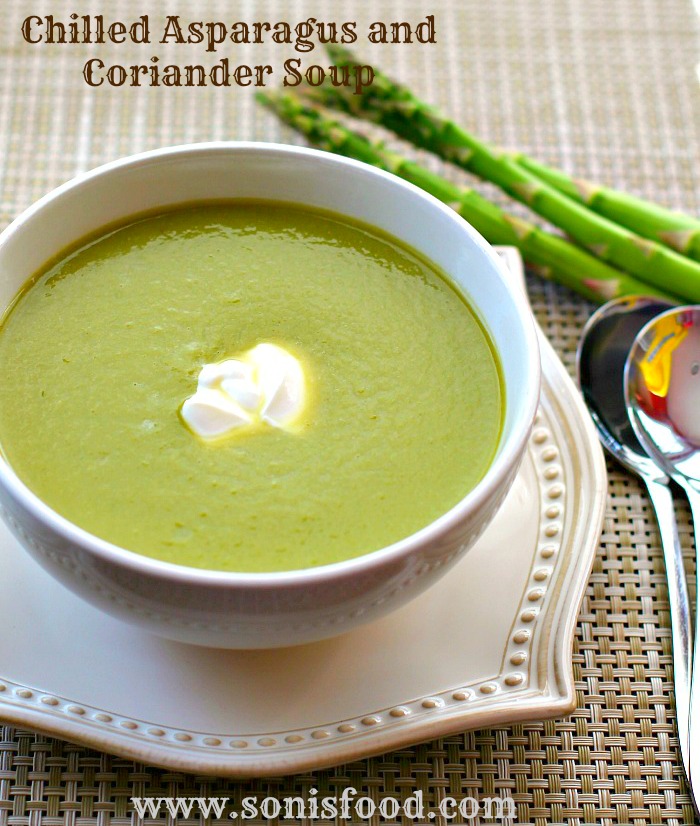 And yes, I said Chilled Asparagus Soup.For those of you who haven't tried a chilled soup before let me tell you it tastes delicious!Smooth, rich and creamy,it cools you off while hydrating you at the same time.Give it a try.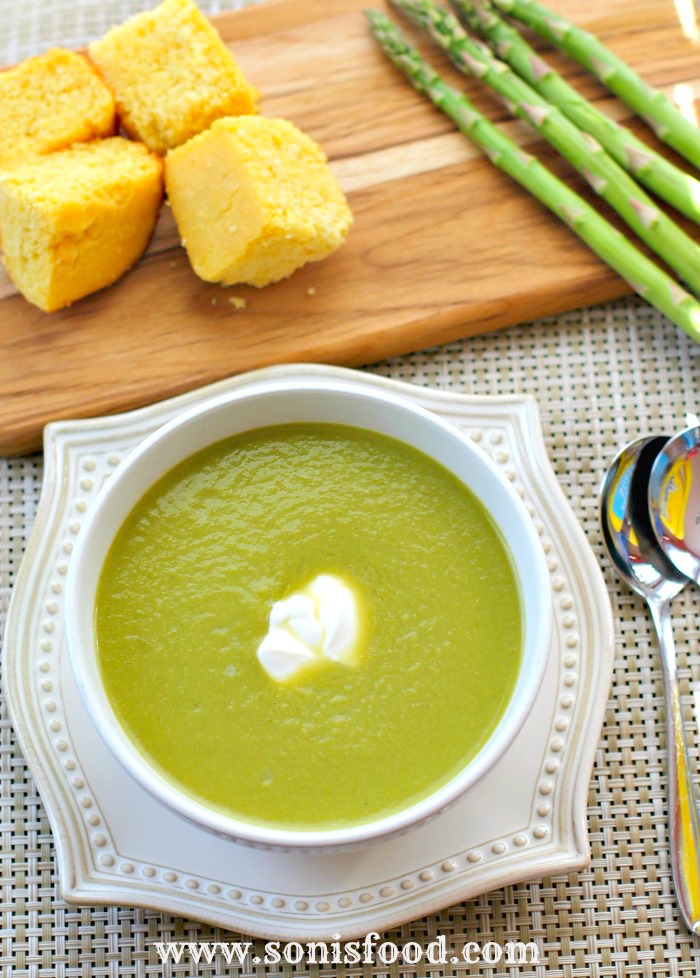 Asparagus is one of my favorite vegetables and I just can't seem to get enough of it during Spring. The soup comes together in minutes and I've flavored it with some ground coriander.I love adding ground coriander in my soups as you can see in my Carrot and Coriander and Cauliflower and Spinach Soups.I love the complex earthy undertone.I've used Chicken Broth but you could also use water or vegetable broth.Once slightly cooled puree in a blender and serve it with a dollop of sour cream and your favorite bread!Enjoy.
Chilled Asparagus and Coriander Soup
Ingredients
Asparagus-1 lb
Onion-1 large chopped
All purpose flour-1 tbsp
Ground Coriander-1 tbsp
Chicken or Vegetable Broth-4 cups
Extra Virgin Olive Oil-2 tbsp
Salt and pepper
Sour Cream
Instructions
Trim the asparagus and cut into 2" pieces.
In a large pot heat the olive oil and add the chopped onions and saute until translucent.
Add the flour and mix.
Add the asparagus and saute for about 2-3 minutes.
Add the ground coriander ,salt and pepper.Stir for a few minutes.
Add the broth and bring to a boil.
Reduce the heat, cover and let it all cook for about 20-25 minutes.
Once slightly cooled puree the soup in a blender.
Chill in the fridge for at least 3 hours or even overnight.
Serve chilled with a dollop of sour cream and your favorite bread.
http://www.sonisfood.com/2015/05/chilled-asparagus-and-coriander-soup.html
www.sonisfood.com