Summer is finally here and its time for bbq and summer parties galore.While grilling is the main charm of summer parties, easy and convenient food ideas are always welcome when you have people over.I had some wonton wrappers in my freezer and decided to use them in an Indian Inspired appetizer that came out delicious!My Cabbage Mushroom Wonton Bites are a great way to enjoy Indian flavors and they look pretty too!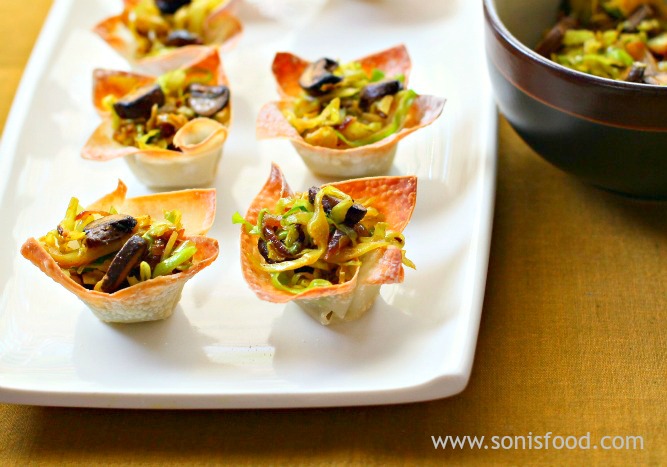 I love the convenience of shredded green cabbage sold at Trader Joe's and use it all the time.Its such a life saver when you're pressed for time especially in the weeknights.This recipe calls for some onions, ginger , spices like ground coriander and garam masala that's an essential element in any North Indian dish.The cabbage and mushrooms are then added into the mix and get coated in the aromatics. The result is a delicious filling ready to go into the Wonton wrappers.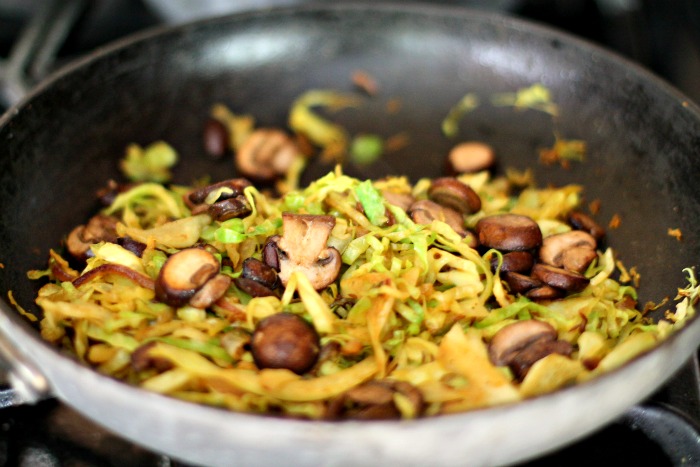 The wonton wrappers are placed onto a mini muffin tin and baked for just a few minutes until slightly golden and crispy.Once slightly cooled they're ready to be filled with the cabbage and mushroom mixture and served with your favorite condiment.Enjoy!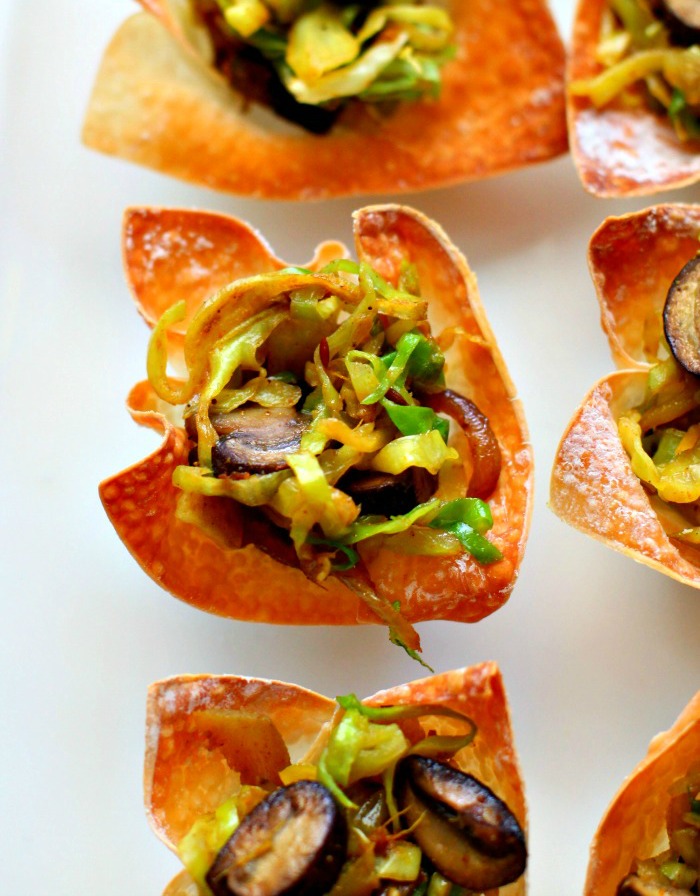 Indian Spiced Cabbage Mushroom Wonton Bites
Ingredients
Wonton Wrappers-15-18

Filling

Shredded Green Cabbage-2-3 cups
Sliced Baby Bella Mushrooms-2 cups
Onion- 1 sliced
Crushed Ginger-1 tsp
Ground Coriander-1 tsp
Garam Masala-1 tsp
Salt-to taste
Oil-2 tbsp
Instructions
Preheat the oven to 375 degrees
Brush the wontons with a little oil on both sides and press each wrapper into the tin so it looks like a cup and the sides will stick out.
Bake for 8-10 minutes until golden.

For the filling

In the meantime heat oil in a pan and add the onions.
Saute for about 2 minutes and add the ginger.
Mix well and add the spices. Saute for about a minute until you smell the spices.Add the mushrooms and saute until golden followed by the cabbage.
Add salt, mix well and cook covered for about 7-8 minutes on medium low heat.
Allow to cool slightly before filling the wonton cups with this mixture.
http://www.sonisfood.com/2015/05/indian-spiced-cabbage-mushroom-wonton-bites.html
www.sonisfood.com