Our biggest festival Diwali (festival of lights) is just a day away and I'm excited!Its the time when you decorate your home with Diyas (earthern lamps)and candles.I love selecting the diyas from our local Indian stores and they come in various shapes and colors.Diwali is the festival of lights and as such homes are lit up inside and out with colorful lights.Colorful rangoli patterns adorn the entrance of homes for good luck.It's all such a pretty sight.Coincidentally schools are also closed tomorrow and I'm so happy that my kids get to celebrate Diwali and help me out with things.Our kitchen is going to be busy and I'm looking forward to some festive cooking!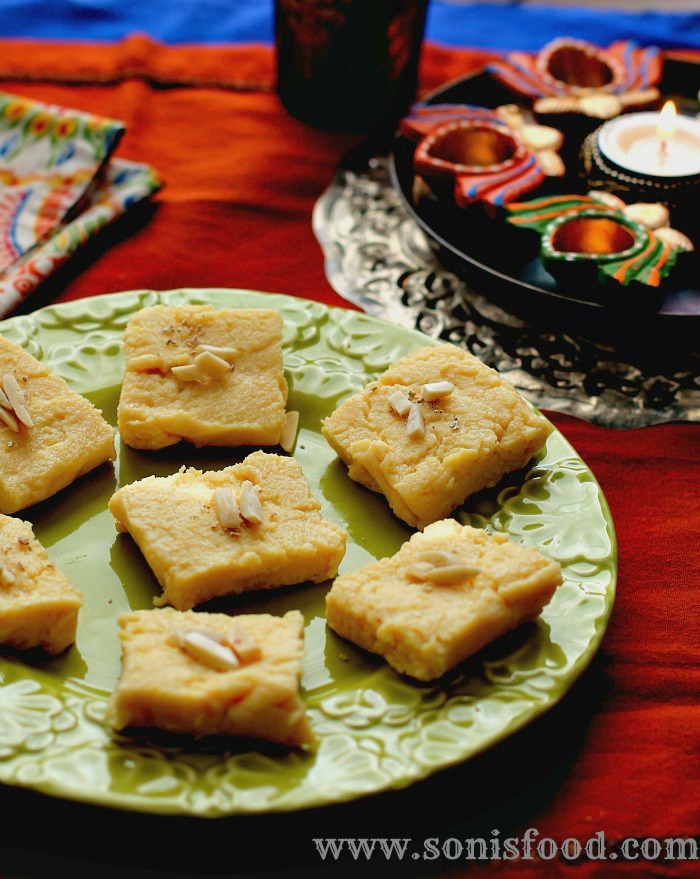 Festivals are also the perfect excuse to indulge in those sinfully delicious foods both sweet and savory and enjoy them to your heart's content.I try and recreate recipes from Mom's repertoire like this one and the one I have for you today. It's an easy fudge (burfi in Hindi) made with Ricotta (Mom uses paneer) and flavored with Green Cardamom and Saffron. If you're familiar with Indian desserts you'll notice that green cardamom is used extensively and I personally love the flavor.Just use it sparingly since a little bit goes a long way.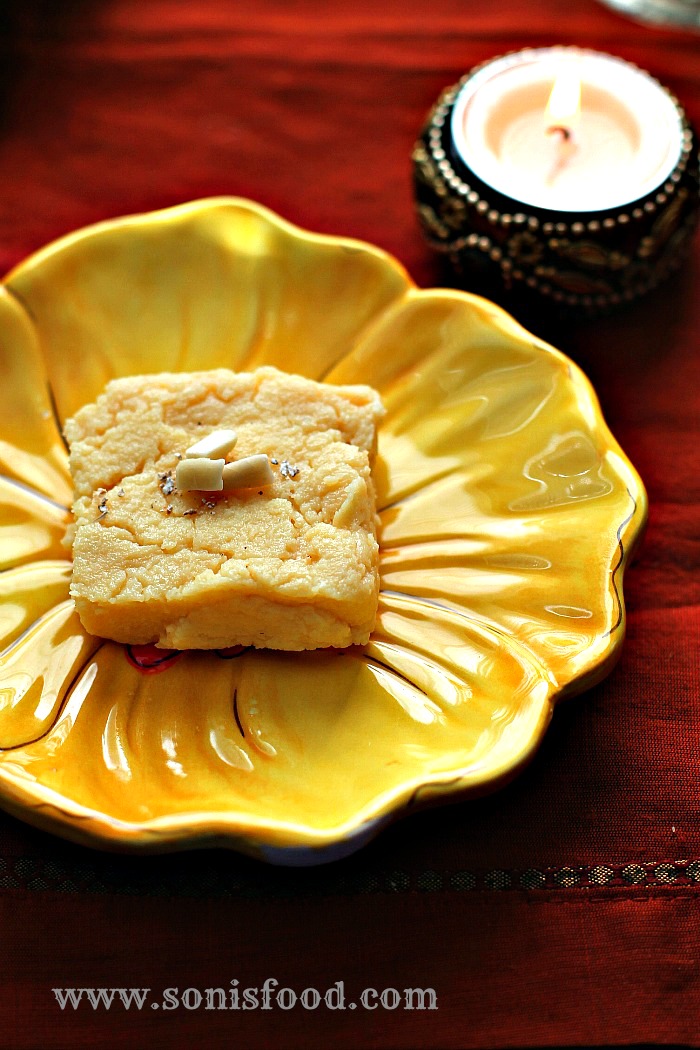 It comes together in minutes and tastes phenomenal.The Ricotta is cooked in a pan along with some condensed milk, cardamom and saffron until all the moisture evaporates and then cooled off to set.Once set just cut it into desired shape and you're good to go.You can store it in the fridge and it stays good for upto a week.The fudge is rich and creamy and flavors from the saffron and cardamom comes through.Its reminiscent of the treats back home from the sweet shops and is perfectly sweet just the way I like it.Enjoy!
"Wishing you all a very happy Diwali"
Ingredients
1 tub Ricotta Cheese- 425 gms
1 can of Sweetened Condensed Milk- 14 oz
2 Green Cardamom crushed
Few Saffron strands
Sliced almonds for garnish
Ghee or unsalted butter-2 tbsp
Instructions
In a pot heat the ghee/butter.
Add the ricotta and condensed milk.
Mix well and keep stirring on low heat for about 15 minutes.
Add the saffron strands and cardamom.
Mix and continue cooking for another 10-15 minutes until all moisture evaporates.
Line a dish with parchment paper long enough to let the ends stick out.Pour the mixture onto the parchment paper and let it cool for a bit.
Lift the edges of the parchment paper and empty it upside down on to a tray.
Cut into desired shape.
Garnish with sliced almonds and some crushed cardamom.
Enjoy.
http://www.sonisfood.com/2015/11/ricotta-cardamom-fudge-ricotta-burfi-diwali.html
www.sonisfood.com