It's National Sunday Supper Day!! I have been with this wonderful group for the past 4 years since joining in May 2012 and it has been an amazing journey!Sunday Supper is committed in their mission to bring back Sunday Supper around the family table in every home.You can also take the Sunday Supper pledge by clicking on this link.Our founder Isabel is a very inspiring woman with the way she has led and continues to lead our group. It has been a pleasure to share over 70 recipes for our Sunday Supper and I'm looking forward to many many more!!This day is even more special since we're partnering with Idaho® potatoes in creating some delectable Poutine-Inspired recipes to celebrate our four-year anniversary!!Wait till you see the line-up we have for you!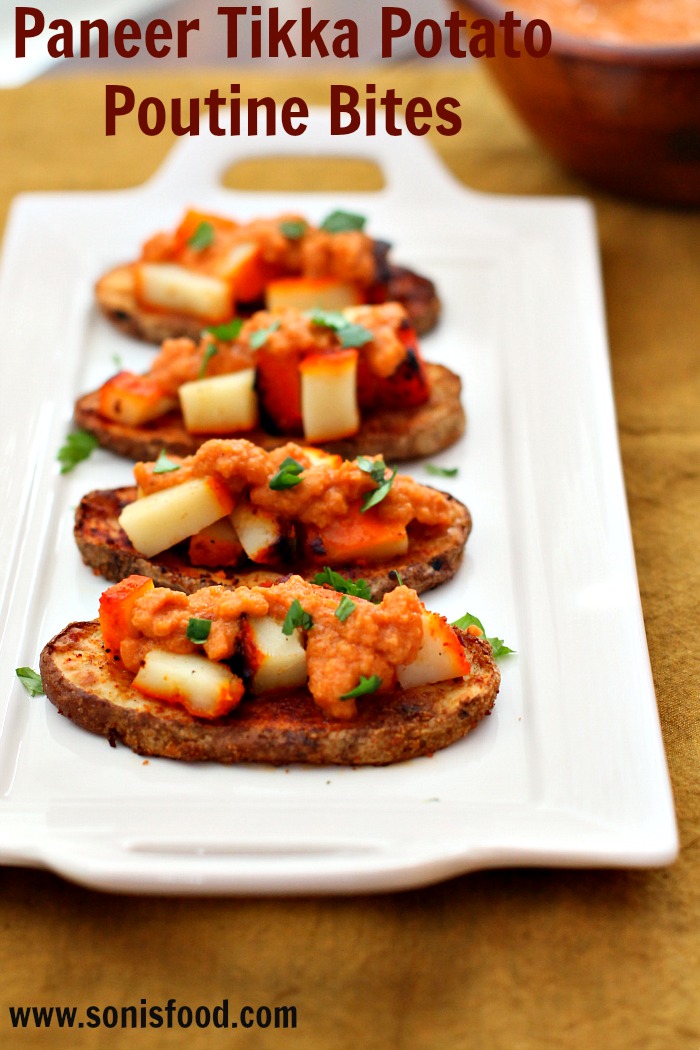 You know that I love potatoes!My recipes using potatoes are far too many to share here but I particularly loved using Idaho® potatoes in my Indian Spiced Potato Pastry Shells and they're always popular with our guests. Idaho® potatoes' Russet Potatoes are my favorite and I use them in most of my potato recipes.Idaho® potatoes have a unique taste and texture due to ample mountain-fed irrigation and rich Volcanic soil. Look for the "Grown In Idaho" seal to get top quality Idaho® potatoes in  your grocery stores.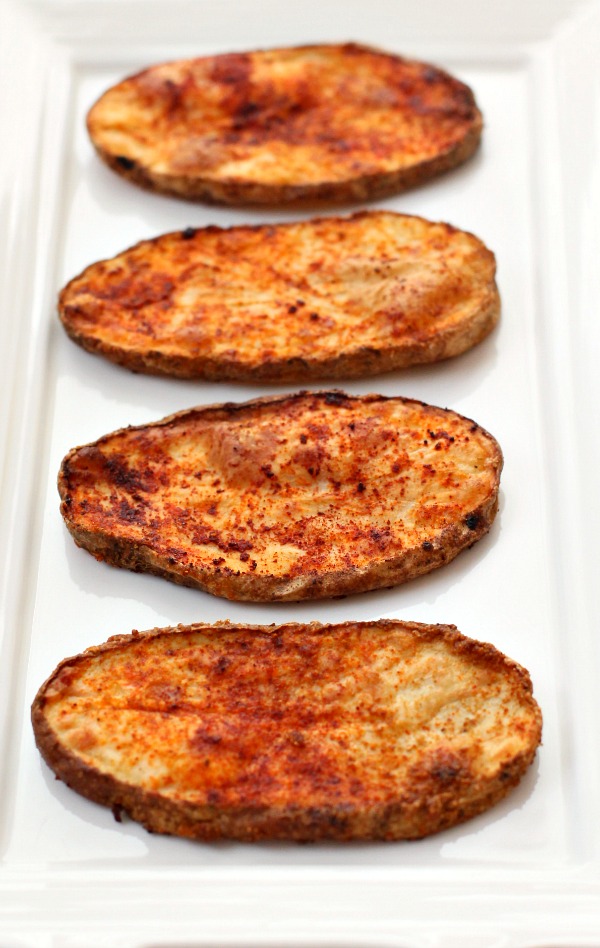 I loved this Poutine Challenge thrown at us by Idaho® potatoes and decided to give my own Indian-Inspired spin on Poutine. Poutine is classic French Canadian dish of fries, cheese curds and gravy that I first tasted in Montreal.It was to die for! It has now gone global with chefs creating their own versions in different parts of the world! For today's recipe I've come up with a savory spicy paneer tikka served over some garlicky roasted Potatoes that have been sliced and coated in warm aromatic spices like cumin and garam masala. I've made an Indian masala sauce to drizzle over these beauties and I have to tell you that they're absolutely phenomenal!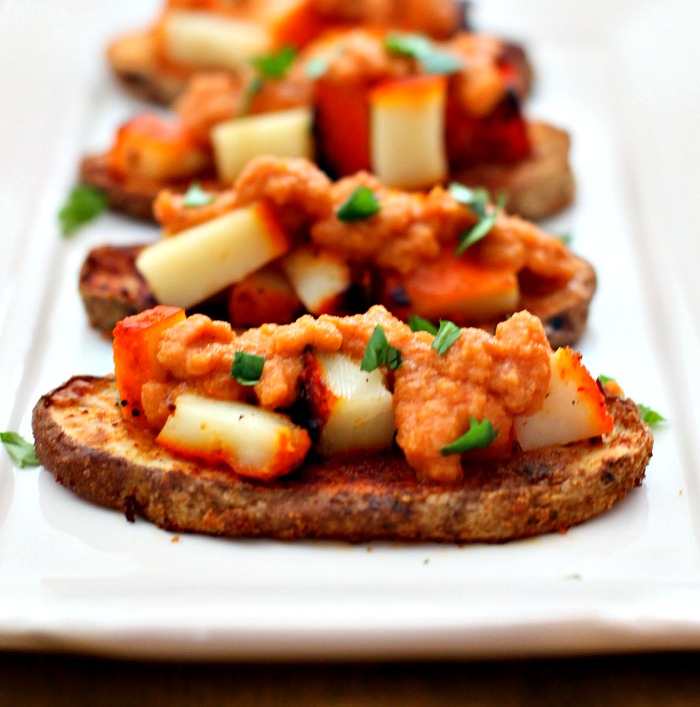 Paneer is an Indian cheese that's easily available these days at your local grocers or if you're lucky to have Indian grocers nearby. You can also make it at home following this recipe. The paneer is cubed and marinated in yoghurt and some spices for a few hours to soak the deliciousness and then grilled until nice and golden. The potatoes are coated in a spice mix and roasted in a preheated oven and deliciously crispy. Indian masala sauce consisting of onions, tomato, spices and cream is drizzled over the assembled poutine bites and the robust flavors tease your palate like none other. The contrasting flavors from the smoky paneer tikka on top of the crispy spicy potatoes smothered in a slightly sweet and rich creamy sauce is pure joy! Enjoy!
Paneer Tikka Potato Poutine Bites #IdahoPotato #SundaySupper #FWCON
Ingredients
Paneer Tikka

Paneer-8-10 oz
Greek yoghurt or thick plain yoghurt-1/2 cup
Crushed ginger and garlic-1 tbsp
Tandoori masala-2 tbsp
Salt to taste
Oi

Crispy Spiced Roast Potatoes

3 large Idaho® Russet Potatoes- washed and sliced into 1/4 inch thick rounds
Garlic powder-1 tsp
Ground Cumin-1 tsp
Garam Masala-1 tsp
Paprika-1 tsp
Salt
Oil

Masala sauce:

Finely chopped onions-1/2 cup
Crushed Ginger-1/2 tsp.
Crushed Garlic-1/2 tsp.
Garam masala- 1 tsp.
Tomato puree-1 cup
Sugar-1 tsp.
Water-1 cup
Cream- 1/4 cup
Salt to taste
Butter or oil-3 tbsp
Instructions
Paneer Tikka

Mix all the ingredients and let it marinate for about 3-4 hrs. In a foil lined greased baking sheet arrange the paneer cubes and broil on low for about 10-12 minutes turning them over midway until slightly golden. Cut them into small pieces when cool enough to touch.

Crispy Spiced Potato

Preheat the oven to 450 degrees. In a greased roasting tray mix the potatoes with spices and oil and spread evenly. Bake for 30 mins until slightly golden and crispy.

Masala Sauce

In a pan heat butter or oil and add the onions and sauté until golden. Add the ginger and garlic and fry for about a minute.
Add the spices and mix well. Add the tomato puree and sugar.
Stir and continue to cook on low heat for about 6-7 minutes.
Add water, bring to a boil and reduce the heat. Let it simmer for a about 5 minutes.Blend into a smooth paste.Pour the mixture into the same pan.
Add the cream. Turn off the heat. Mix well and check the seasonings.

To serve

Arrange the potato in a serving tray. Top with the paneer tikka pieces and drizzle the sauce all over.Enjoy!
http://www.sonisfood.com/2016/01/paneer-tikka-potato-poutine-bites-idahopotato-sundaysupper-fwcon.html
www.sonisfood.com
For more information about Idaho® potatoes visit their:
Website: https://idahopotato.com/
Facebook: https://www.facebook.com/famousidahopotatoes
Twitter: https://twitter.com/idahopotato
Instagram: https://www.instagram.com/idahopotatoes
Pinterest: https://www.pinterest.com/idahopotato/

More Creative Poutine Recipes from the Sunday Supper Tastemakers!!
Breakfast:
Appetizers:
Main Dish:
Plus: Poutine Variations for National Sunday Supper Day from Sunday Supper Movement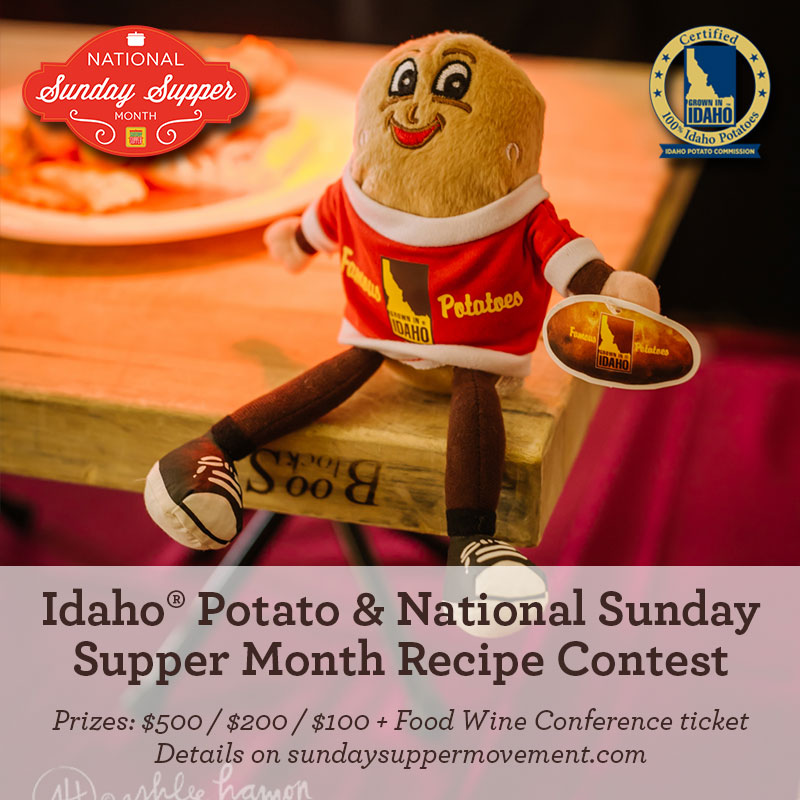 Help us celebrate National Sunday Supper Month by entering the Idaho® Potato Let's Poutine recipe contest, sponsored by the Idaho Potato Commission, with prizes of $500, $200 and $100, plus a ticket for each winner to Food Wine Conference 2016. All the rules and conditions for entry can be found on our Sunday Supper Movement website.
Join the #SundaySupper conversation on Twitter on Sunday!We tweet throughout the day and share recipes from all over the world. Our weekly chat starts at 7:00 pm ET. Follow the #SundaySupper hashtag and remember to include it in your tweets to join in the chat.
To get more great Sunday Supper Recipes, visit our website or check out our Pinterest board..To see some amazing Potato Recipes featuring Idaho® Potatoes check out our Idaho® Potatoes Pinterest Board!
Would you like to join the Sunday Supper Movement? It's easy. You can sign up by clicking here: Sunday Supper Movement.
Disclosure: This post is sponsored by the Idaho Potato Commission in conjunction with a social media campaign through Sunday Supper LLC. All opinions are those of the individual bloggers.