While sunshine and warm days still elude us, I'm hoping that the weather is only going to get better and looking forward to lots of grilling and barbecue in the coming days and weeks!Dinners are a breeze during this time of the year.Just throw in some meats, veggies in the barbecue, make a salad and you're done!Fun to eat and flavor possibilities are endless.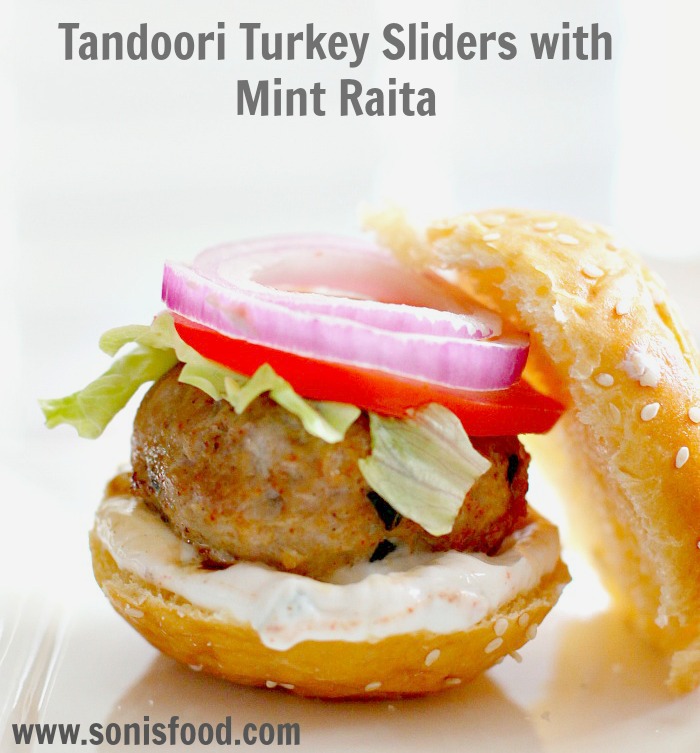 My Tandoori Turkey patties (you can use chicken if you prefer) are bursting with warm tandoori spices,mint, ginger and garlic.These take literally minutes to make to go on the grill.I've used regular store bought tandoori spice mix here.The flavors taste amazing and my kids loved them!They can also be made ahead and frozen.The patties are placed on a hot grill and cooked to perfection until golden and delicious.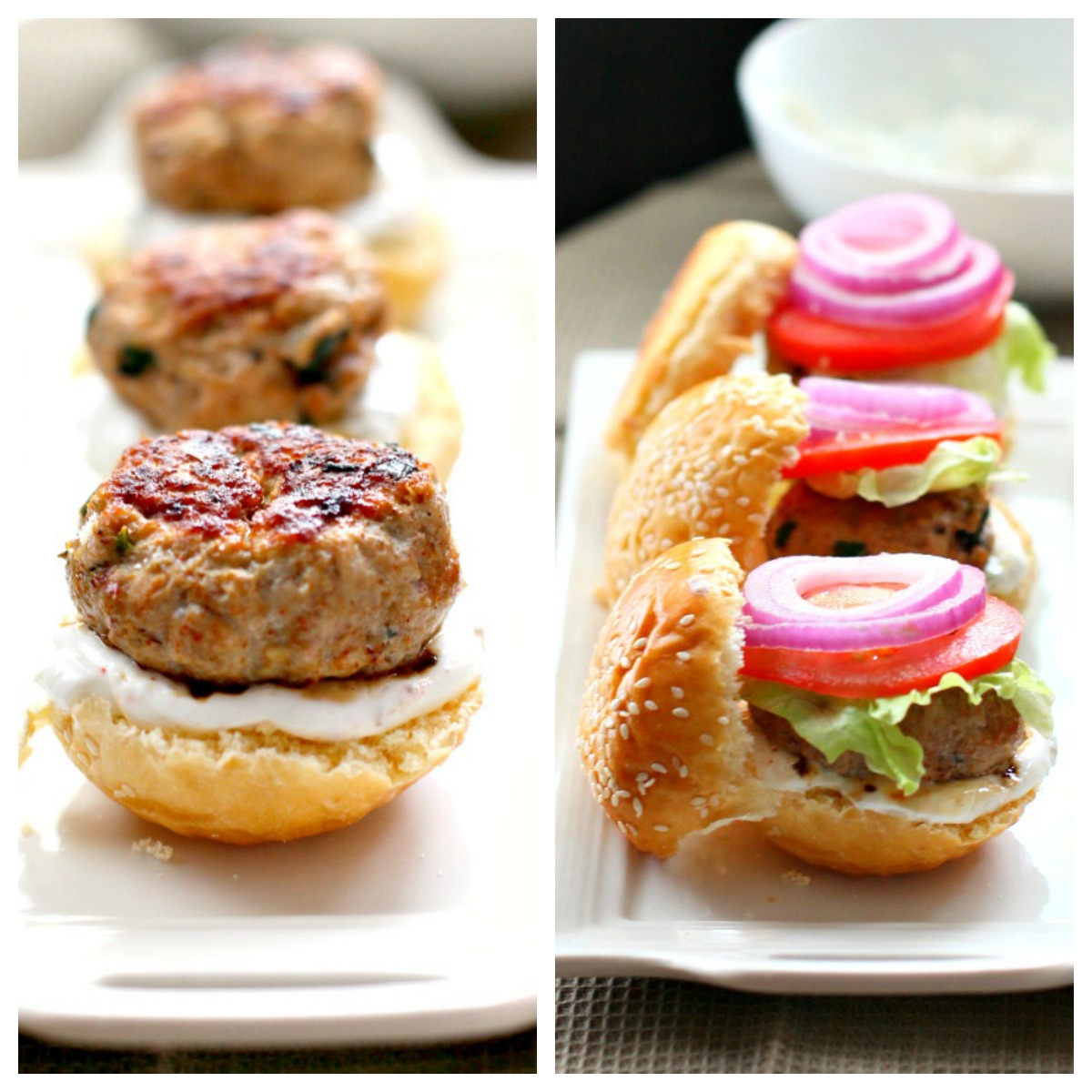 Indian spices add a wonderful depth of flavor to meats and poultry and this recipe is one such example where a few ingredients transform a mundane dish to something phenomenal.The tandoori spice blend consisting of aromatic spices such as coriander,cumin and cardamom is a great way to enjoy some Indian flavors effortlessly.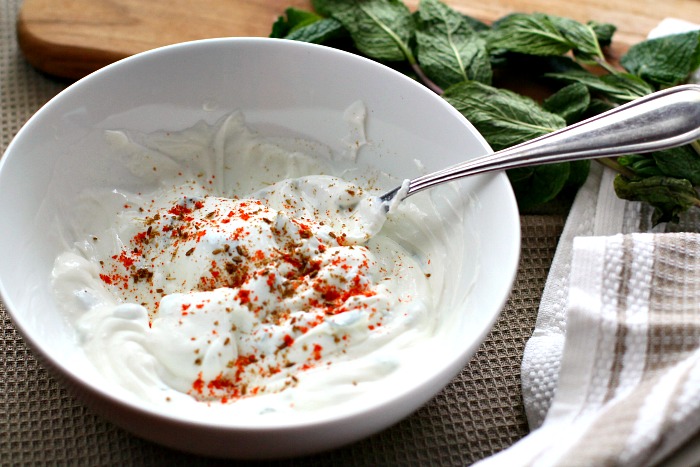 My Mint raita is the perfectly luscious base to place these patties on.The sweet and salty raita with a hint of cumin compliments the tandoori spices well and its a great Indian spin on a traditional turkey slider. They make for delicious kids' lunches and party appetizers with layers of lettuce,red onions and tomatoes on some mini hamburger buns.An easy and fun dish for the grilling season.Enjoy.
Tandoori Turkey Sliders with Mint Raita
Ingredients
Mini Hamburger Buns
1 large tomato-sliced
lettuce leaves
1/2 small red onion-peeled and chopped

for the Tandoori Turkey(or Chicken) Patties

Ground Turkey (or Chicken)- 1 lb
1 small onion
Tandoori masala powder- 2 tbsp
Crushed ginger-1 tsp
Crushed garlic-1 tsp
Chopped mint- 1/4 cup
Salt to tatse
Oil to grill

Mint Raita

1 cup greek yoghurt
1/2 cup chopped mint
juice of 1 small lemon
1 tbsp sugar
salt to taste
1 tsp ground cumin
1/4 tsp red chili or paprika (optional)
Instructions
Mix the raita ingredients in a bowl.Keep aside or refrigerated.
Make a paste of the onion in your food processor.Empty in a mixing bowl and add the rest of the ingredients for the patties.
Make round balls in your palm and flatten them to make round patties.
Heat the grill or griddle pan brushed with oil.
Place the patties and cook on both side until golden.

to make the sliders

Take one half of the bun and spread some raita topped with one patty followed by lettuce,onion and tomato.Cover with the other half.Repeat with the rest.
http://www.sonisfood.com/2016/05/tandoori-turkey-sliders-with-mint-raita.html
www.sonisfood.com