Crisp morning air feels magical, especially after the recent heat spell the past few weeks. Kids are now settled into their routine and I can finally get back into my own routine after the summer break. I'm back into my kitchen rejuvenated and inspired (this weather does that to me) and the focus will be on healthy recipes since I've realized that I might have gained a few extra pounds over the summer break, especially our month-long UK holiday! (blame it on my list of must-eat British foods and its quite a long list 🙂 )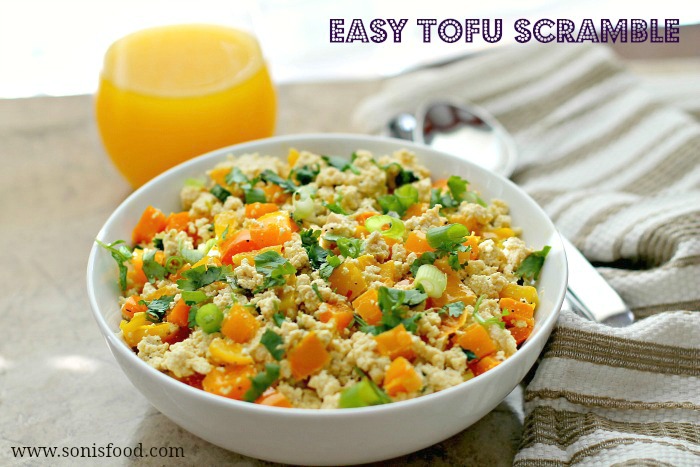 My recipe today involves Tofu and it's a simple breakfast/brunch recipe that's absolutely delicious! If you haven't tried a Tofu Scramble yet, well then, you should. I love Tofu and it's one of the easiest things to work with. It can take on any flavor and it's a good source of protein and energy. Its also pretty filling so you won't be hungry for a while!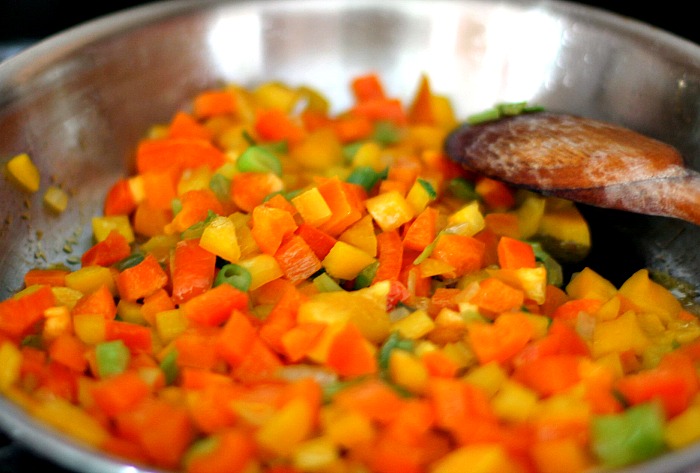 My Tofu Scramble uses onions, scallions and peppers (in yellow and orange keeping in mind the warm autumn hues) along with some cilantro for garnish. The peppers are a nice addition here adding their crunch and color and I've also added some chili flakes for a hint of heat (that's purely optional). The dish takes less than 30 mins to prepare and looks beautiful on the table. The flavors are very clean and fresh and it's a simple dish that looks as good as it tastes. Enjoy.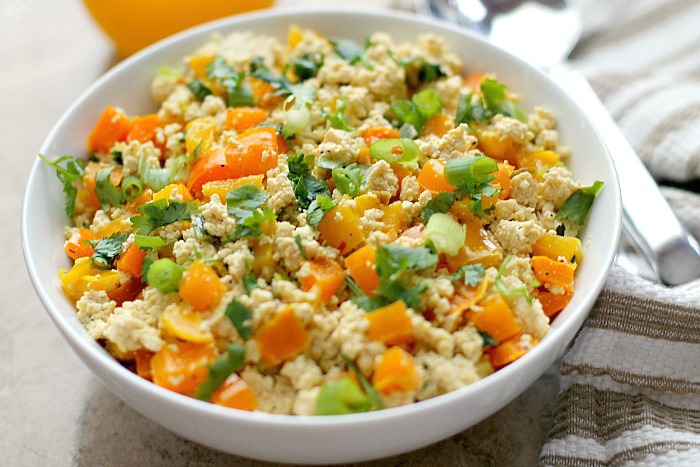 Ingredients
Extra Firm Tofu-2 15oz packets
small onion-1
scallions chopped-1/2 cup
chili flakes-1tbsp
1 large yellow pepper
1 large orange pepper
cilantro-for garnish
salt and pepper
oil-2 tbsp
Instructions
Drain the tofu and place it between two thick towels to squeeze out the liquid.Crumble the tofu with your hands.Keep aside.
Chop the peppers and scallions.
In a pan heat oil and add the onions and scallions.
Saute for a about 2 mins and add the chili flakes.
Follow with the peppers and let it cook for another 3-4 mins.Add some salt and pepper.
Add the crumbled tofu and let it cook for about 2-3 minutes.Check the seasonings.
Add the cilantro.Mix well.
Serve hot.
http://www.sonisfood.com/2016/09/easy-tofu-scramble.html
www.sonisfood.com