This Diwali is going to be special since I'll be spending it with my Mom in India and I'm so looking forward to my trip! This will be my first Diwali in India in sixteen years and I cannot wait to see my family back home. Festivals are indeed the best times to visit India when you can witness the celebrations first hand and taste all the wonderful foods (sweet and savory) that you can only dream of when you're abroad 🙂 .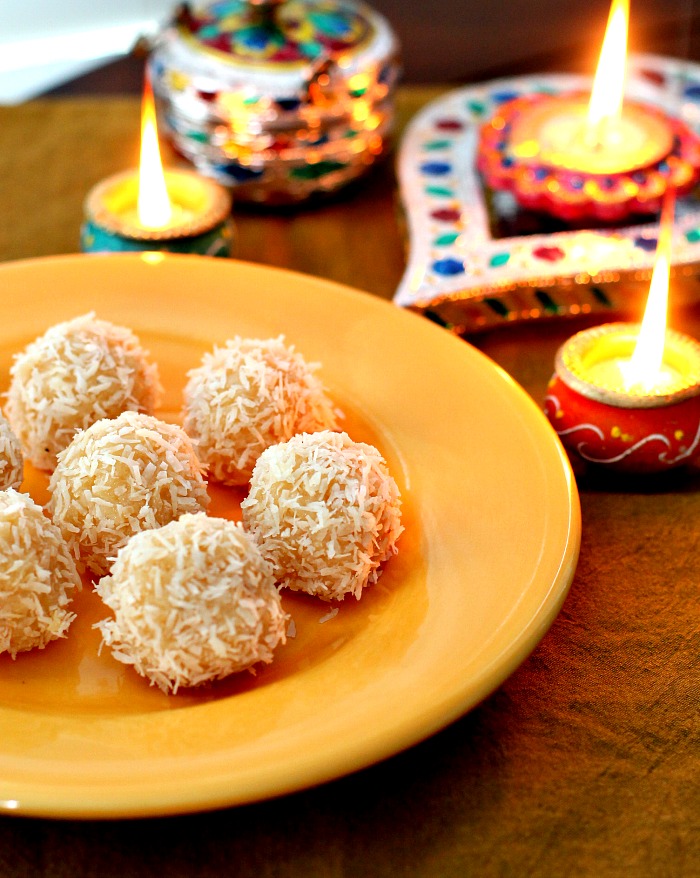 Diwali is one of the biggest festivals of the year and we celebrate by lighting up our entire home inside and out with beautiful lights, diyas (earthen lamps) and decorate the entrance to our homes with Rangoli ( colorful artwork on the floor using materials such as colored rice, dry flour, colored sand or flower petals) to welcome Goddess Lakshmi (god of wealth and fortune). Elaborate menu consisting of mouth-watering appetizers, entrée and desserts are planned weeks in advance for Diwali and there's no end to shopping (clothes,jewelry,gfts etc!). People exchange gifts and sweets. It's a time for joyous celebrations throughout the community.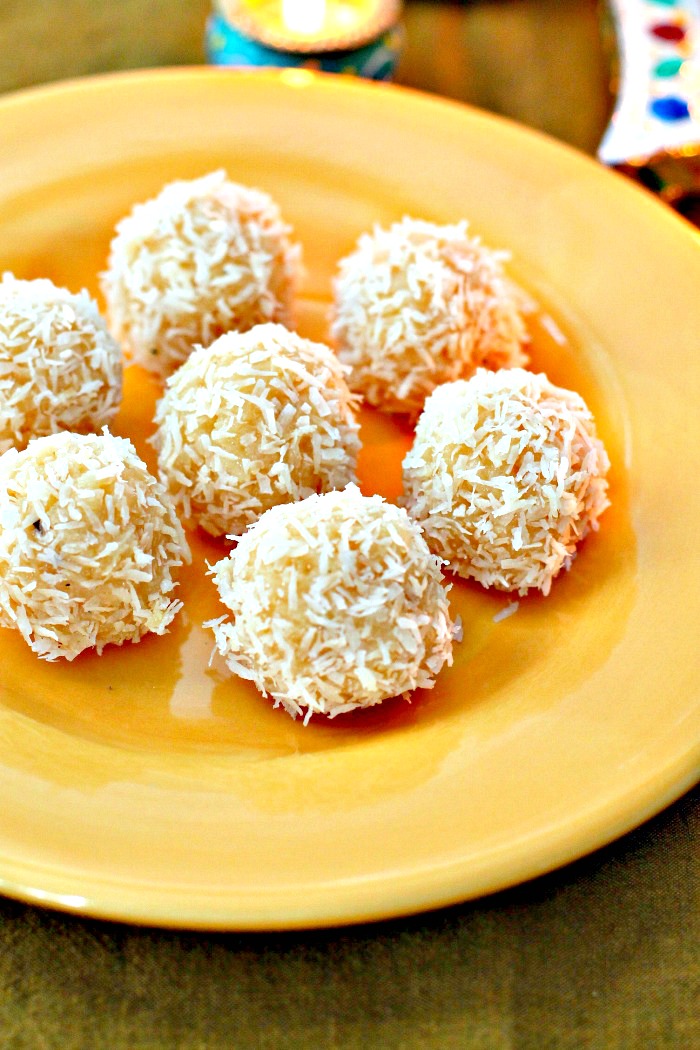 If you're lost for ideas for a good Diwali dessert, then I might have just the recipe for you that takes 15 mins to prepare! Its an easy 4 ingredient coconut laddoo (balls) recipe that I'm sure you must have had countless times growing-up. My recipe uses condensed milk that saves time and effort and is absolutely delicious. I've used frozen shredded coconut (available at Indian grocers) but unsweetened desiccated coconut will also work just fine. All you have to do is cook the coconut along with the condensed milk until all the moisture dries up and the mixture starts collecting together into a mass. Just add some crushed cardamom and shape them into round balls (laddoos). Roll them in desiccated coconut and serve them. They last for a couple of days in the fridge.Each bite of these balls is a sublime amalgamation of sweet and nutty flavors, perfect for Diwali.Enjoy!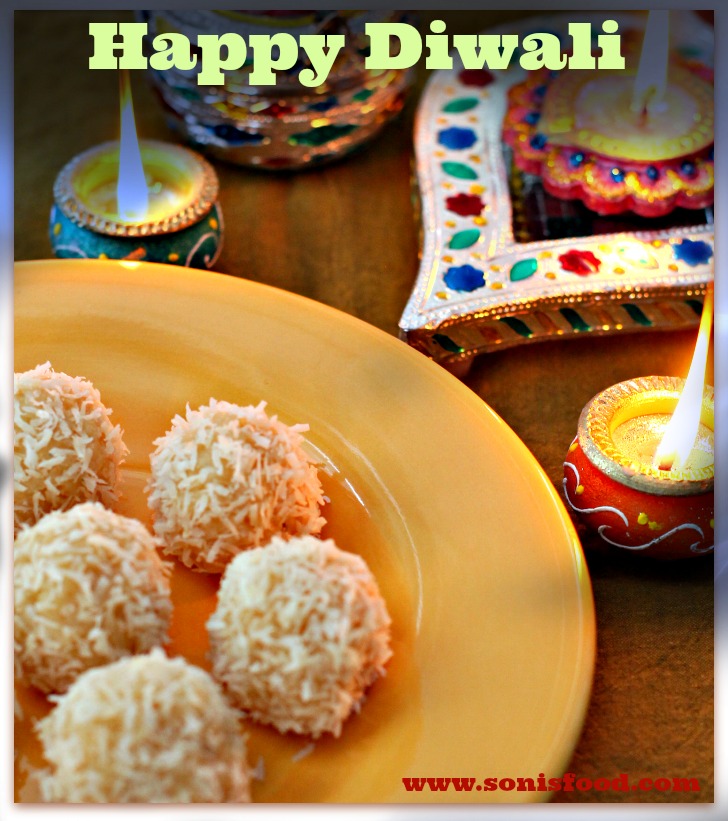 Easy Coconut Cardamom Balls (Coconut Laddoo) for #Diwali
Ingredients
(Makes about 25-30 laddoos)
Frozen shredded coconut (or unsweetened desiccated coconut) -4 cups
Condensed Milk-14 oz
Crushed Cardamom-2 tsp
Ghee or unsalted butter -1 tbsp
Desiccated coconut for rolling
Instructions
In a skillet pour the condensed milk and coconut and cook on medium heat for about 8-10 minutes stirring constantly.Non stick pan works best since you don't want the mixture to stick to the pan and change color.
Cook until the moisture dries up and the mixture starts collecting together.
Add the cardamom and mix well.
Turn off the heat.
Grease your palm with a little ghee/unsalted butter.
Take small portions of the mixture and roll them into balls.
Roll the ready balls over unsweetend desiccated coconut in a tray.
Serve chilled or at room temperature
http://www.sonisfood.com/2016/10/easy-coconut-cardamom-balls-coconut-laddoo-for-diwali.html
www.sonisfood.com