On days that we're swamped with work, kids' activities, groceries or just plain busy and want to make a quick and easy dinner, we all reach out to our trusted spice blend in our pantry. Spice blends are a great way to amp up the taste in your grilled meats and veggies and if you're anything like me, then you'd always be on the hunt for more exotic blends at your local stores. California based company RawSpiceBar reached out to me to review their spice blends and for a spice lover like me the flavors seemed right up my alley. I'm excited to be partnering with them.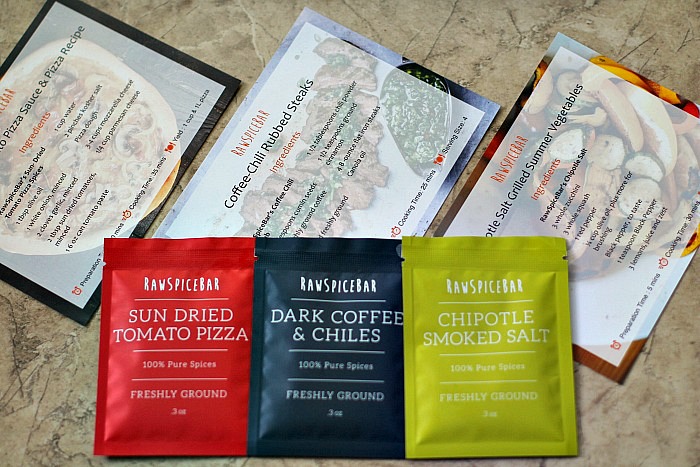 Once a month, RawSpiceBar delivers to your door, three different globally inspired spice blends based on that month's culinary flavor kit with detailed recipes and ideas for $8/month; 6 months for $44 and yearly subscription for $82. Subscriptions can be cancelled anytime. Each individual pack contains 3 ounces of spice blends that serves 3-4 people. They're also great as a gift with the holidays approaching! The spice blends are free of all the salts, sugars, chemical fillers and unwanted additives generally found in pre-ground grocery store spices & seasonings, which typically lost their flavor months ago. For anyone that loves global flavors this is a great way to enjoy a unique experience in their own kitchen. It makes mealtimes more fun and you can get creative with it in many ways.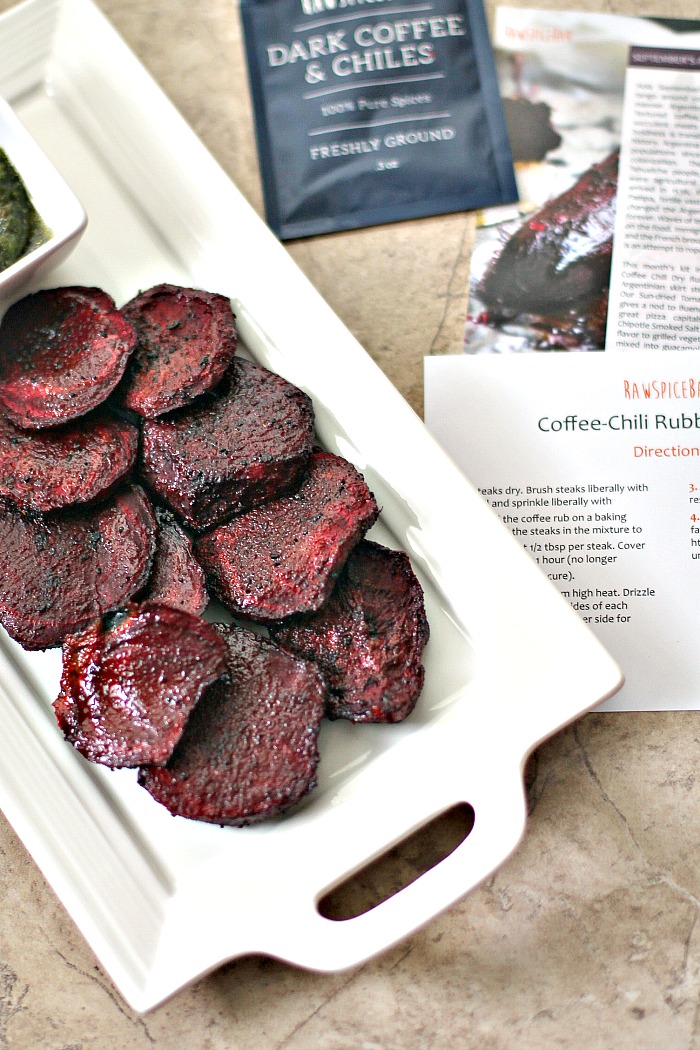 I received their Argentine Spice Box consisting of:
Dark Coffee and Chiles
Sun Dried Tomato Pizza and
Chipotle Smoked Salt
I tried the Dark Coffee and Chiles in my Coffee Chili Rubbed Grilled Beets and they were insanely delicious.I coated the beets with the spice mix along with some salt and canola oil and grilled on low for about 10-15 minutes.Beets have never tasted so good!Dark Coffee and chili is a unique combination that's spicy and smoky (that I love) but well balanced with the slightly sweet and rich dark coffee and thanks to RawSpiceBar I've found a new flavor pattern to work with. I'm looking forward to trying the other two packs too!
For more information and details about their different spice blends visit their website or follow them on
Instagram, Facebook, Twitter, and Pinterest.
Disclaimer: I was provided with a free sample of RawSpiceBar Argentine Spice Blend and all opinions are my own.