Hello all and a very HAPPY NEW YEAR to you!! Hope it fills you with love, peace, prosperity, good health and all the joys of the world. We had a great ending to 2016 with an amazing Disney Bahamas Cruise with magical skies,gorgeous blue waters and warm sunny weather.Kids had an equally great time with onboard activities that included a Pirate Party and meeting famous Disney Characters.With the copious amounts of food (and alcohol) that we consumed, it's now time to eat healthy and light.
My first recipe of 2017 is a delicious Pea Soup that I've been making and enjoying over the years. Pea is an under-rated vegetable but I love its versatility cut across different cuisines. I love Peas added into my Indian stews, curries and pasta, but this sweet soup is all I crave for in this cold weather. I've used Frozen peas here but it tastes equally good.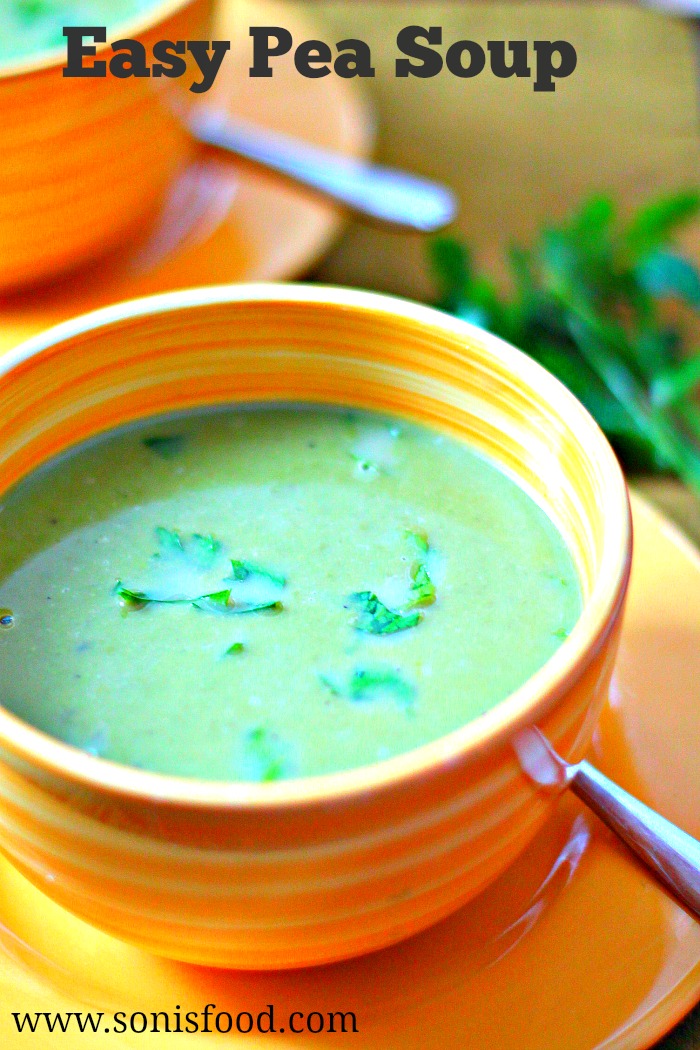 The sweet shallots go well with peas and fresh parsley adds a lovely lemony flavor to the soup. It's delicious with any crusty bread of your choice or on its own. The vibrant green color is in great contrast to the snow outside (if you live in a cold area like me). I usually make a big batch and have it for two or three days in a row. So so good. Enjoy and stay warm.
Ingredients
Butter-1 tbsp
Fresh or frozen peas-5 cups
Shallots-8-10 (peeled and halved)
Celery-1 stalk rinsed and diced
Garlic - 3 cloves,chopped
chopped Fresh parsley-1/4 cup
2 cups water
2 cups vegetable broth
1/2 cup cream
Salt and pepper
Instructions
In a deep pot heat butter and add the halved shallots.Cook for a minute.
Add celery and continue to cook for about 2-3 minutes.
Add garlic and cook until raw smell disappears 2-3 minutes.
Add parsley and stir followed by the peas.Mix well.
Add the liquids, salt and pepper and bring to a boil.
Reduce the heat, cover and continue to cook for about 8-10 minutes until cooked.
Using a stick blender puree the soup or transfer in batches in a blender and puree.Be careful since it'll be very hot.
Add cream and check the seasonings.Garnish with some more fresh parsley.
http://www.sonisfood.com/2017/01/easy-pea-soup.html
www.sonisfood.com