We've been enjoying Almondina Brand cookies for quite sometime now,and,they recently sent me their delicious Toastees for a review and giveaway!Yes, you can enter to win! Almondina Toastees are essentially all natural twice-baked almond crisp with just a few ingredients, as you'd expect Almondina Brand to be. That's the reason we love them.Thank you Almondina.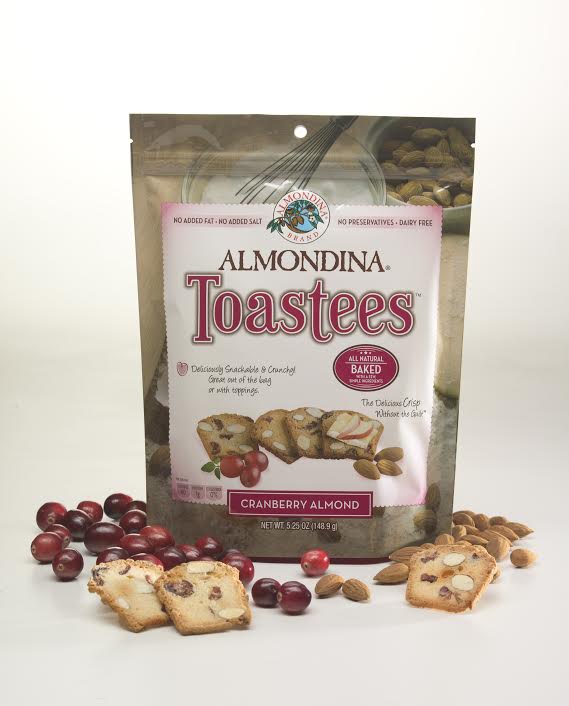 Almondina Toastees have no cholesterol, no added salt, fat, trans fat or preservatives and are dairy free. They're nutritionally good for you with 1-2 gms protein and only 60-70 calories per serving (4 pieces).My pack contained three different flavors-
Cranberry Almond-I love the tang of dried cranberries in this one, my favorite!
Sesame Almond– flavors from sesame comes through in this one.Really good.
Coconut Orange Almond-dual nuttiness of toasted coconuts and almonds combines with citrus here and its delicious!
Each flavor combination is unique and they're great out of the bag for road trips, office or school events and also as kids' snack or as a crunchy ice-cream or yoghurt topping.I love them with my coffee!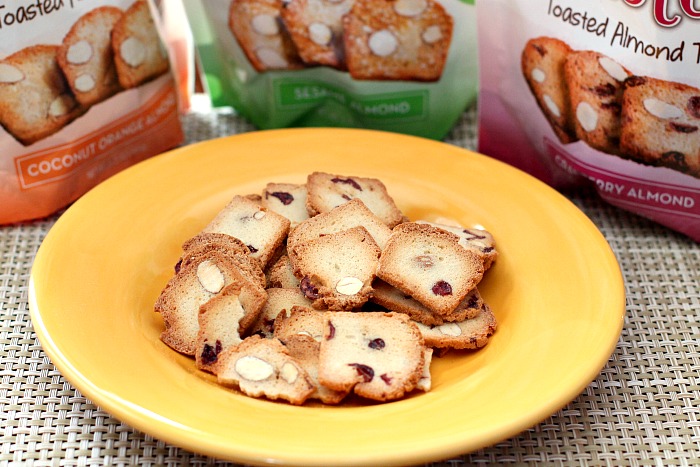 Almondina is a family owned business and it all started with Grandmother Dina's most secret recipe that she called Petit Gateau Sec. After her death, the family became aware that the remarkable characteristics of this nutritious cookie fell in line with today's health conscious consumers. Today Almondina Toastees are being carried coast-to-coast by stores including all Sprouts Markets, Bed Bath & Beyond, Publix, Fairway Markets, Kroger Michigan, Amazon, Almondina.com and others.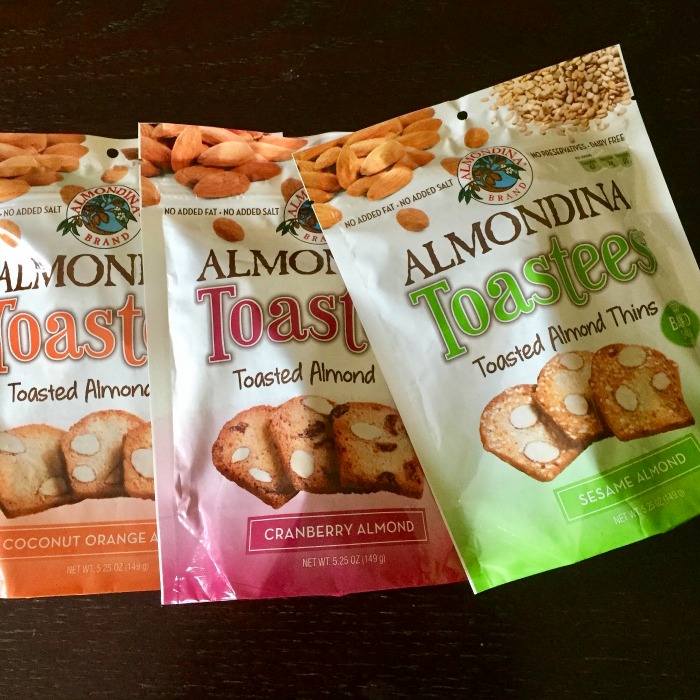 Giveaway!!One lucky reader will get a free sample pack consisting of 3 flavors of Almondina Toastees and this giveaway is open to all US residents!Please note that previous winners of Almondina giveaways are ineligible.
What is your favorite flavor?Please leave a comment below and enter to win!The winner will be announced on Wed the 15th of Feb and notified via email.If no claim is made within 24 hours then the prize will go to the next claimant.Good Luck!!
The winner of my giveaway is Danielle Mulkey!Congrats!
This Giveaway is closed.
Disclaimer: I received a sample pack of Almondina Toastees from Almondina Brand and all opinions are my own.