I must thank our local Trader Joe's for making my life so easy with their precut ready-to-use veggies and various other products, that, I get inspired to cook just because part of it is already taken care of. I make my soups,stews and pasta sauce using their precut mix of onion, carrot and celery. Peeled garlic is such a time saver!I also love their cauliflower/broccoli rice and use it to make various dishes like the one I have for you today.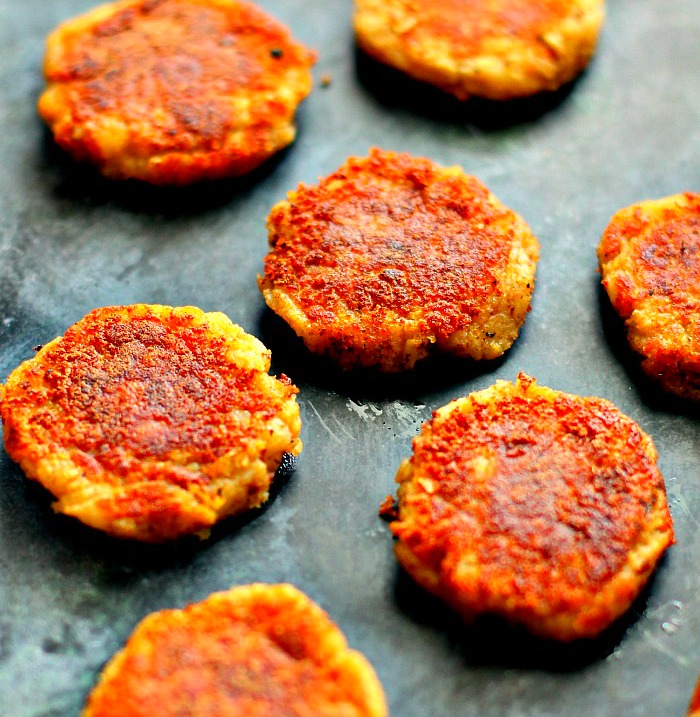 My Cauliflower Cakes are ridiculously easy and packed with flavors from the garam masala, cumin and ginger. They're my spin on the traditional Aloo Tikki (a ubiquitous street food across northern India) by using cauliflower and it works beautifully in this recipe. Cauliflower is one of my favorite vegetables and I love that it can be used in a myriad of dishes and tastes delicious every single time.These days we see cauliflower being substituted for grain in many recipes right from pizza to rice and I think that its a great vegetable that enhances the flavor of any dish. These cakes are a healthier alternative for those watching their carb intake and sure to please your vegan and vegetarian guests, so make a big batch!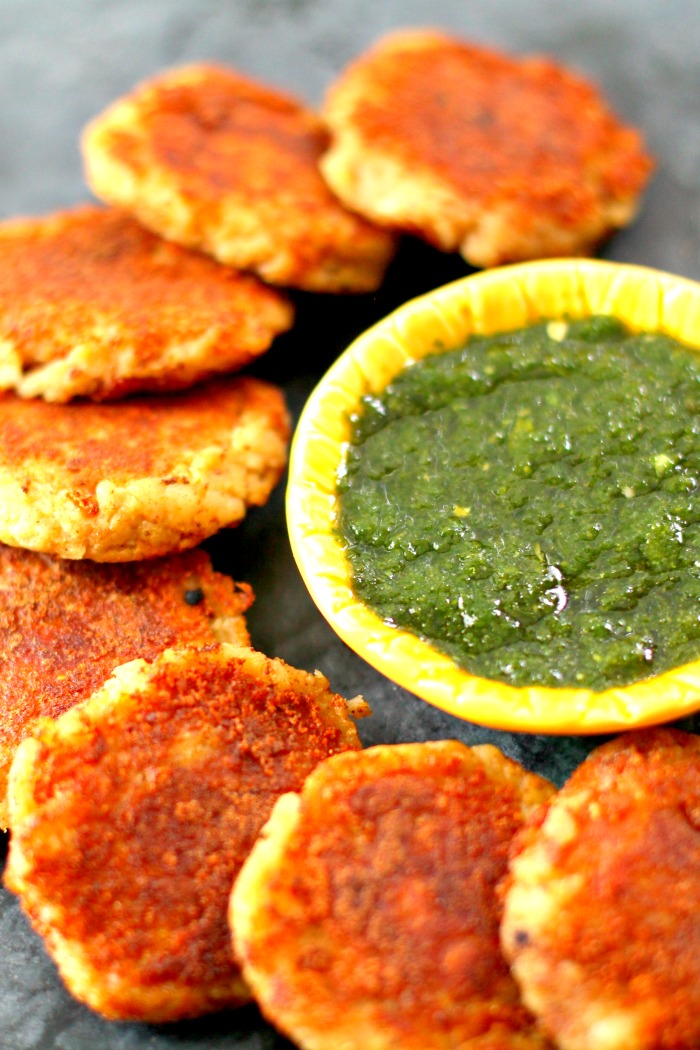 I like to serve these with green chutney but you could use your favorite condiment. The chutney is a mix of cilantro, garlic, little water and salt. I usually add some mustard oil at the end, but its purely optional. These beauties are your perfect appetizers for the Super Bowl and can be made ahead and frozen too. Just pan-fry with a little drizzle of oil until golden on both sides and serve.Enjoy!
Indian Spiced Cauliflower Cakes-Makes 12 cakes
Ingredients
Cauliflower Rice- 3 cups
Large Potatoes-2
Crushed Ginger-1 tsp
Garam Masala-1 tsp
Ground Cumin-1 tsp
Salt
Oil to pan fry
Instructions
Place the cauliflower rice in a microwave safe dish and cook on high for 5 minutes.
Let it cool a bit and either press firmly through a strainer or a muslin cloth to drain excess water.
Boil,peel and mash the potatoes.
Add the cauliflower into the potato mix along with ginger,garam masala, cumin and salt.
Make into rounds and press them to make small patties.
Heat about 2 tbsp of oil over medium heat in a non-stick or cast iron pan and place the patties.Drizzle some more oil all over.Cook until golden on one side before flipping gently.Add some more oil and let it develop a golden color on the other side too.
Serve with green chutney.
http://www.sonisfood.com/2017/02/indian-spiced-cauliflower-cakes-for-superbowl.html
www.sonisfood.com