It's Holi, the festival of colors and we're celebrating! While I've shared my Hara Bhara Kebab and Kheer (rice pudding) with you in the past for Holi, the recipe I have for you today is apt for this festive occasion. Its a Mughlai recipe from Northern India called Gobhi Musallam meaning whole cauliflower and it's a stunning dish that easily becomes the center piece of any table. It's a unique way to enjoy cauliflower proudly standing in all its glory.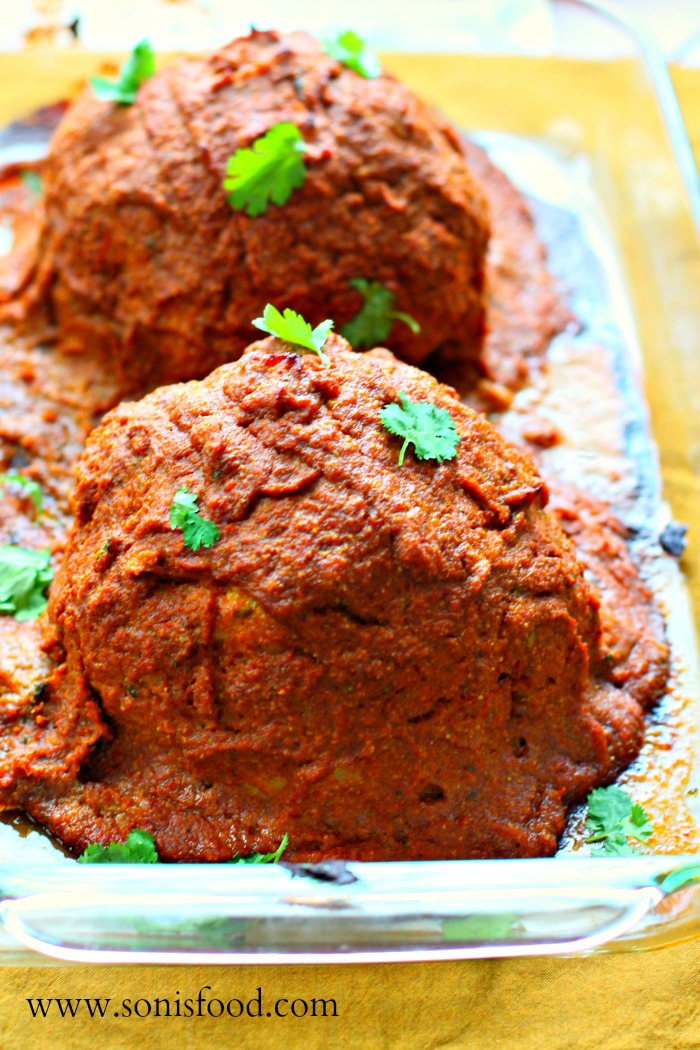 Cauliflower is one of my favorite vegetables and I'm always looking to expand my repertoire of cauliflower recipes. This dish has been on my list for quite sometime and I finally got around to making it using this recipe. I've had it on numerous occasions but never tried it myself until now and I have to tell you that it's absolutely delicious! Even more so when it's homemade! The best part is that it looks and sounds like a complex dish but you'll be surprised to know that its actually pretty easy.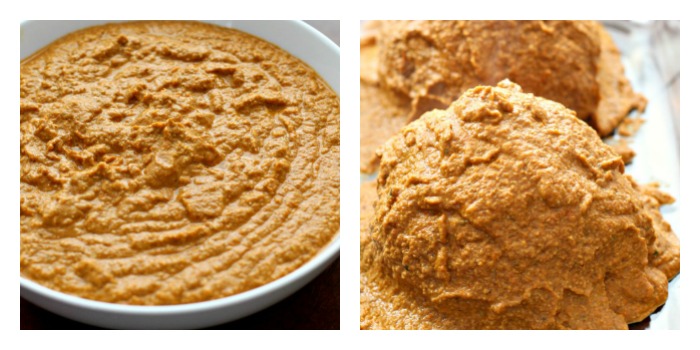 The process starts with blanching the cauliflower and preparing the creamy sauce. The cashews have to be soaked for at least a couple of hours before you start the process. The mix of onions, ginger, garlic, spices and tomato is sautéed and then blended in the food processor along with the soaked cashews. The spice paste is then poured all over the cauliflower and baked in the oven until tender. You can make the spice paste ahead of time and bake it on the day. Its a great recipe for parties and gatherings and popular with guests.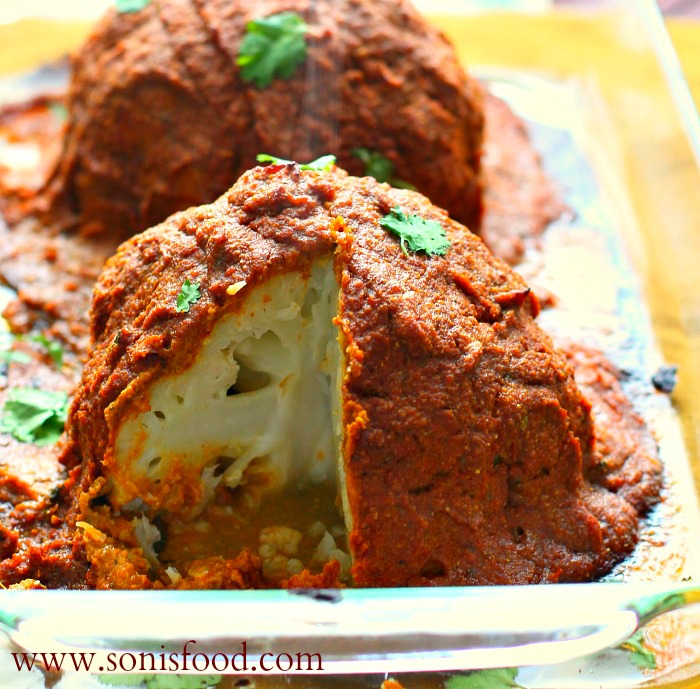 The flavors from the spices coat the cauliflower and its ready to be devoured with your favorite bread. This dish is a culinary delight and goes to show the depth of flavors in the Indian subcontinent and the different cooking techniques that differentiate the phenomenal from the mundane. This is phenomenal. Enjoy and Happy Holi!
Gobhi Musallam (Whole Roasted Cauliflower)
Ingredients
1 medium Cauliflower whole
10 Cashew nuts
1 large Onion chopped
2 Tomatoes chopped
5 cloves Garlic chopped
1/2 inch Ginger chopped
1 teaspoon ground Cumin
1 teaspoon ground Coriander
1 teaspoon Red chili powder (powdered dried red chilies)
1 teaspoon Garam masala
2 teaspoons Kasoori Methi (Dried Fenugreek Leaves)
1/2 teaspoon Turmeric
Coriander leaves for garnish
Salt
Oil-3 tbsp and 1 tbsp to drizzle
Instructions
Heat the oven to 395 degrees F
Soak the cashews in some water for 2 hours.
In a tray cut the outer part(green stem) of the cauliflower.
In a deep pot bring to a boil enough water with a tsp of turmeric and salt to submerge 3/4 of the cauliflower.Let it boil for 5 mins on one side.Gently flip the cauliflower upside down and let it boil for 5 mins on the other side.Strain the cauliflower and keep aside.
In the meantime heat oil in a pan and saute the onions, ginger and garlic until onions become translucent.
Add the chopped tomato and all spices except kasoori methi.
Cook on medium heat with a little salt until tomatoes are soft.Let the mixture cool down.
Once cooled blend the mixture along with the soaked cashews to form a smooth paste.
Heat a tbsp of oil in the same pan and transfer the paste.Add kasoori methi,salt and cook for a few mins.
Place the cauliflower in a oven proof dish and pour the spice paste all over covering it completely.Drizzle a tbsp of oil all over and bake it in the oven for 30 mins.
Once ready take it out of the oven and garnish with coriander leaves.Serve hot.
http://www.sonisfood.com/2017/03/gobhi-musallam-whole-roasted-cauliflower-for-holi.html
www.sonisfood.com