Certain recipes stay with you for a lifetime and you always remember the first time you made them. In my case there's one such recipe that I found years ago in a recipe booklet of a food processor that my parents bought when I was in college.I had just started to dabble in cooking and this recipe caught my eye as I was scrolling through.The flavors sounded unique albeit using familiar spices.It turned out delicious and my family loved it.It holds a special place in my heart since its the first of the few recipes that I tried early on in my life that I still cook and get rave reviews every time.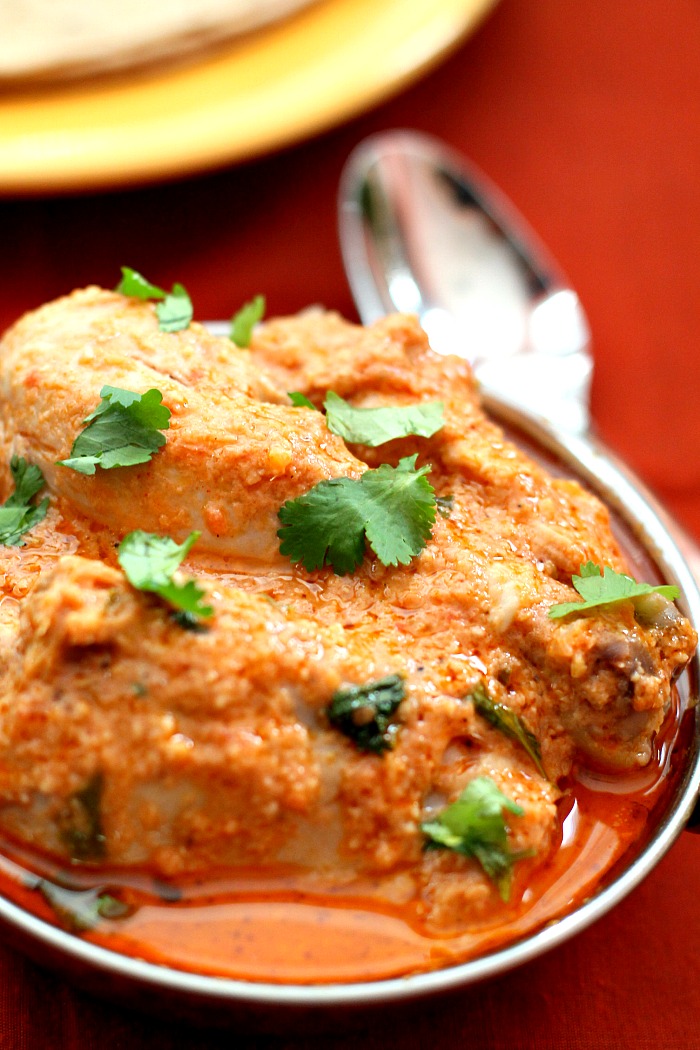 Murgh Kabuli comes from Afghanistan and they're known for their mild creamy preparations using yoghurt,cream,aromatic spices, nuts and poppy seeds.This recipe does not use onion and that saves a ton of time and effort. Its a great recipe for a crowd and tastes as amazing as it looks.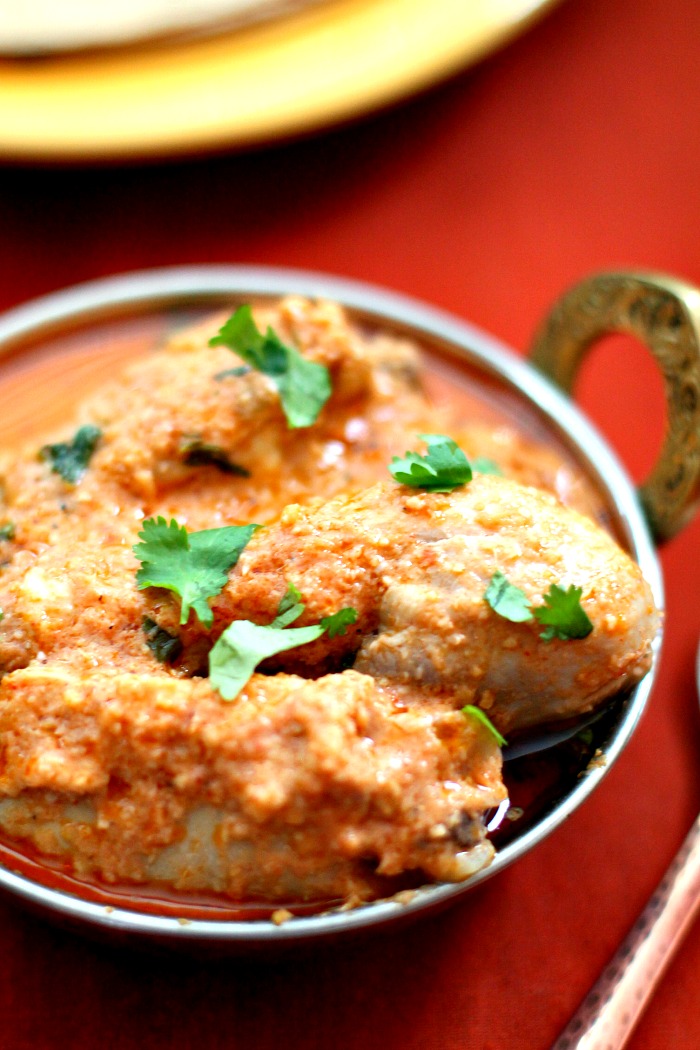 The process starts in the food processor blending yoghurt with tomatoes and ginger and then the mixture is transferred into the pan along-with the rest of the ingredients.The Chicken pieces are added in and simmered away gently while developing some outstanding flavors predominantly from the fennel and poppy seeds and the dish is finished off with some cream for that rich creamy texture.The aroma is to die for.It's a dish that will wow your guests and it sure is a keeper.Serve with some hot Naan or your favorite bread.Enjoy!
Murgh Kabuli (Chicken Kabuli)
Ingredients
8 pieces of Chicken (mix of Chicken Drumsticks and Thighs Bone-In)
4 cloves garlic
1 1/2 inch ginger chopped
3 tomatoes chopped
8 ounces plain yoghurt
10 cashews soaked
2 tsp ground poppy seeds
1 tsp nutmeg
1 tsp ground cumin
1 tsp ground coriander
1 tsp ground fennel
1 tsp ground cardamom
Cream-1/4 cup
Oil-2 tbsp
Salt and pepper
Instructions
Soak the cashews in a little water for at least 2 hrs prior to cooking
Grind the poppy seeds to a powder.
Blend the garlic,ginger,tomatoes,yoghurt and the strained cashews into a puree.
In a heavy bottomed pan heat oil and transfer the mixture along with the ground poppy seeds and continue to cook on medium heat stirring frequently until the mixture thickens and you see the oil separating from the sides.
Add the chicken pieces and continue cooking for a few minutes.
Add all the spices and salt and cover the pan.Reduce the heat, cover and let the chicken cook.
Once done stir in the cream,pepper and check the seasonings.Turn off the heat.
Serve hot with your favorite bread.
http://www.sonisfood.com/2017/04/murgh-kabuli-chicken-kabuli.html
www.sonisfood.com